Bathroom dressing rooms aren't a new concept but they are having a resurgence in popularity.
As we obsess less about how many usable bedrooms our homes have (one guest bed is more than enough, assuming you're that lucky), and more invested in creating spaces that make living at home feel luxurious, creating a combined bathroom and dressing room makes perfect sense.
Of course, you needn't sacrifice a bedroom to create a bathroom and dressing room in one; it might be that you have a large bathroom with surplus floor space that could be put to better use? Or a large dressing room with plenty of space for a shower at the very least? 
Bathroom dressing room ideas – 10 inspirational spaces
Of course before you go down the road of creating a bathroom dressing room, think: practicalities, by which we mean ventilation. This means ensuring windows can be opened so that clothes don't get overly damp too often, or that you have good extraction. Consider the decor and materials (from closets to flooring) you use throughout, too: they need to be tolerant of damper conditions that they would if in a bedroom, for example. Lighting, too, will need thought, and you will have to adhere to regulations around electricity and water in combination in one room. 
Functionality aside, these are our favorite bathroom dressing room ideas.
1. Center the bathtub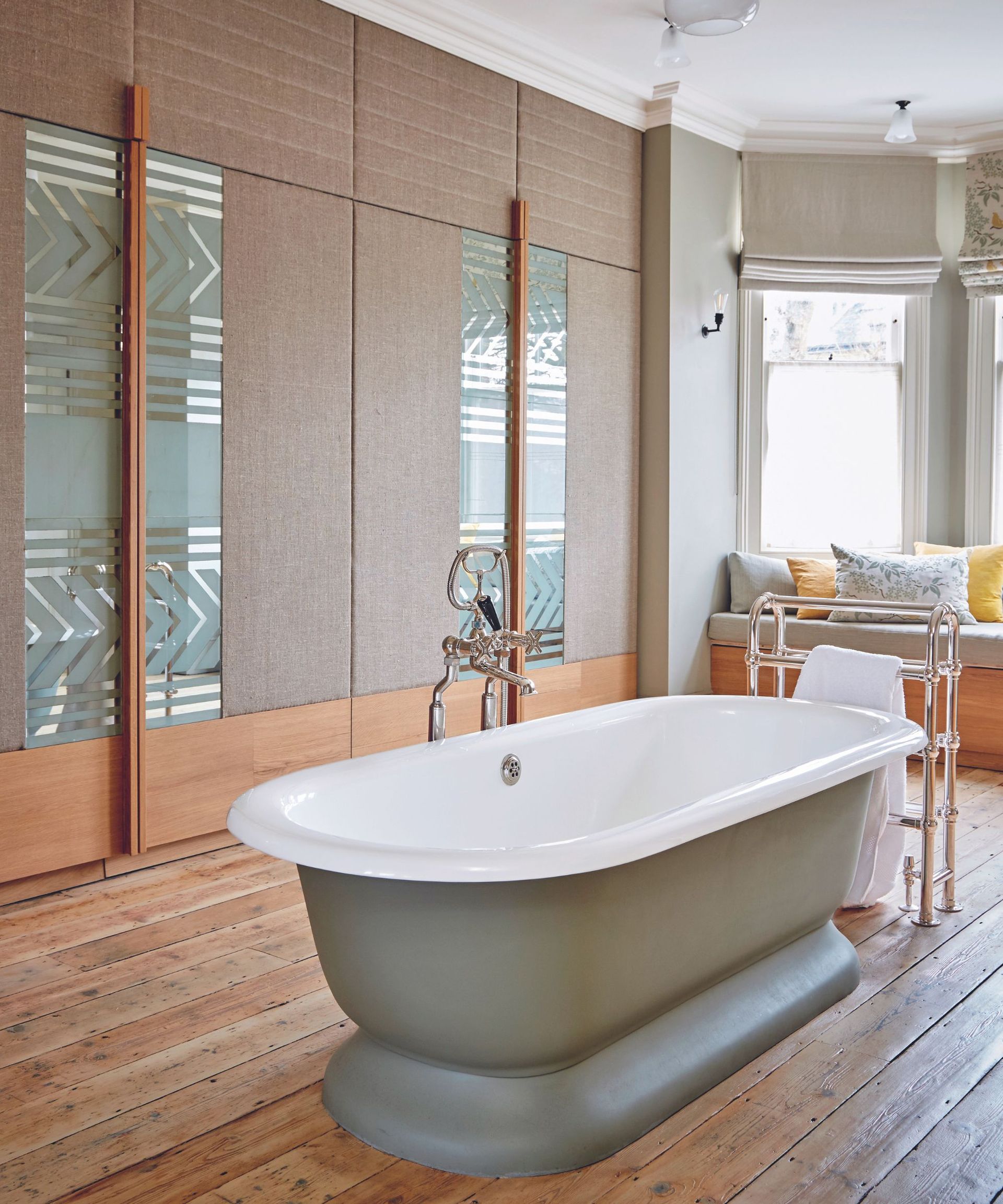 Positioning the bathtub center-stage in an open-plan suite will free up more wall space for closets; if you're going to do this, whatever bathtub type you find attractive, be sure to choose a bathtub that makes a statement if it's in the spotlight. 
Installing a freestanding heated towel rail adjacent to the bath ensures toasty warm towels upon exiting the water. Aim for at least 2ft between bathroom fittings and closets to allow for easy manoeuvering around the doors when open. Choose sliding doors if the space is a little tighter. 
For this airy redesign of a period property, a sense of heritage was retained by using reclaimed materials, such as salvaged Art Deco glass panels. 
Project by Retrouvius.
2. Create a dressing room corridor
Walk-through closets are a sophisticated option that, done well, can take storage pressures off both bedroom and bathroom. 
Here, interior designer Stéphanie Coutas chose sawn oak wood on simply executed closet doors that merge into the architecture. The same timber was wrapped around walls, architraves and ceiling to create a warm, cossetting corridor that opens up to reveal the light-flooded bathroom beyond. 
'Integrating the closets into the architecture optimizes clothes storage and feels very luxurious,' says Stéphanie. 'Walk-through closets can also enhance the sense of privacy in the bathroom by moving it further from the sleeping area.'
3. Make space with a pocket door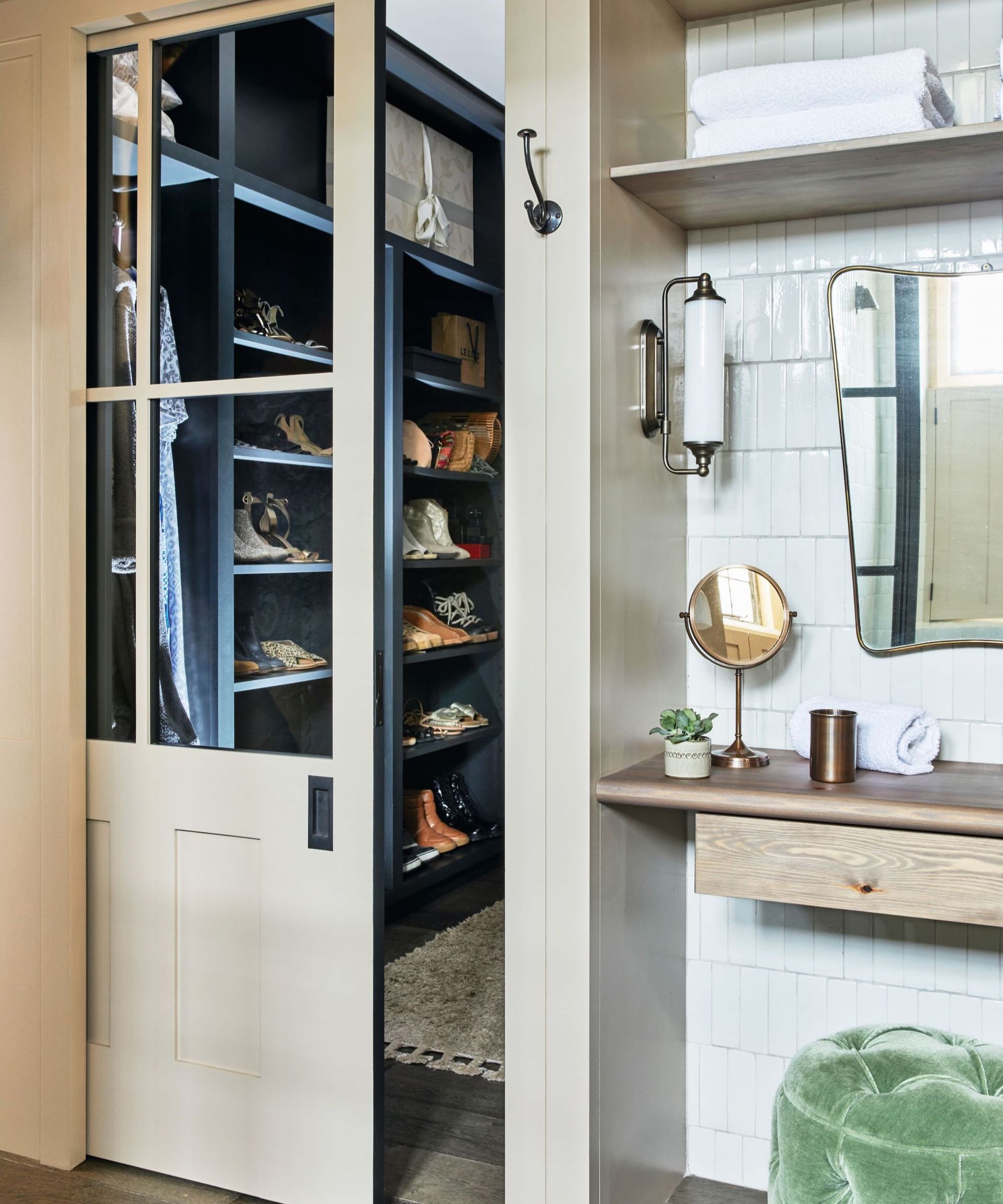 'Sectioning off the dressing area from the rest of the bathroom is a great technique for achieving orderly storage, and a chance to shut away the clutter,' recommends Kristen Georghiades, director, Rose + George Design Studio. 
'Here, the glazed timber pocket door doesn't feel too imposing and lets the natural light in. The dressing space can be completely open when the door is tucked away, banishing any claustrophobia inside.' 
If you're not terribly tidy, go for solid pocket doors. 
'We prefer to let our clients' personality shine with a little glimpse of shoes, hats and dresses on display,' adds Kristen.
Project in collaboration with Stephen Fletcher Architects. 
4. Make space in the primary bathroom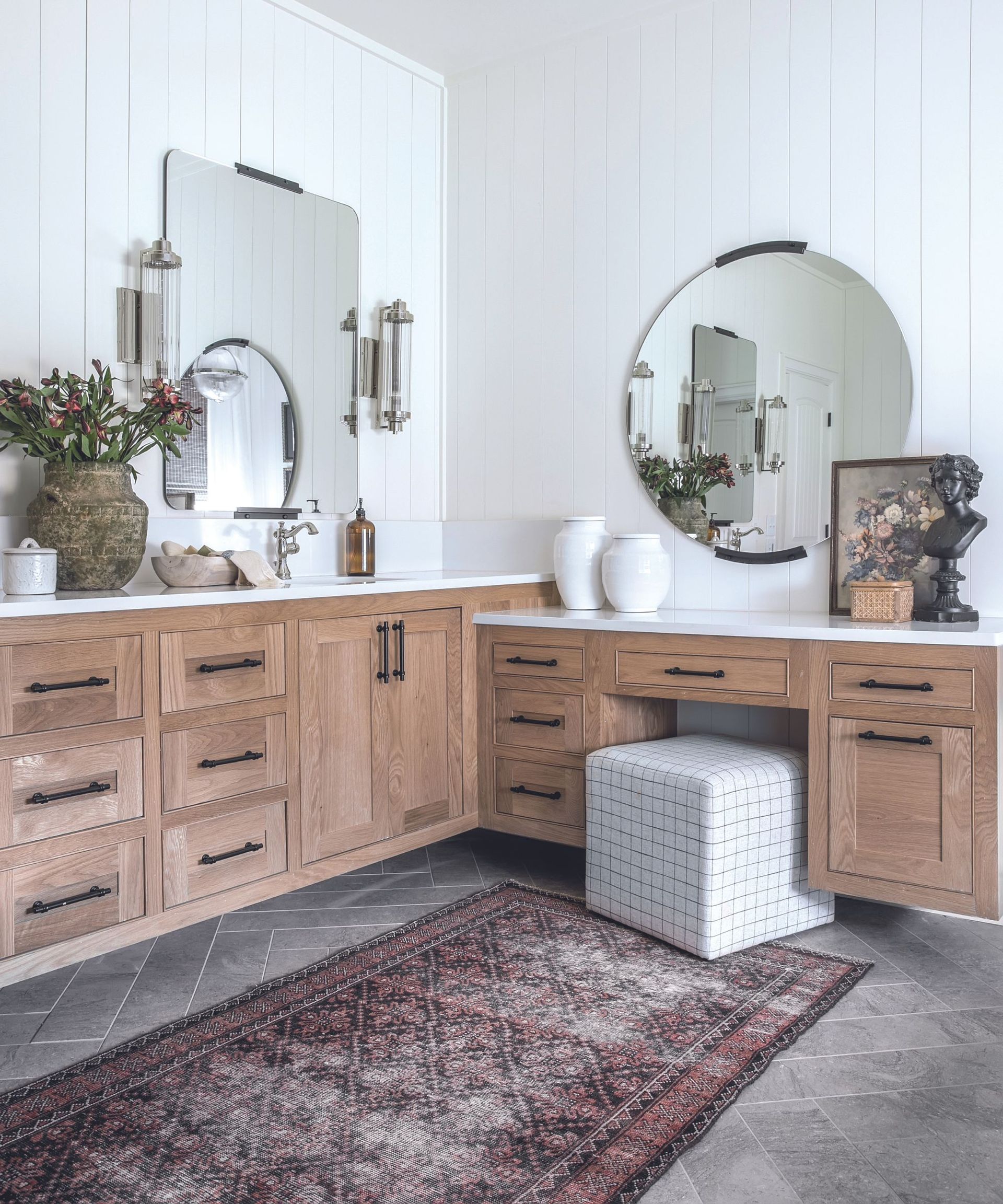 Commissioning a built-in bathroom vanity allows full control over design details such as height and storage requirements – as well as usage. 
For her own bathroom, Oklahoma-based interior designer Amanda Layton initially conceived this L-shape dresser and washstand to help square-up an awkward corner. 
'A dressing table in the bathroom was honestly something I never knew I needed, but I had a spot that needed filling and now I am a convert. It makes getting ready so much more comfortable and relaxing,' she explains. 'The L-shape design made it easy to drop the height of the counter to make it more comfortable to use whether standing up to clean my teeth or sitting down to style my hair.'  
5. Choose freestanding for a vintage feel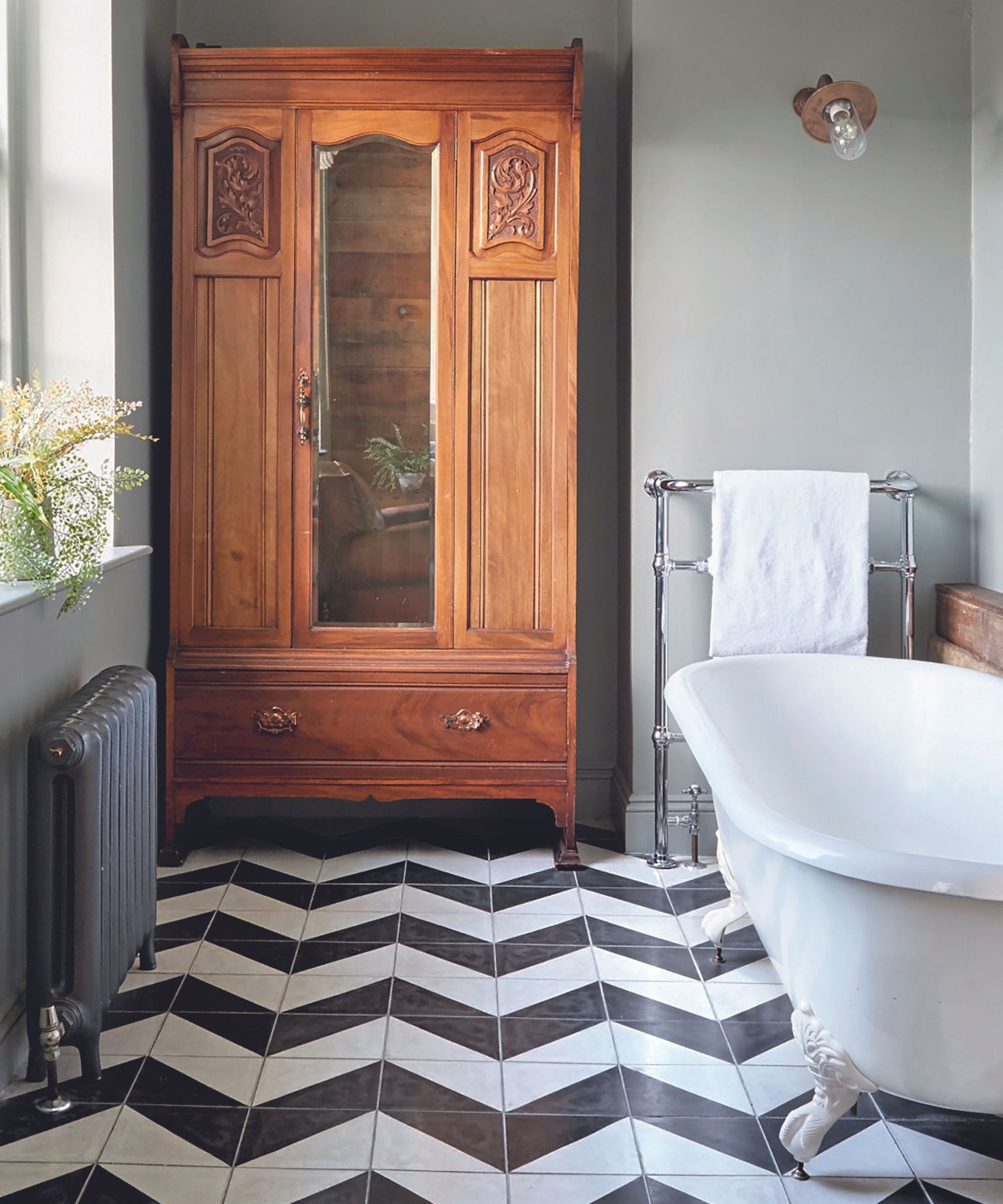 Antique and vintage closets are well worth considering for their innate character and capacity to ground a stark space and to create a characterful traditional bathroom. Selecting time-worn closets can help take the edge off the perfect 'newness' of sanitaryware and other hard surfaces in the bathroom. 
Seek out period pieces made from close-grained hardwoods like oak, teak and mahogany for the best moisture resistance. Thanks to several decades of waxing and varnishing, antique furniture should have already established a decent layer of humidity protection but do check for any damage and re-seal if required. Closets and chests that sit on feet, rather than flush-to-the-floor plinths, will be safer from water ingress at ground level.  
Floor tiles, Bert & May. Try 1stDibs for similar vintage closets.
6. Create an elegant display with glazing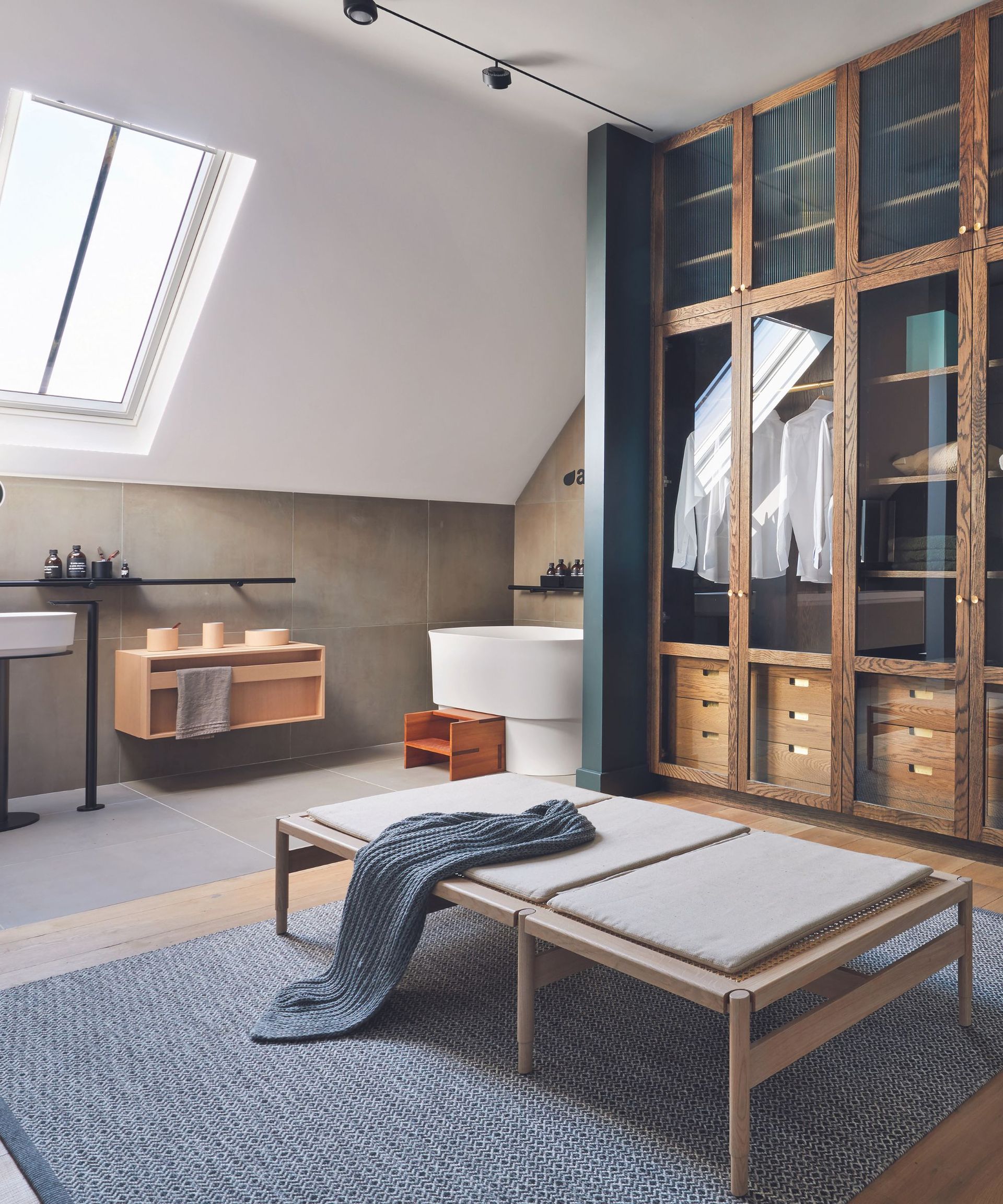 If you are looking to turn a room into a walk-in closet, it pays to find space for bathroom fittings too. But to keep the space elegant, consider the closet doors carefully. 
Glazed closets lend the rarefied air of a vintage apothecary shop in this spacious dressing room and bathroom combination. 
'The glimpse of clothing and textiles behind glass can make a modern bathroom more inviting and intimate,' says Pierce Coyne, designer, Kitchen Architecture. 
'Glass is an excellent material for the bathroom in terms of moisture and maintenance. While there is a degree of tidiness required at hanger level, we included reeded glass above and integrated drawers below to allow a more relaxed approach. This is useful for items that don't hang or fold neatly, such as socks and luggage.'
7. Focus on flooring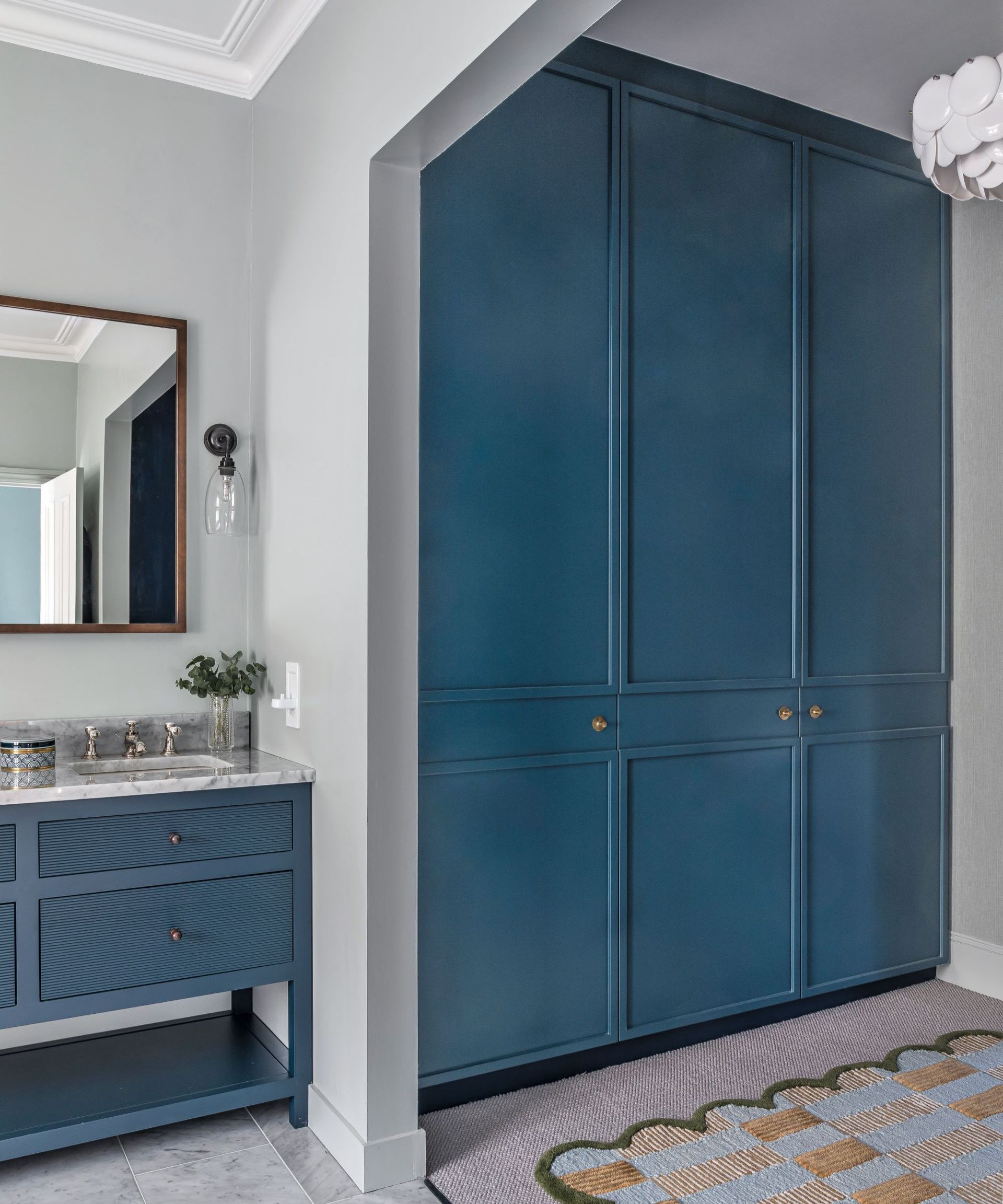 A walk-through dressing area with bespoke fitted closets and dressing table links the bedroom and bathroom in this primary suite by Otta Design. 
'Comfort was key in the bedroom and dressing area, so we continued the wool carpet from the bedroom into the dressing room and added a rug for even more softness under foot,' recalls director, Ali Johnson. 
'As all three spaces can be seen together, we selected carpet in similar tones to the marble floor tile in the bathroom. Letting the flooring flow from room-to-room makes the overall suite feel larger. Transitioning to marble at the opening point to the dressing room felt logical architecturally, and to keep the carpet dry.'
8. Separate the spaces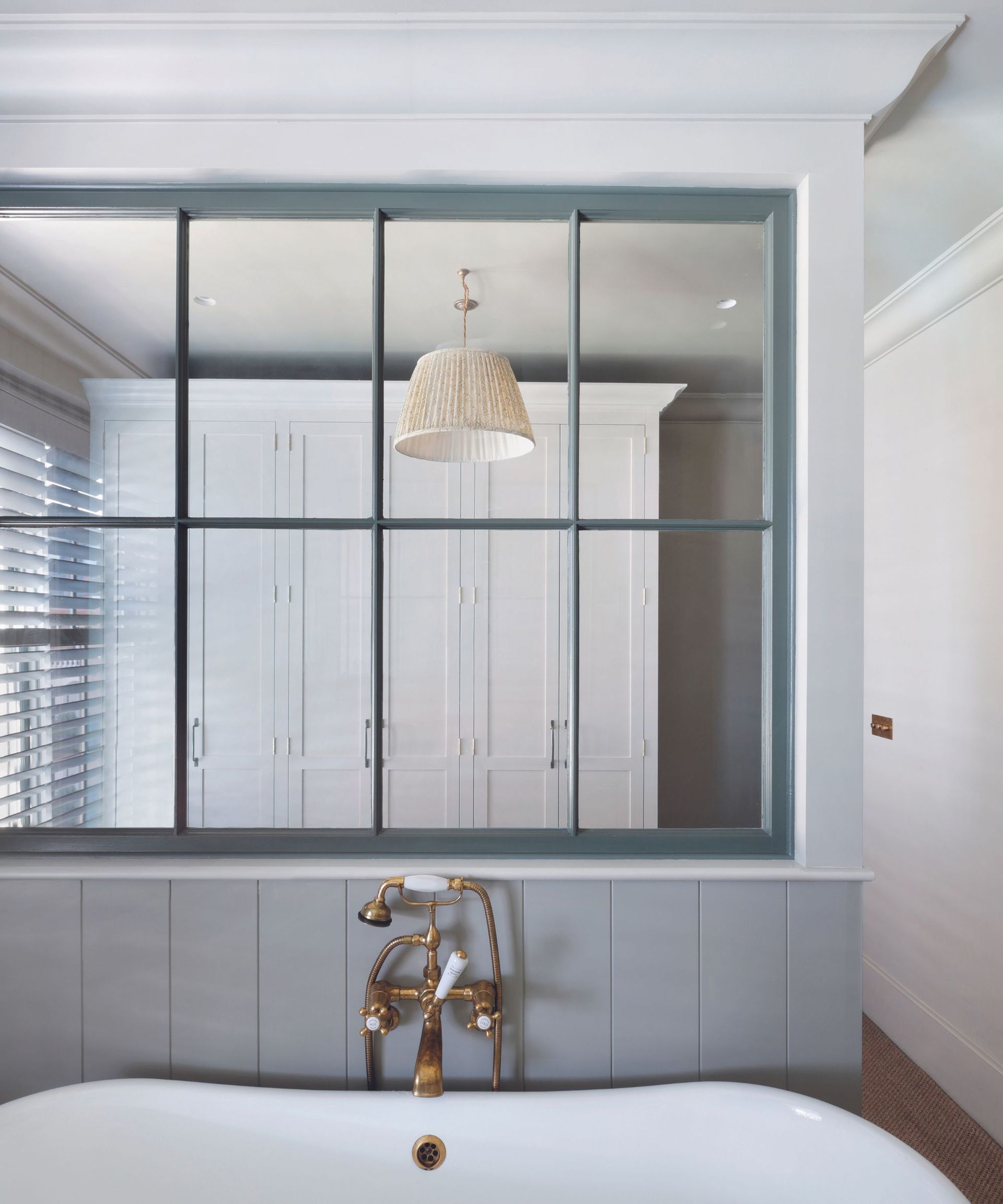 Create clear definition without losing the sense of space with a glazed partition wall, as seen in this project by HÁM Interiors.
'Internal windows are undoubtedly objects of beauty, but they also serve a practical purpose. They can make two small rooms look bigger by creating connectivity and allowing light and sightlines to combine the spaces,' explains founder, Tom Cox. 
'Here, the dressing room and bathroom were connected but needed a practical wet and dry separation, so internal glazing was a natural choice. Opting for a half-glazed wall allowed us to create a natural space for the bath while hiding unsightly plumbing.'
9. Create impact with color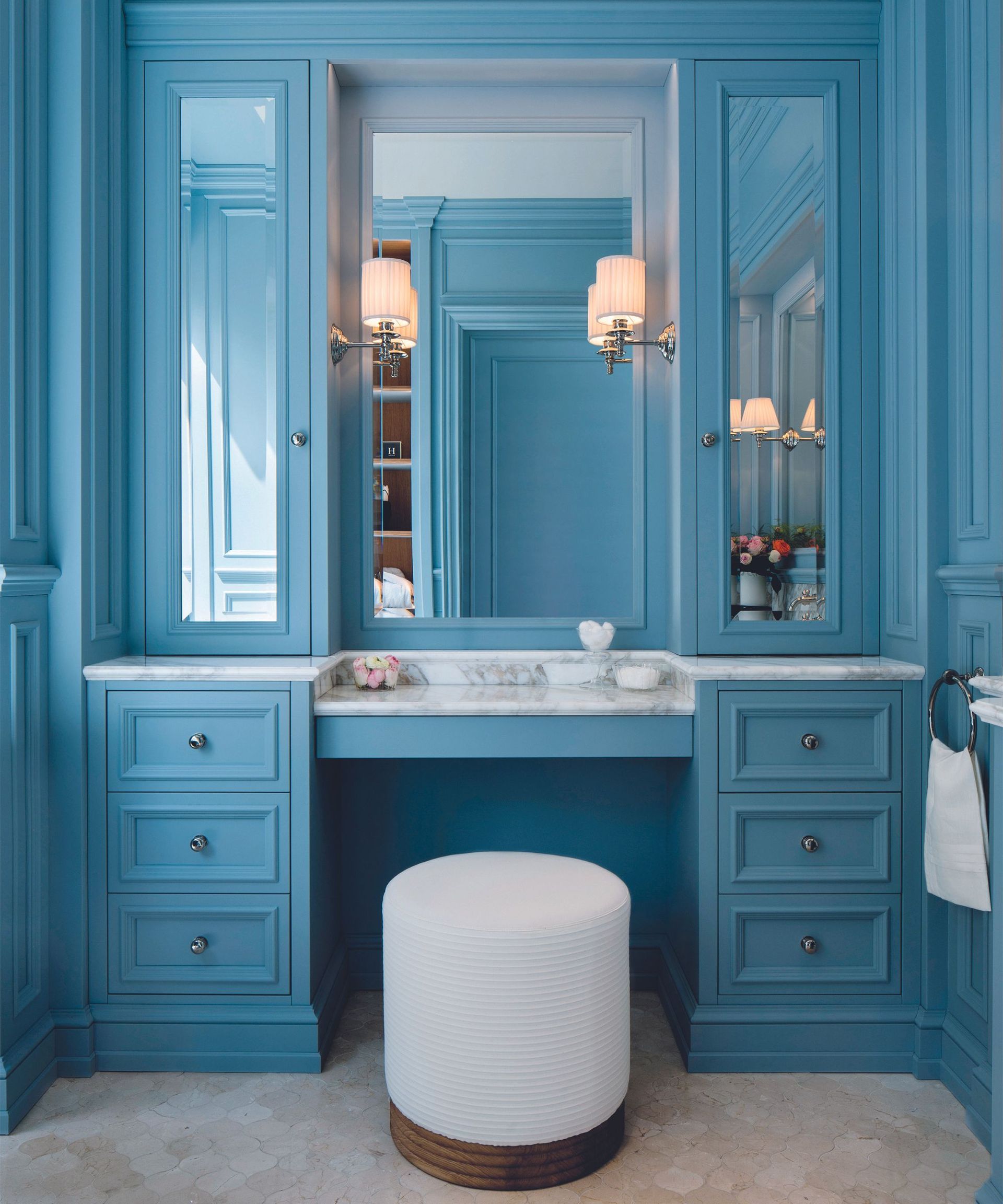 Saturating walls and cabinetry in the same color, known in the decorating trade as a 'full drip', is a clever way to instil serenity in a busy, multi-use room. The brief for this relatively small bathroom in the French Riviera was a tall order, requiring the full remit of bathroom luxuries, as well as a dedicated makeup area, with plenty of surrounding storage. 
The furniture by Devon&Devon was made-to-measure, with the same detailing continued on the surrounding basin vanity, built-in bath and wall paneling to create an elegant, enveloping effect. Painted from floor-to-ceiling in tranquil pastel blue – Farrow & Ball's Selvedge is similar – it feels calm and uncluttered. 
10. Add soft elements for comfort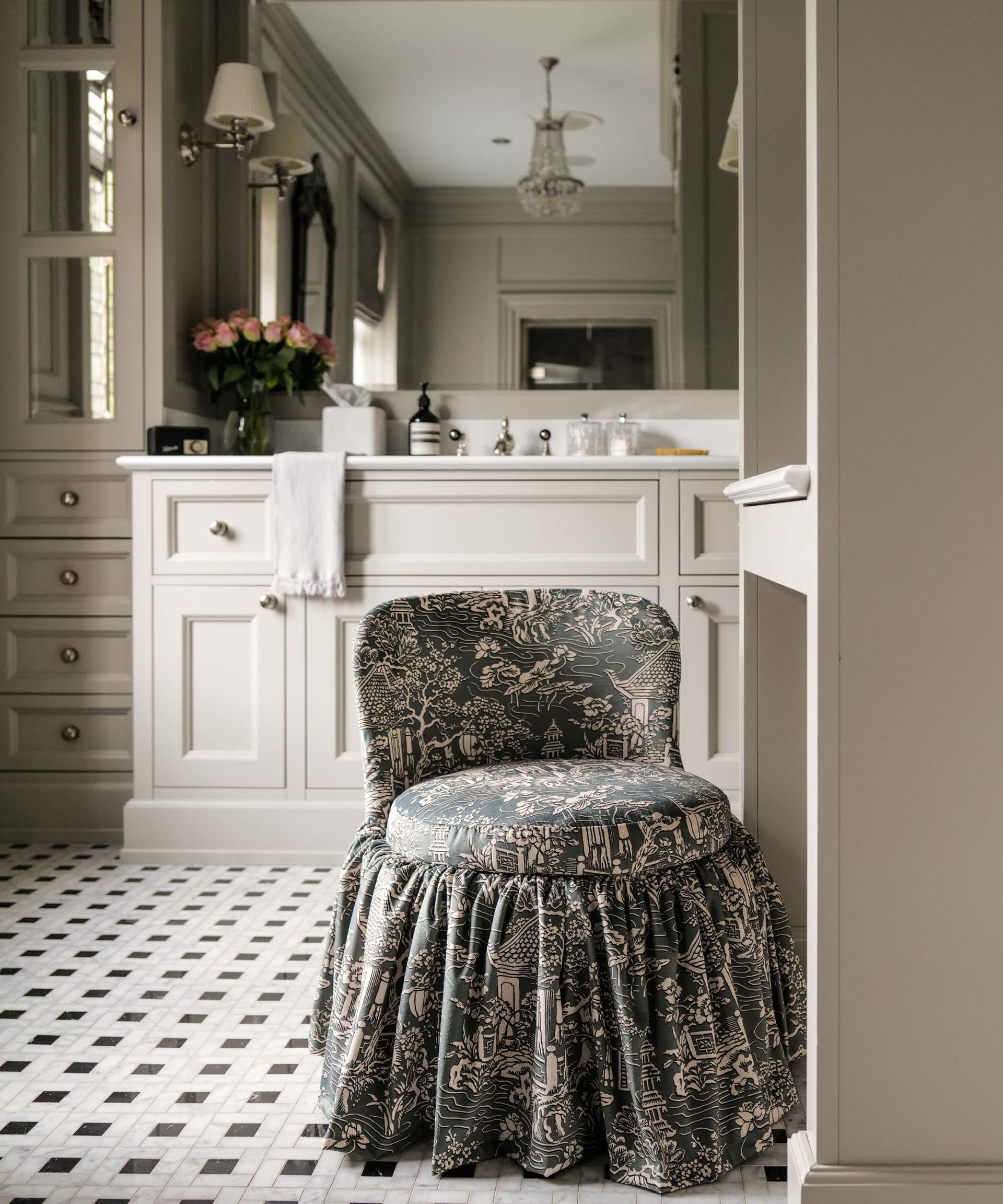 Bringing your dressing area into the bathroom offers up new opportunities to introduce a softer side to the décor dynamic via textiles. 
'Whether you opt for an upholstered stool, an under-sink skirt or a comfortable armchair, textiles in the bathroom can add softness to a tiled space and help with the acoustics,' agrees Louisa Tratalos, head of brand, Arley House. 
'When introducing soft furnishings into a damp-prone room, ensure that the textiles are not in direct contact of shower sprays or splashes from the bath or shower and the room is well ventilated to keep the fabrics properly aired.'
FAQs
What is the best layout for a bathroom dressing room?
The layout you choose for your bathroom dressing room largely depends on the look you would like to achieve and the size and shape of the room. In a large room, a statement central bathtub with basin, toilet and shower on one side of the room and a wall of closets on the other is the most impactful, but you may wish to divide your space with a full or half-wall to keep the bathing and dressing areas separate. Should you have a long, narrow space, it's often best to create a corridor of closets, leading to the bathroom at the end.
What should bathroom dressing rooms have?
Depending on the space you have, a bathtub or shower, sink and, ideally separated, a toilet. Then, plenty of closet space. If there is room, drawers, a dressing table and/or vanity will be useful, while seating, whether a central footstool or cozy armchair, will be useful for putting on socks and shoes.
---
Bathroom dressing rooms should be designed to feel luxurious, and even if your budget is low, this can be achieved with the addition of decorative wallpapers, pretty paint colors and layering with area rugs. However, it should also be easy to keep organized and uncluttered: this means prioritizing storage over floorspace, while still ensuring you have plenty of room to move about – ideally at least 3ft between one piece of furniture and the piece across from it.