A pared-back and minimalist style can create the most soothing of living rooms that really invite us to unwind. And the great news is, it's remarkably easy to add a little minimalist flavor to your existing scheme without making major changes.
First, it goes without saying that there's more to minimalist living rooms than just taking stuff away: they are often characterized by clean and crisp designs, spacious floor plans, light color palettes, and an absence of architectural details.
That said, switching out furniture pieces, finding multifunctional living room storage solutions, and removing items that are not earning their place will certainly create a more minimalist aesthetic.
Things to take out of a living room for a minimalist space
Industry experts say these are the items to get rid of in a living room if you want to embrace your minimalist side.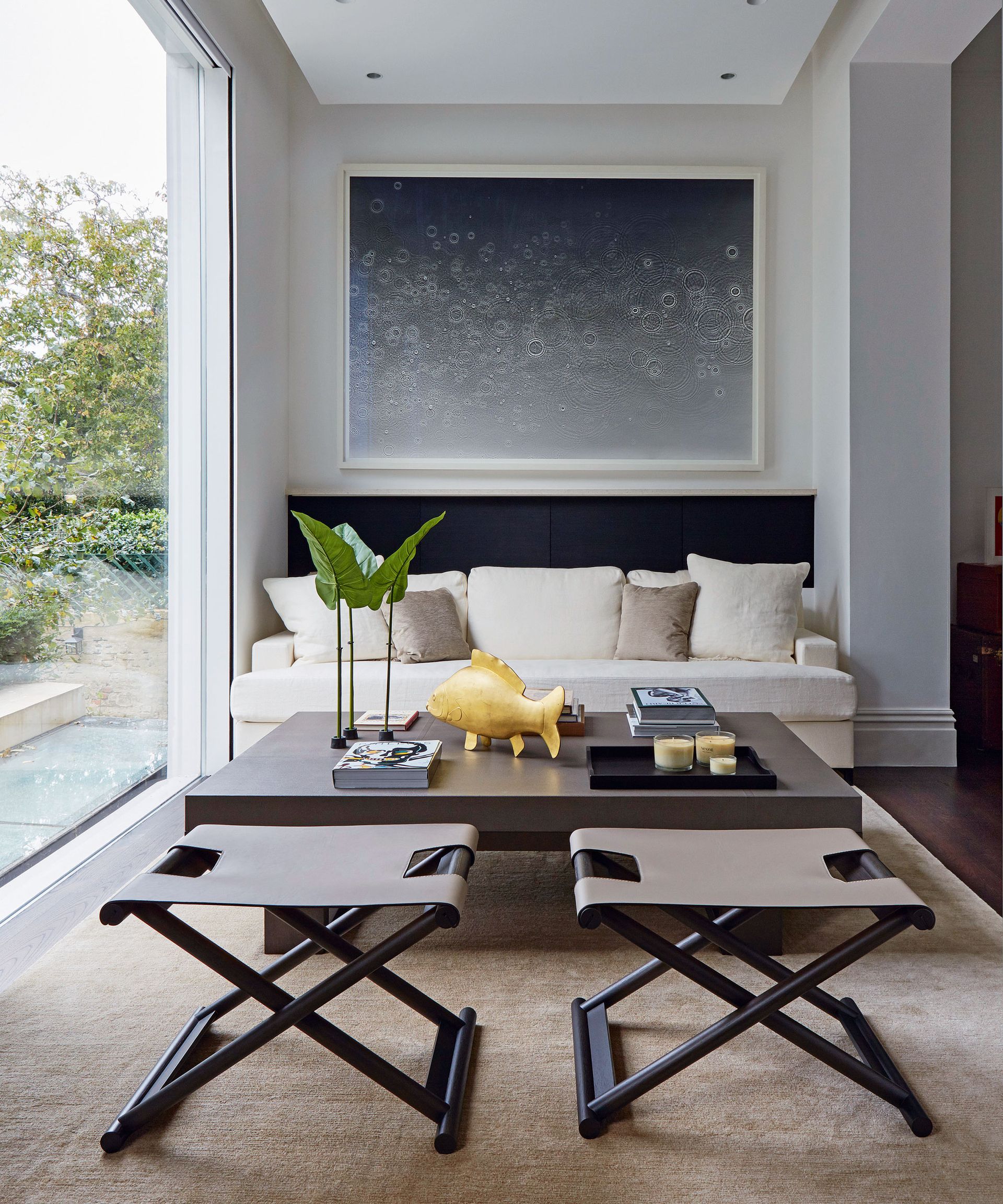 1. Anything collecting dust
We can become blind to our decor if we never shake things up, with items of furniture and decor sometimes staying in the exact same place for years. So, take everything off the coffee table, shelf, or side table, clean your living room while surfaces are clear, and then rearrange the items to make things feel brand new.
Display decorative pieces in a triangular shape or vignette with the tallest item flanked by two smaller pieces. Any seasonal decor and bits and pieces that have piled up over time can go.
'One of the best things you can do to achieve the ultimate minimalist space is to take inventory of what you're actually using in your living area,' interior designer Breegan Jane says. 'Many people end up keeping items they are afraid to part with, but they also haven't engaged with those pieces in quite some time. 
'Ditch the rolled-up yoga mats in the corner, or the vase with expired eucalyptus that sits on your mantel.'
Breegan Jane is a TV host, designer, entrepreneur and philanthropist in Los Angeles. Breegan's signature style meshes the artistic and elegant with livable comfort. She achieves a stunning, modern aesthetic with decor that maximizes elegance and fosters simplicity, serenity, and supreme comfort.
2. Too many small decorative objects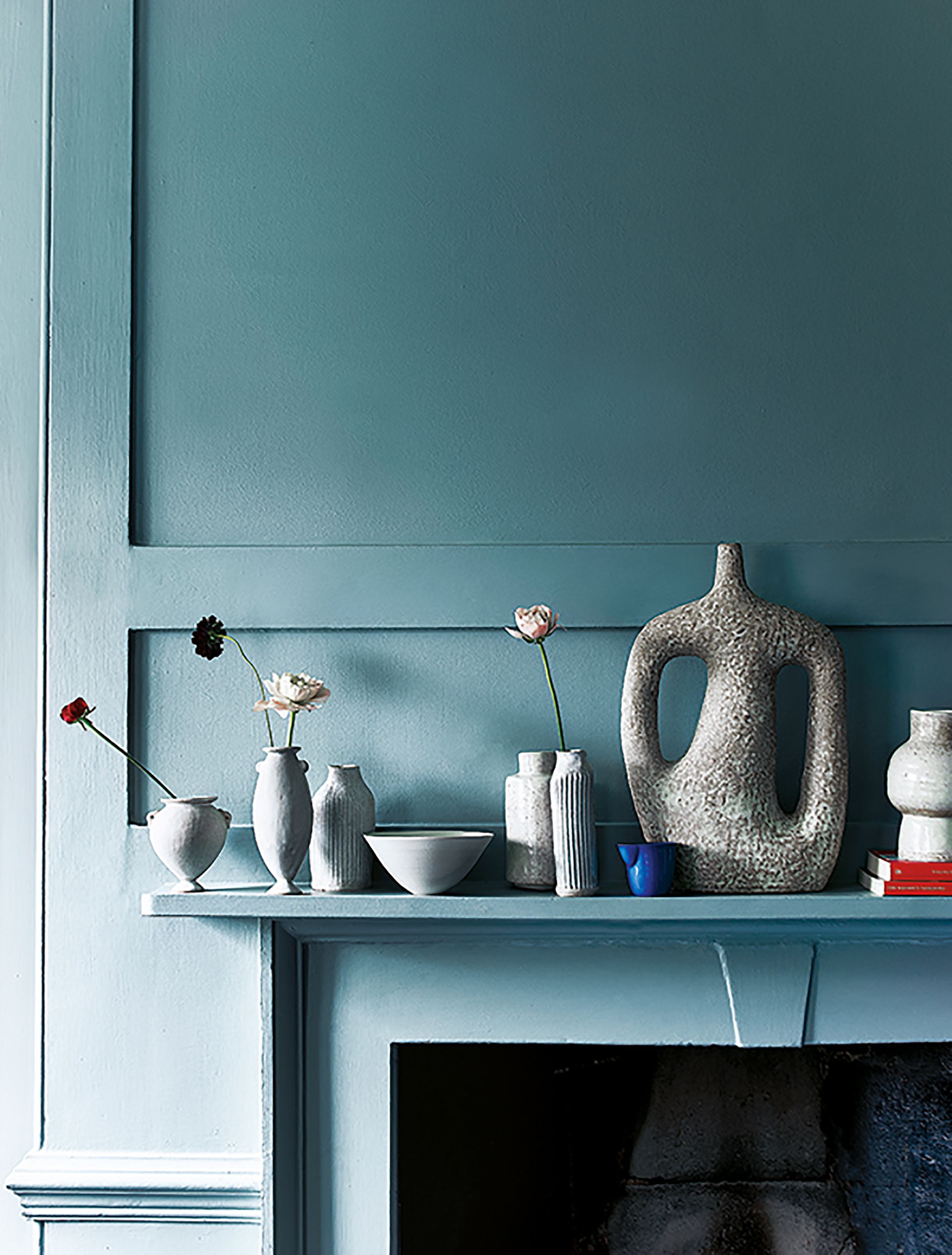 Some small decor pieces arranged on shelves add personality, but too many just make things feel busy and cluttered. You'll know if it's time to do some living room decluttering, and Breegan Jane and Hillary Cohen have some expert decluttering tips for when you've done begun clearing out.
'Think "larger and fewer" when it comes to decorative decor,' says Breegan Jane. 'Aim for larger, more impactful pieces like a striking, oversized piece of art or a crystal, instead of ten tchotchkes scattered about. You'll get all the beauty without the clutter.'
According to Hillary Cohen, over-accessorizing is the easiest way to make a space feel cluttered. 'Try to cut back and only use a few accents of well-loved items. Love coffee table books? Try only having 1-2 out and rotate them often,' she suggests.
Hillary Cohen founded HCO Interiors, a full-service interior design firm serving the greater New York/New Jersey area. She creates layered, thoughtful interiors that allow clients to live the most beautiful version of their lives. With over fifteen years of experience, Hillary has been involved in projects including large and small-scale residences, boutique hotels and celebrity homes in Los Angeles, San Francisco, Nashville, Hawaii, Martha's Vineyard, the Hamptons and New York City.
3. Your coffee table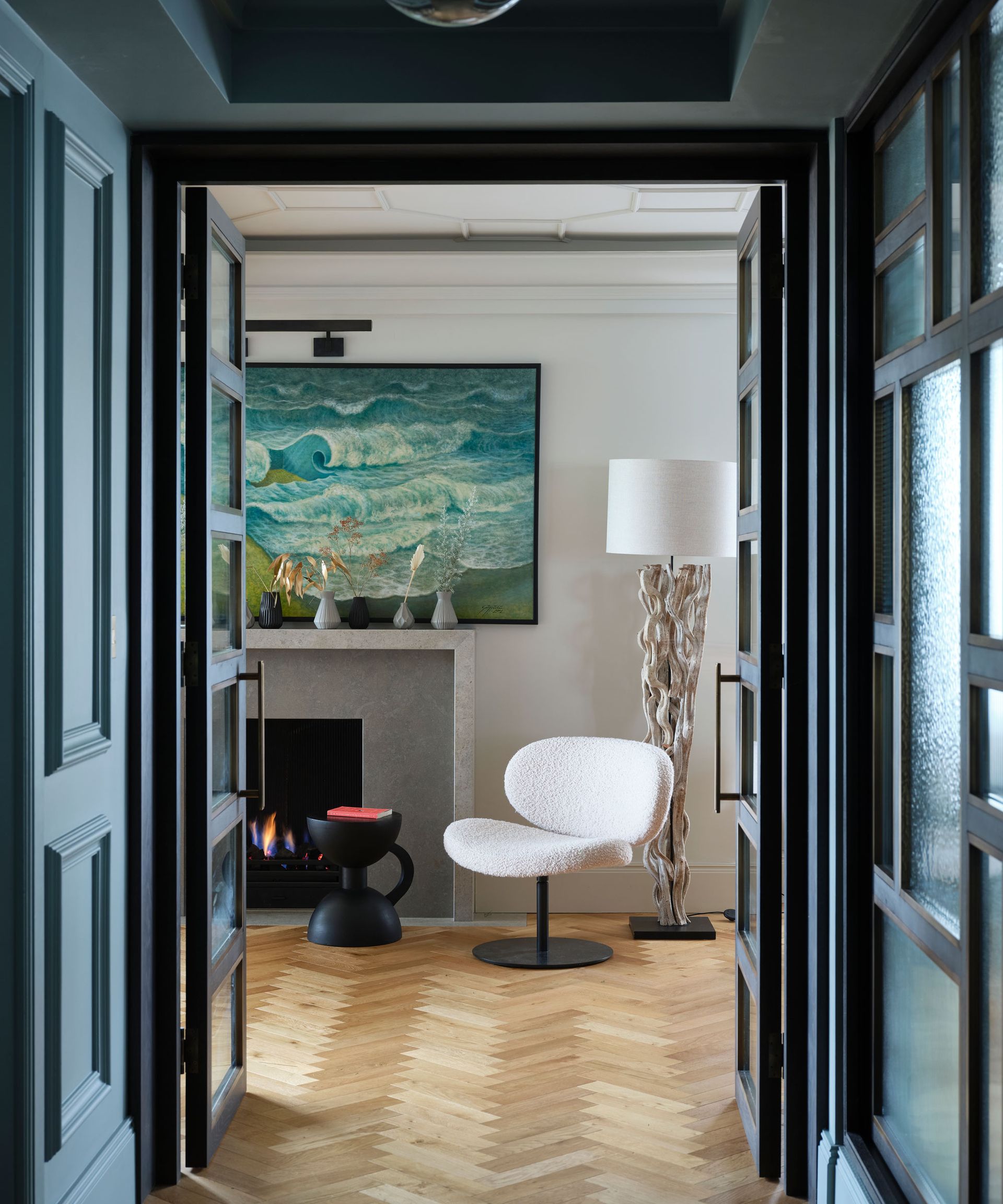 'People often gasp when I tell them they don't actually need a coffee table in a living room,' says Breegan Jane. 'Yes, I love the look of a chic stone or brass table, but the truth is, they take up a significant amount of space.' 
So if you're looking for functionality with a minimalist aesthetic, Breegan suggests swapping the bulky coffee tables for a few (much smaller) occasional tables. Multiple side tables, at Anthropologie will allow for a more free-flowing and adaptable living room layout perfect for small living rooms.
'They can be stored right beside your seating,' Breegan says, 'and they are much easier to use for a plethora of needs in a living space.'
4. Outdated media storage units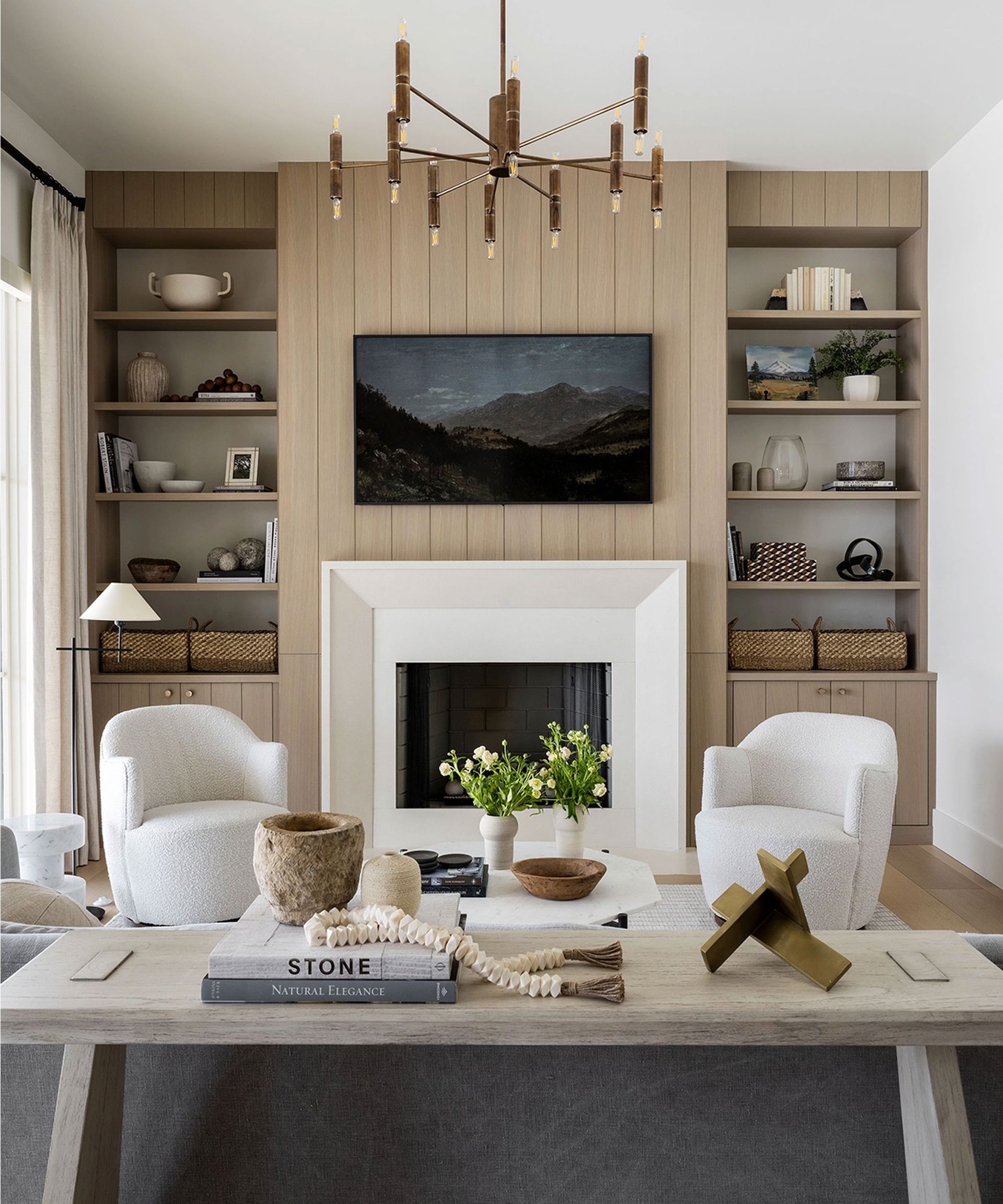 There's nothing wrong with a vintage TV stand, but a wall-mounted TV feels much more in keeping with a minimalist style. 'Remove bulky media storage units like TV stands and large entertainment centers as they usually take up significant space and dominate the visual look of a living room,' says Sylvia Li, interior designer at Open Spaces Feng Shui.
'If you still use physical media such as DVDs or CDs, replace the bulky media storage with a smaller media console that accommodates only essential media devices, or opt for a minimalist wall-mounted TV.'
5. Excessive lighting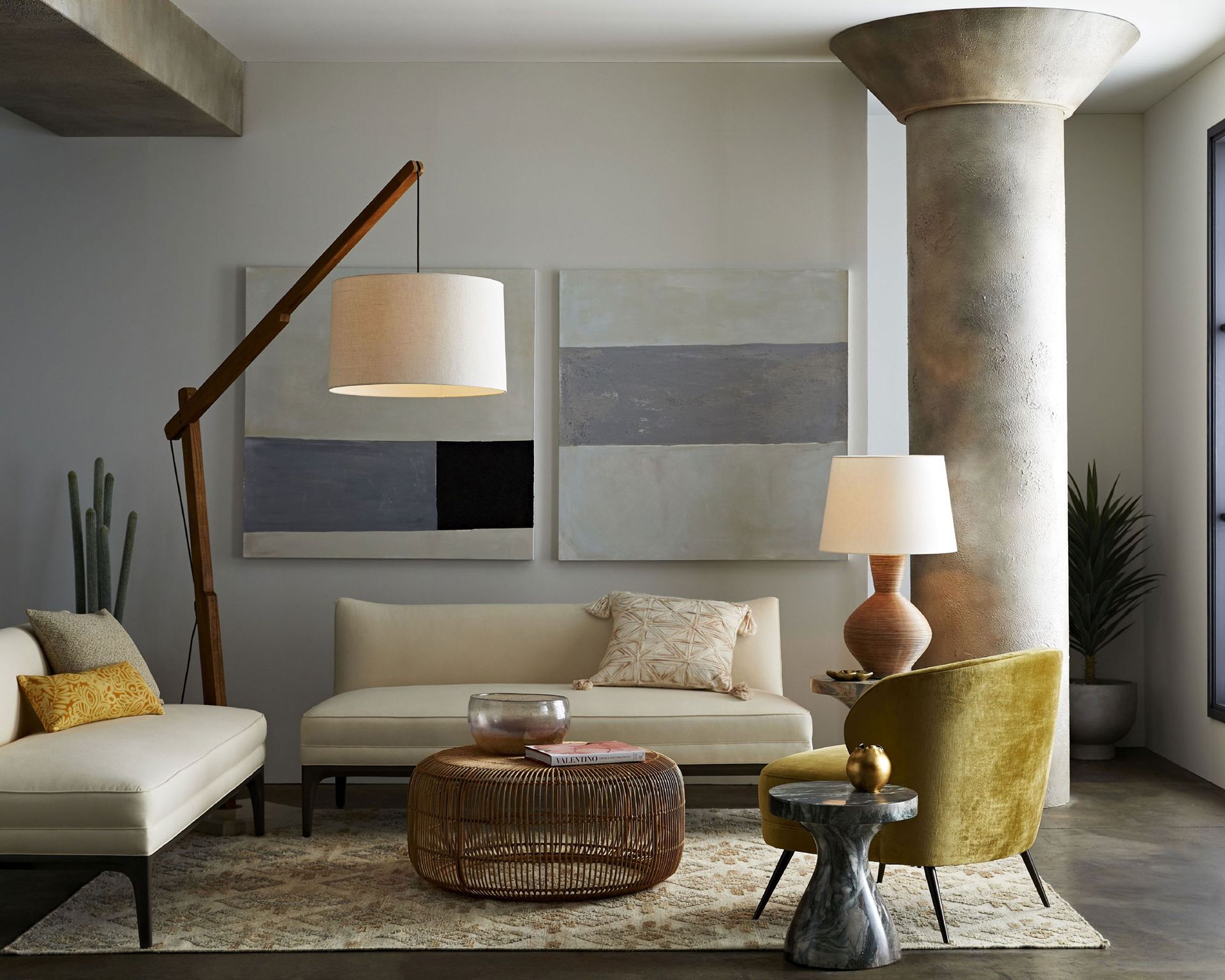 Less is more with lighting too, argues Sylvia Li: 'Although proper lighting is essential for any living room, excessive lighting fixtures can create an overwhelming and cluttered environment and should be removed from a living room for a more minimalist space,' she says.
'Remove all floor lamps, pendant lamps, or table lamps that do not contribute to the overall lighting scheme of the living room. Use a few strategically placed light fixtures that provide adequate lighting and maintain a minimalist space.'
What materials does minimalism favor?
James Scaife, the founder of furniture and lighting company Olson & Baker, says the key is to embrace natural elements. 'Incorporating materials like wood, glass, metal, and concrete brings a sense of authenticity and timelessness to the room. Not only do these materials contribute to the minimalist feel but they also add visual interest and a feeling of durability.'
'Minimalism is all about subtlety, the beauty of a wood's grain, a lacquer's sheen, and so on. Embracing minimalism allows you to focus on what truly matters. It creates a sanctuary where you can relax, unwind, and find peace in the simplicity of your surroundings.'
---
Minimalism uses essential, functional items in an aesthetic way, and the best way to do this is to choose multi-purpose furniture. 'I will always recommend multi-use furniture for a minimalist,' Breegan Jane says. 'Look for pieces that do double duty, like credenzas with doors that open to storage, or larger ottomans that have cavities to hide away items you don't want out in the open.'
If an item has one use and doesn't bring you joy, consider taking it out. That could be an old footstool with no built-in storage, or a floor lamp you've never really liked. In the kitchen, there are so many things to remove for a more minimalist space that looks good and functions seamlessly. What will you be removing?