We are always looking for simple ways to make small living rooms look bigger, and often, the most obvious place to start when it comes to 'expanding' your square footage is with the furniture. 
In a living room, it's of course the furniture that takes up the visual, and physical bulk, so while the colors you choose can have an impact it's the furniture and the way you layout it out that can really make a small living room look bigger. 
The shapes, styles and materials you pick will affect how light flows around the room, how the eye moves around the space, and ultimately how big (or small) your living room feels. Plus, the layout of your furniture will have an impact too – in fact, this is probably the most important aspect of your living room design if you want to create the allusion of more space. 
We spoke with designers who often work with tighter spaces in order to get their tips on how furniture can be used to make a living room look bigger. 
How to use furniture to make a living room look bigger
As designer Kati Curtis explains, 'It's not so much an individual piece of living room furniture, but the proper selection of furniture that can dramatically transform your living room, making it appear significantly larger.' Really it's about looking at your room as a whole – how your furniture designs and layout will work together to help create the allusion of more space. 
1. Don't be afraid of bigger pieces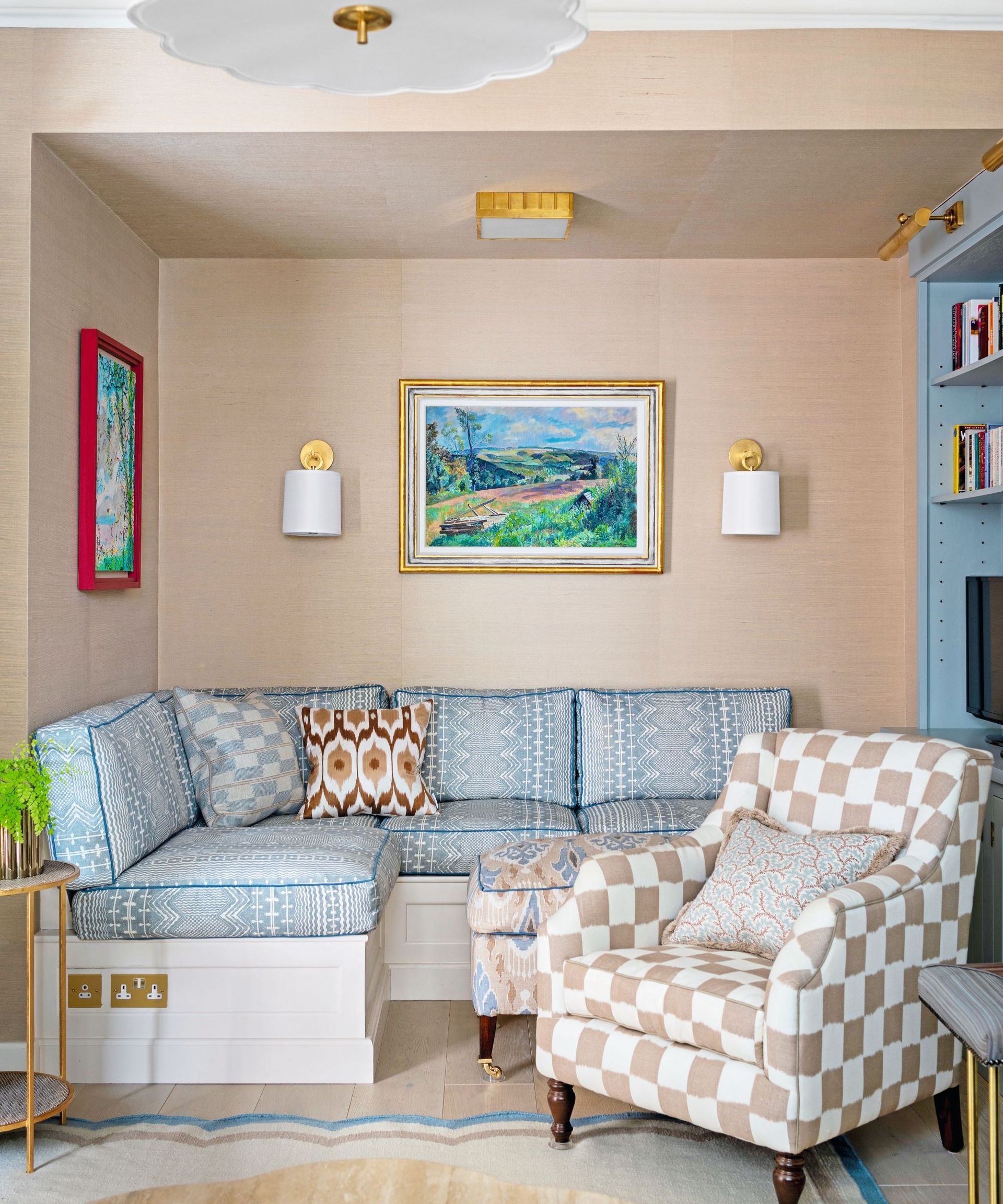 Sometimes, in small living rooms, small furniture does work better and we will cover when and how shortly. But, it's a common small living room mistake to think that these spaces can't handle larger furniture and that larger furniture can in fact make the room look bigger. 
'It may seem counter-intuitive, but anchoring your living room with a larger sofa or sectional that really fills the space is actually a great way to make the room feel bigger,' explains Kathy Kuo. 'Having a larger piece that immediately draws the eye gives the effect of the room itself being large.'
Filling a small living room with smaller pieces is going to make the room feel cluttered, and just draw attention to the proportions. Instead, take the less is more approach. Go for less furniture but don't scale it down for the room. A large, low-slung sofa, a coffee table that's in proportion to the sofa, and a large area rug will really ground the room, give it some focus, and you can bring in slightly smaller, more slimline pieces elsewhere in the room. 
Interior design expert Kathy Kuo founded her eponymous home store in 2012 – and it has since gone on to be an e-commerce destination for luxury furniture and decor essentials from a variety of beloved home vendors. Kathy and her store specialize in styles like French Country, Coastal Beach, and Modern Classic while offering interior design services to their clients. 
2. Keep the layout open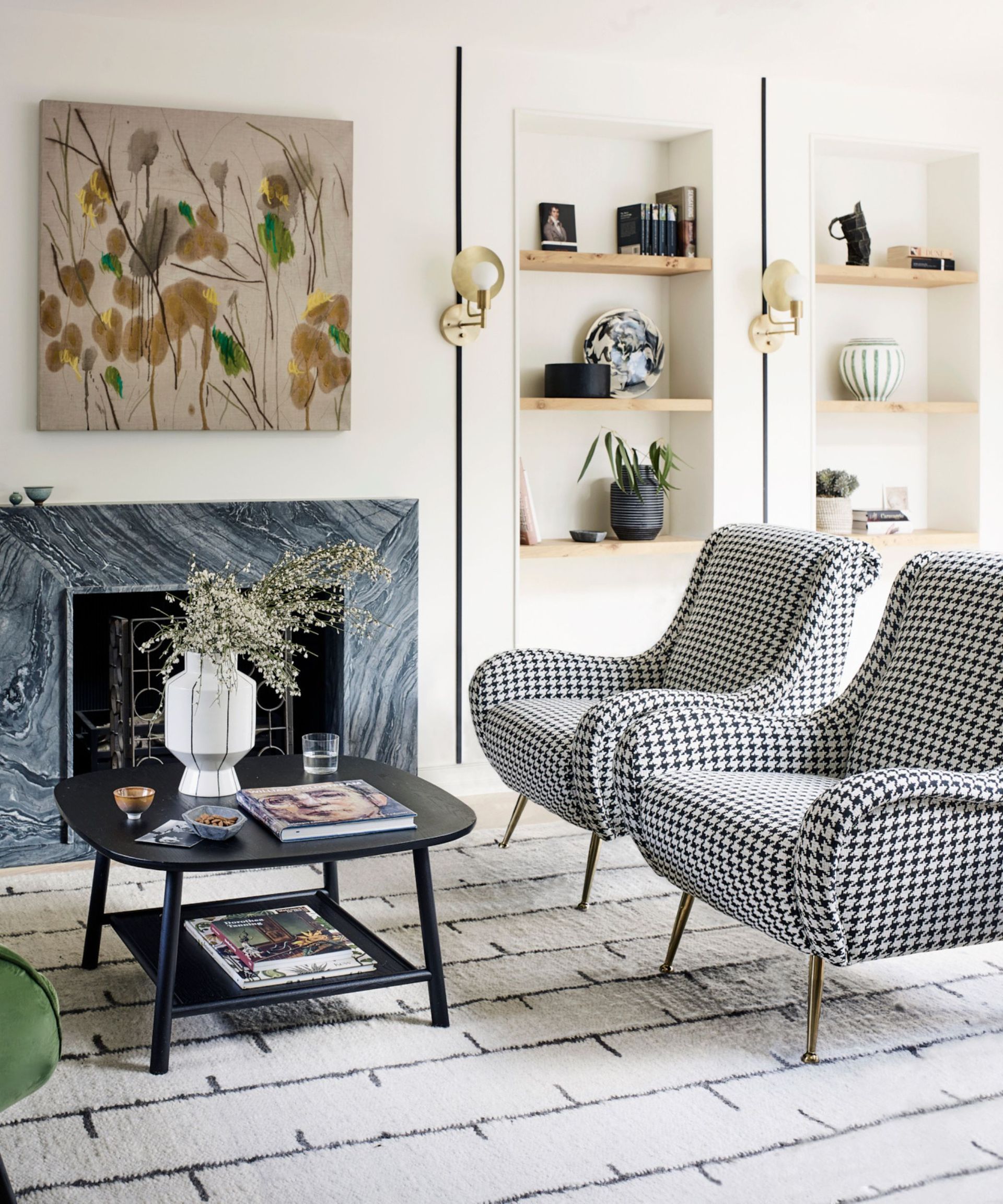 The best small living room layouts are ones that are really easy for the eye to take in – by that we mean, nothing obviously blocks the eye line. But that's not to say that everything should just be pushed up against walls with a sea of floor in the middle. 
It's a common misconception that this approach will make the room look bigger, when in fact, pulling those larger pieces like couches and armchairs away from the walls can open up the space. Floating furniture creates a far more interesting layout and is more sociable too. 
Ground the pieces you float with a large area rug underneath to act almost like the new dimensions of the room, this will only help make the space feel larger. 
3. Pick out furniture that's visually light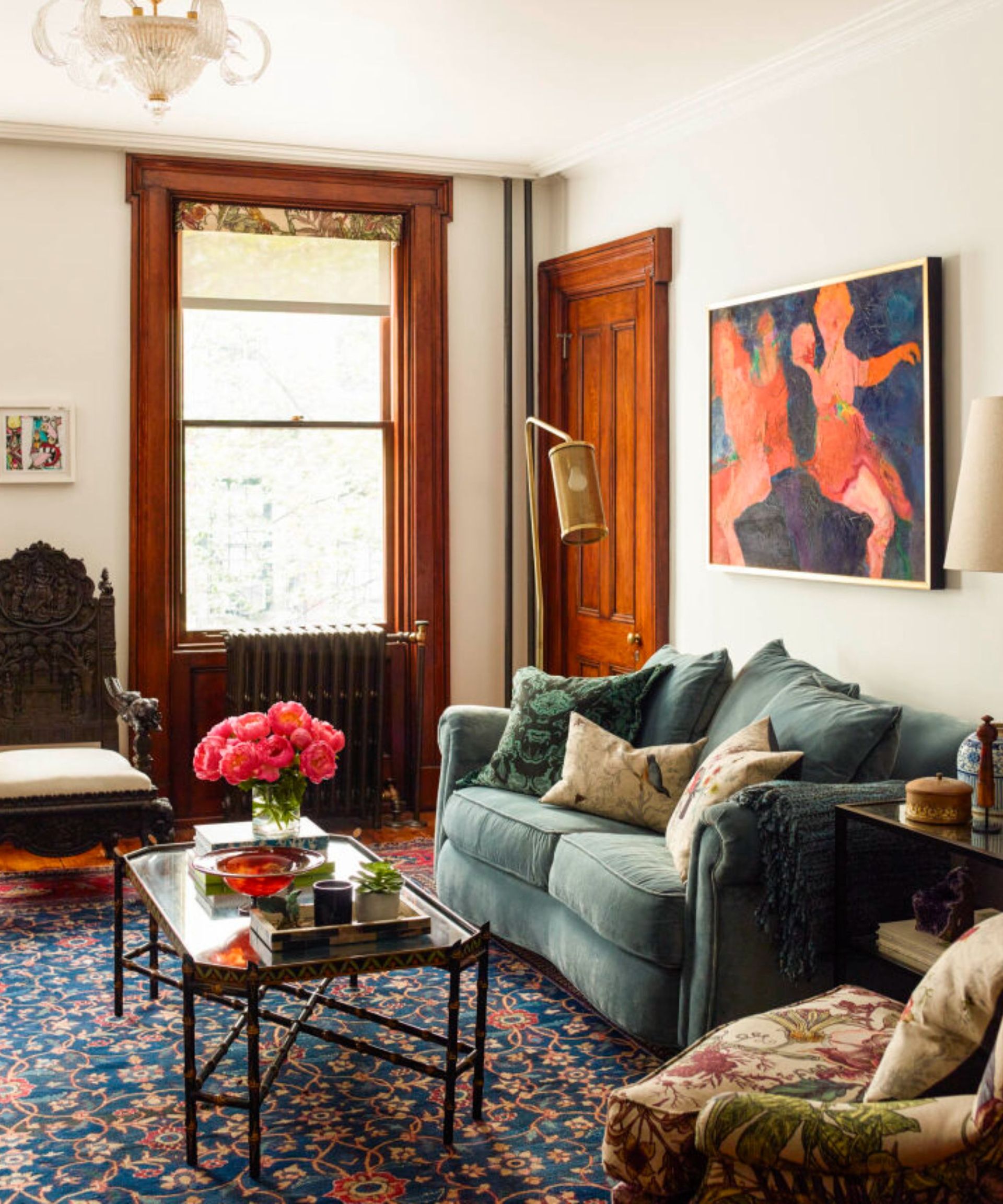 So beyond the your living room seating, which we have already mentioned needn't follow the rule of small furniture for a small living room, we would recommend keeping the peripheral pieces like side tables and storage pieces visually light. You want light to be able to flow around these pieces and not add too much bulk to the room. 
'Bulky freestanding furnishings are unhelpful; look for things on raised feet – these will look lighter and more airy,' explains designer Benji Lewis. 'And you don't need to get hung up on having a large central coffee table if it's not going to work in your space. As long as people have somewhere to put their glass down that's fine – neat little occasional tables positioned beside armchairs or at the ends of a sofa do the job brilliantly.'
Kati Curtis, who designed this living room agrees, 'You should opt for pieces with raised legs which provide a clear view of the floor, adding to the perception of spaciousness.' In this living room, there's a nice balance between larger pieces that ground the room and lighter pieces that prevent the room from feeling too full.
Kati Curtis is the founder of Kati Curtis Design, an design firm based in New York City specializing in classic design with a global influence. Kati founded the studio in 2005 after 12 years of working with international architecture and engineering firms. 
4. Rely on that satisfaction of symmetry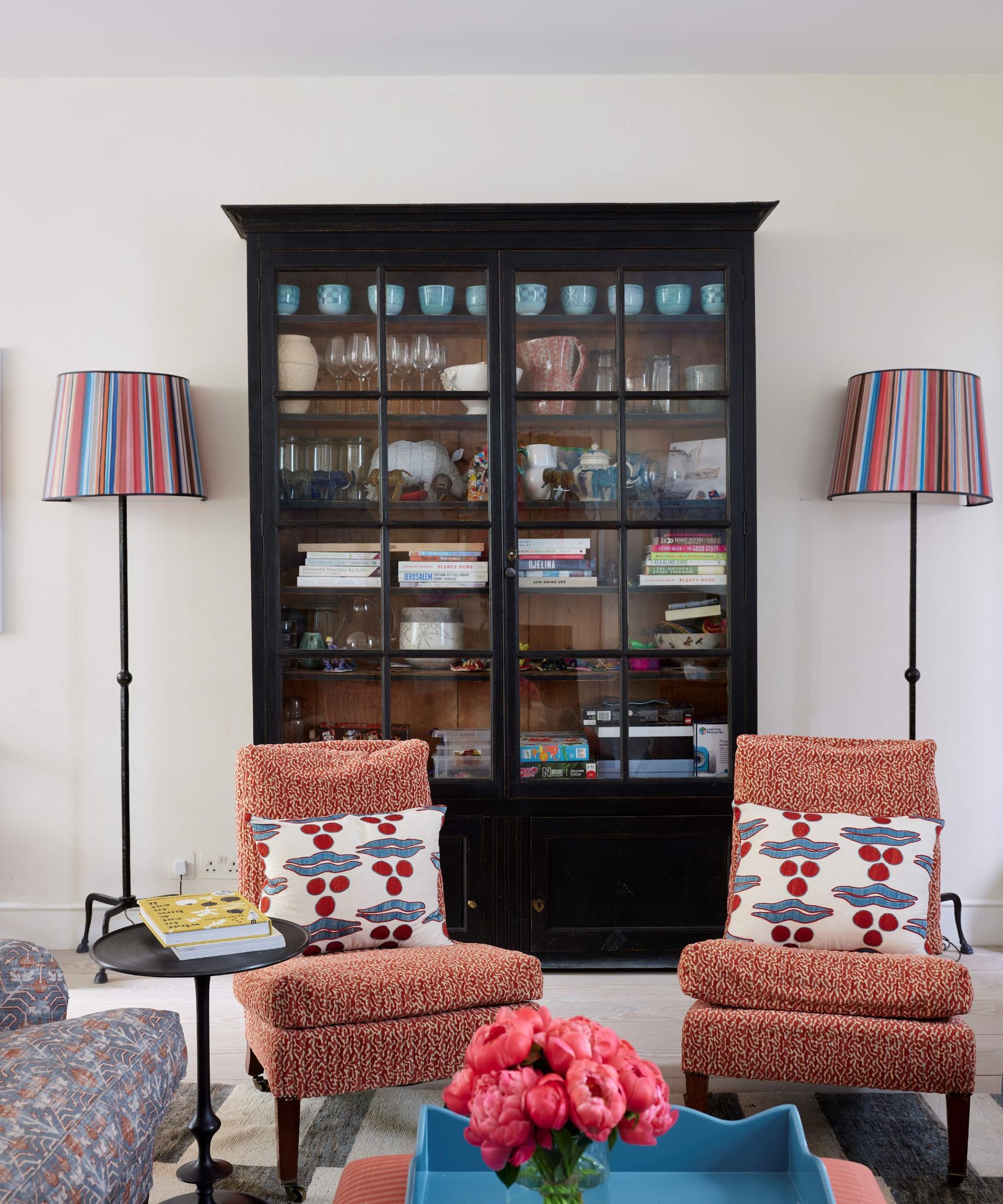 Symmetry in interior design is tricky to get right. More often than not designers will say to avoid, as you risk creating very two-dimensional spaces, however in a small living room throwing in just a touch of symmetry can work, it's satisfying, it's familiar, and visually it makes sense. 
A symmetrical or even asymmetrical layout will give a small space a clear focus and can ground your larger pieces of furniture but it can also soften them too, making them less dominant in the room. 
See how in this colorful living room the bookcase feels less like it's floating in a sea of floor as it's flanked by the lighting, and then that symmetry is mirrored in the armchairs. Plus, symmetry is so often reserved for large, lofty rooms that doing it on a small scale can allude to more space too. 
5. Choose light reflecting materials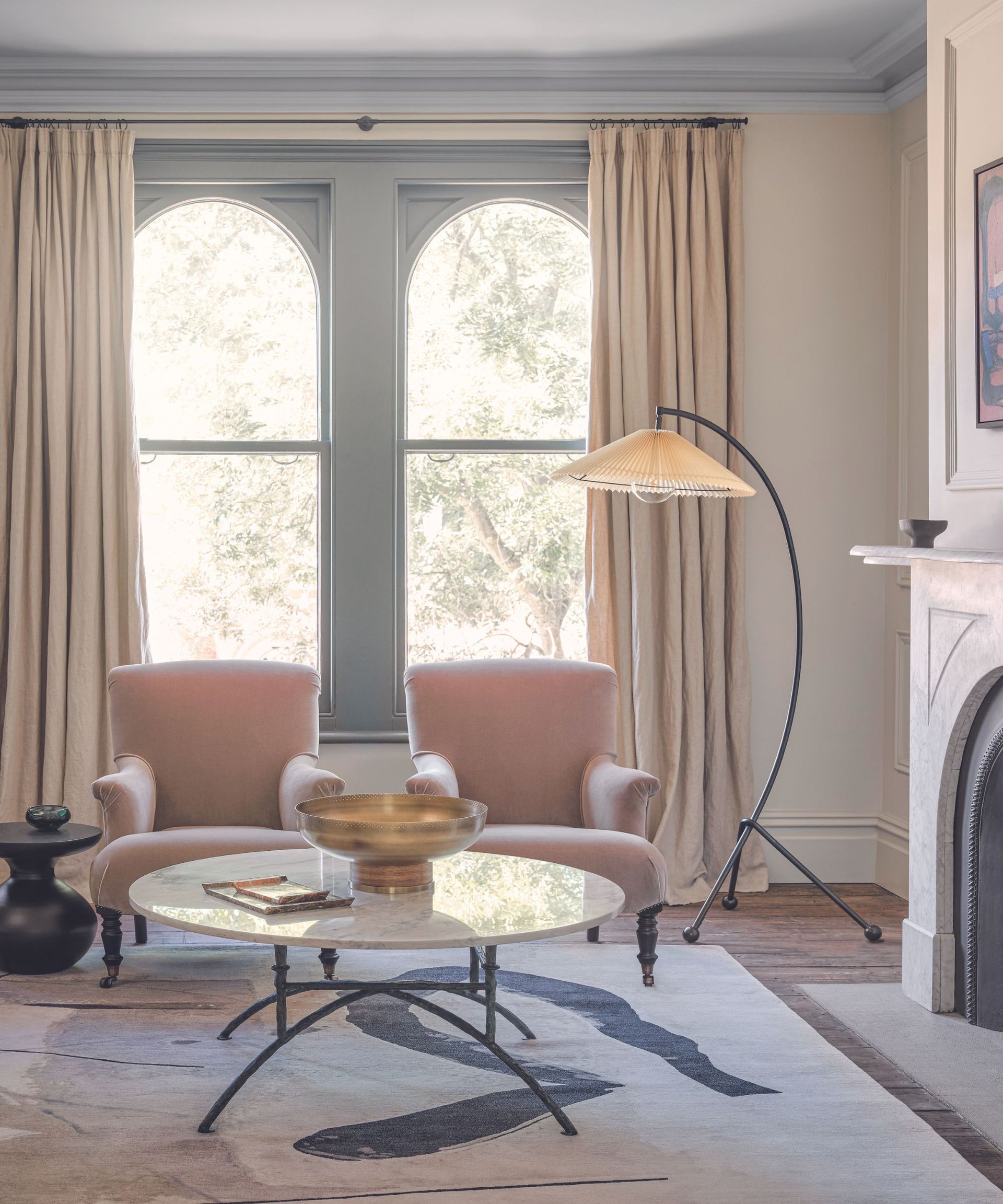 This is living room design 101, but it works. Using mirrors and reflective materials can help allude to more light and as a result more space. 
As Benji Lewis explains, 'Use living room mirrors to suggest that your space is larger than it actually it, but do think about where and how you use it. Rather than just hang it on the wall, consider hanging it on a door or the fronts of cabinetry. A large mirror placed opposite the door will make the space feel double the size or for big impact use a fitted mirror on more than one wall.'
Kati Curtis adds, 'Incorporating mirrors can further amplify the space, reflecting light and vistas to trick the eye into perceiving more depth. And a touch of glass or Lucite furniture can create an almost 'invisible' feel, enabling the eye to move smoothly around the room.' See how in this neutral living room, even the marble coffee table bounces light back around the room. 
6.Go built in where you can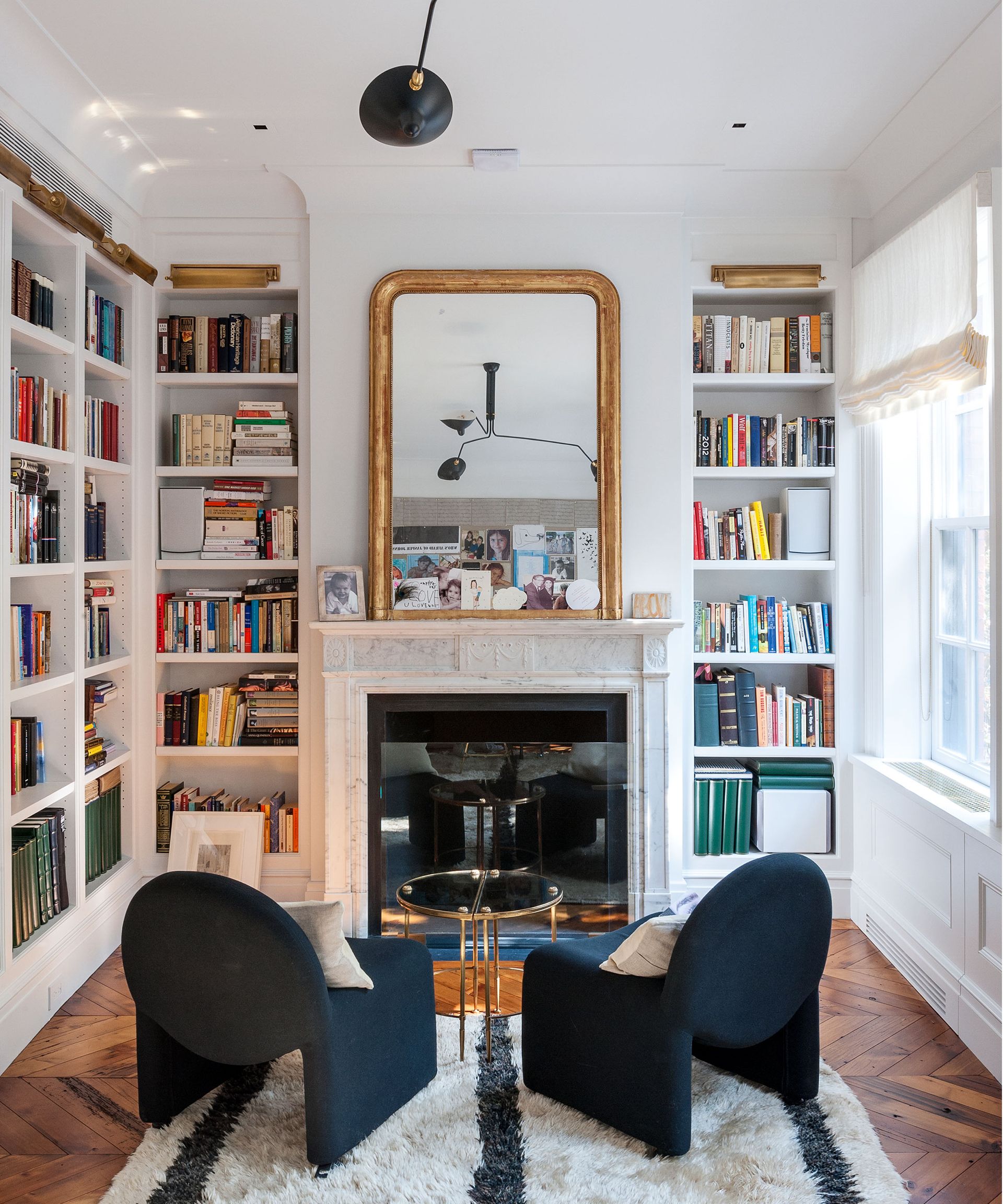 'Built-in storage furniture is a good thing to bear in mind for a small living room. 'Establish what you need to store first and then have your cabinetry built to accommodate just that,' recommends Benji. 
Going built-in means you have to bring in fewer freestanding pieces and less clutter. You can also create something that fits seamlessly into your space which will really maximize your small living room storage.
You might want to incorporate some closed storage within your built-ins to hide away any unaesthetically pleasing clutter, but do keep some open for shelving too. Having that space for books and decor adds character to the room, and note how in this small living room, totally wrapping the room in floor-to-ceiling built-in bookshelves actually makes the room feel bigger as the books blur the dimensions just as a wallpaper would.  
Stylish furniture buys that will make your living room look bigger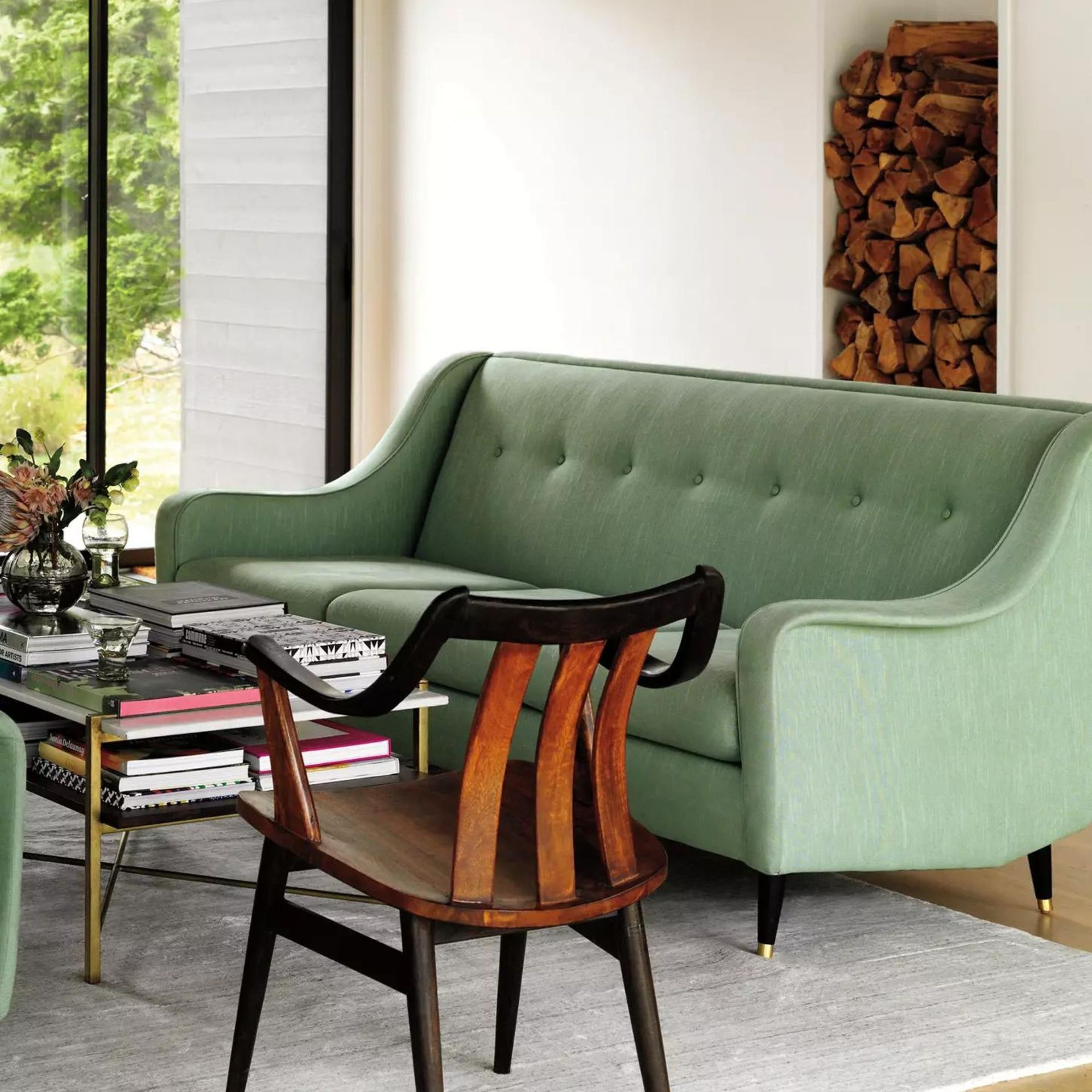 Elemental Layers Coffee Table
With tapered legs, a bit of height, and a light-reflecting marble top, the coffee table is the perfect piece of small living room furniture. Stack in full of books to add some color and character.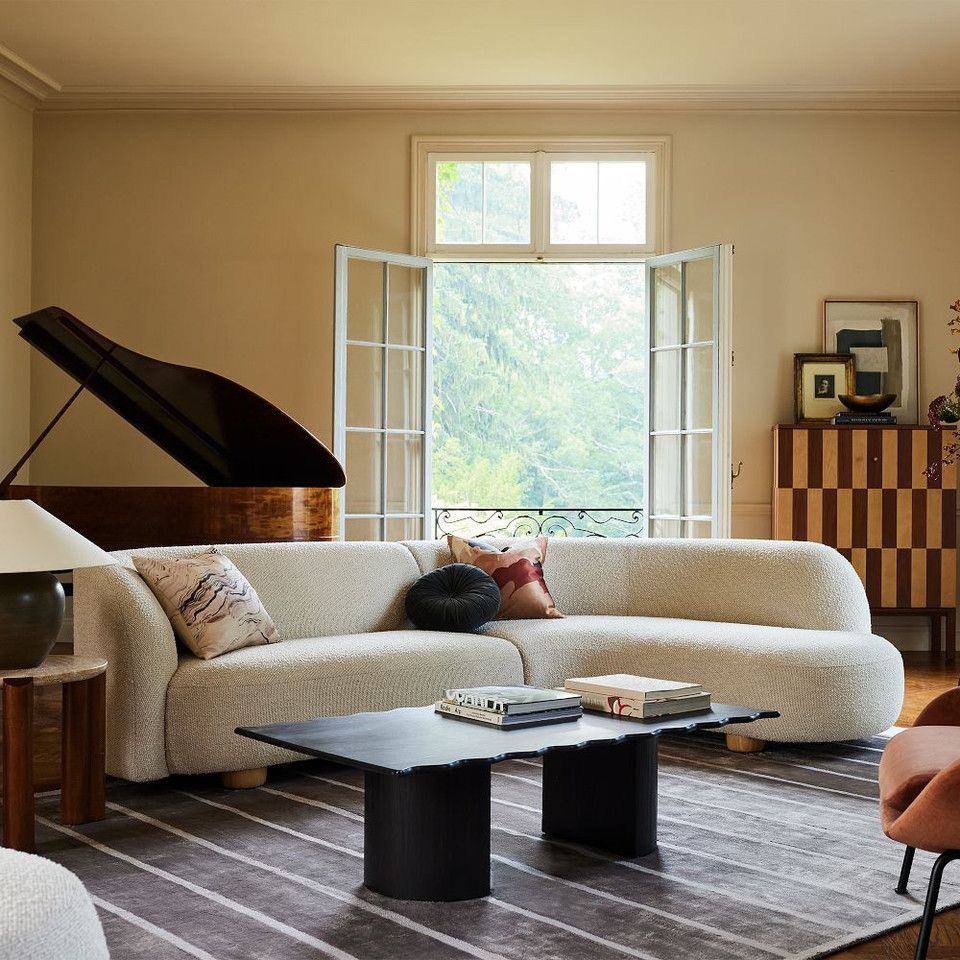 Laurent 2-Piece Wedge Corner Chaise
We mentioned that you needn't always go small with your furniture in a small living room, so this curved sectional would work perfectly. The curves make it a more fluid pieces too, less structure, so it wont break up the space, even if you wanted to float it.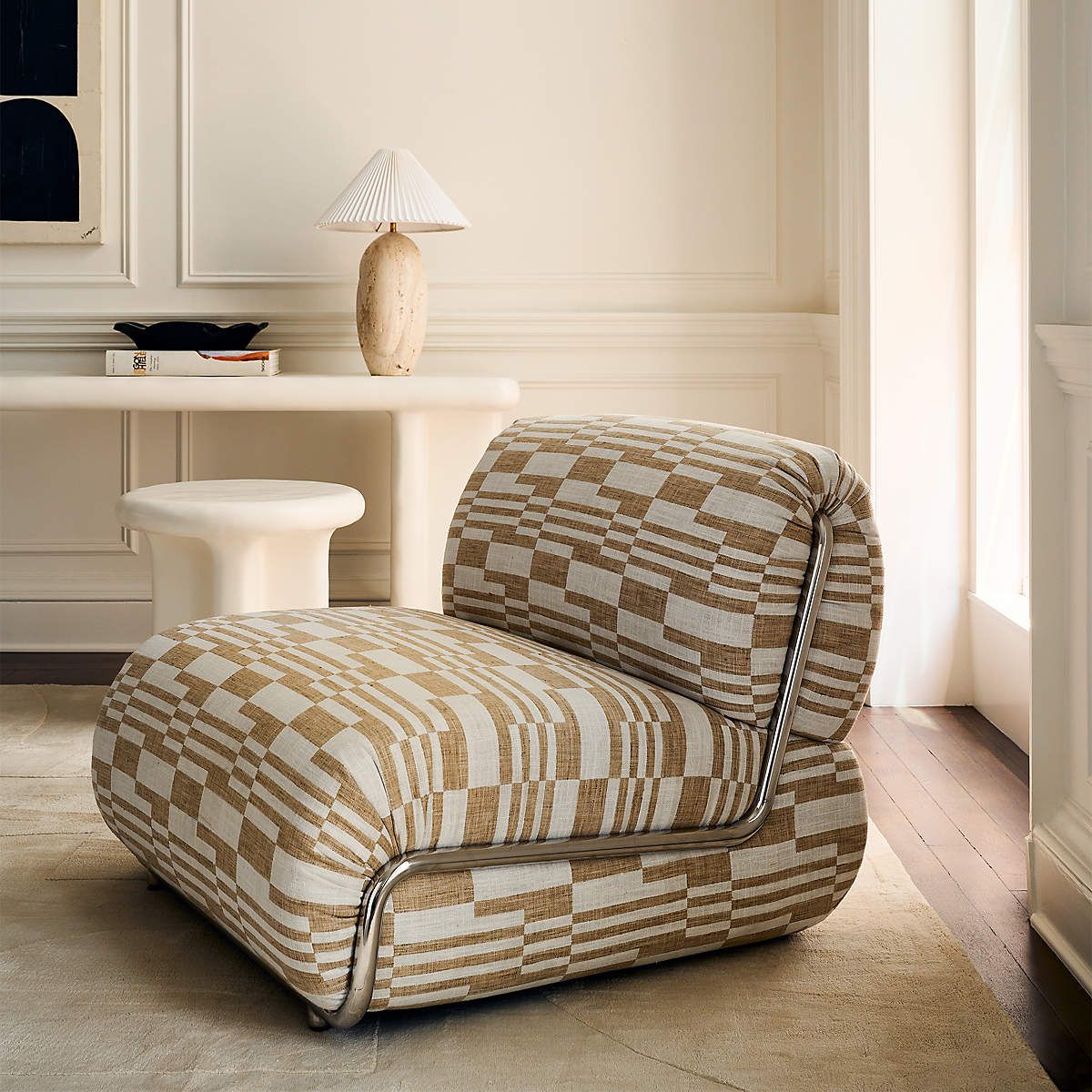 Going armless with your seating is a great tip for small living room furniture. This kind of design creates a more easy and effortless flow and will always result in a more open layout. 
FAQs
What sofa color will make a living room look bigger?
Lighter colors do work better in a small living room. It's not to say you can't go for a darker shade, and it does depend on the living room color scheme you have chosen, but if you have a lighter palette going on elsewhere bringing in a darker couch will make it a really dominant feature in the room. It could potentially overwhelm the space. For a safe option go with light warm grey, beige, creams or for more of a color dose, pale sage greens and light blues can work too.
How can you arrange a small living room to make it look bigger?
Keep your layout open. Ensure your furniture has some room to breathe and you can move around the space comfortably. It can be tempting in a small living room to cram in as much furniture as possible and just adjust the size of each piece to suit the scale of the room. But what you end up with then is a cluttered, fussy-looking space. Instead, pick a few key pieces and let them be the focus.