Living rooms are such a joy to decorate. And what we love about decorating living rooms is the simple switches you can make to totally change and elevate the room. With more practical spaces like kitchens and bathrooms, there's only so much decorating you can do to make the space feel different. But with living rooms, there is so much opportunity.
 We aren't even talking big things like painting or new furniture – a new throw cushion can give a room a new lease of life, a new book that makes you reshuffle your coffee table set up, or a new rug that makes you totally rethink your living room layout. There are so many simple tweaks you can make, and we asked some of our favorite designs what theirs are…
'One of the often-unrealized joys of the living room is that it's the only space in your home which isn't highly functional in the same way that the kitchen, bathroom, or even the bedroom is,' says Martin Waller, founder of Andrew Martin. 'The living room is a space which doesn't need to achieve anything, or rather nothing needs to be achieved in it. This is why it is my favorite room in my home – it is the space that most closely tells the story of my life.'
Very much agree. And we are all for switching up these spaces with the seasons, as living room trends change and as your mood changes too. They are such lived-in spaces that we often just get used to them, so it's always nice to give them a quick and easy freshen-up.
Easy ways to make a living room look more beautiful 
Interior designers share their favorite ways to turn a living room into a beautiful sanctuary with just a few simple, inexpensive tricks.
1. Switch your window treatments with the seasons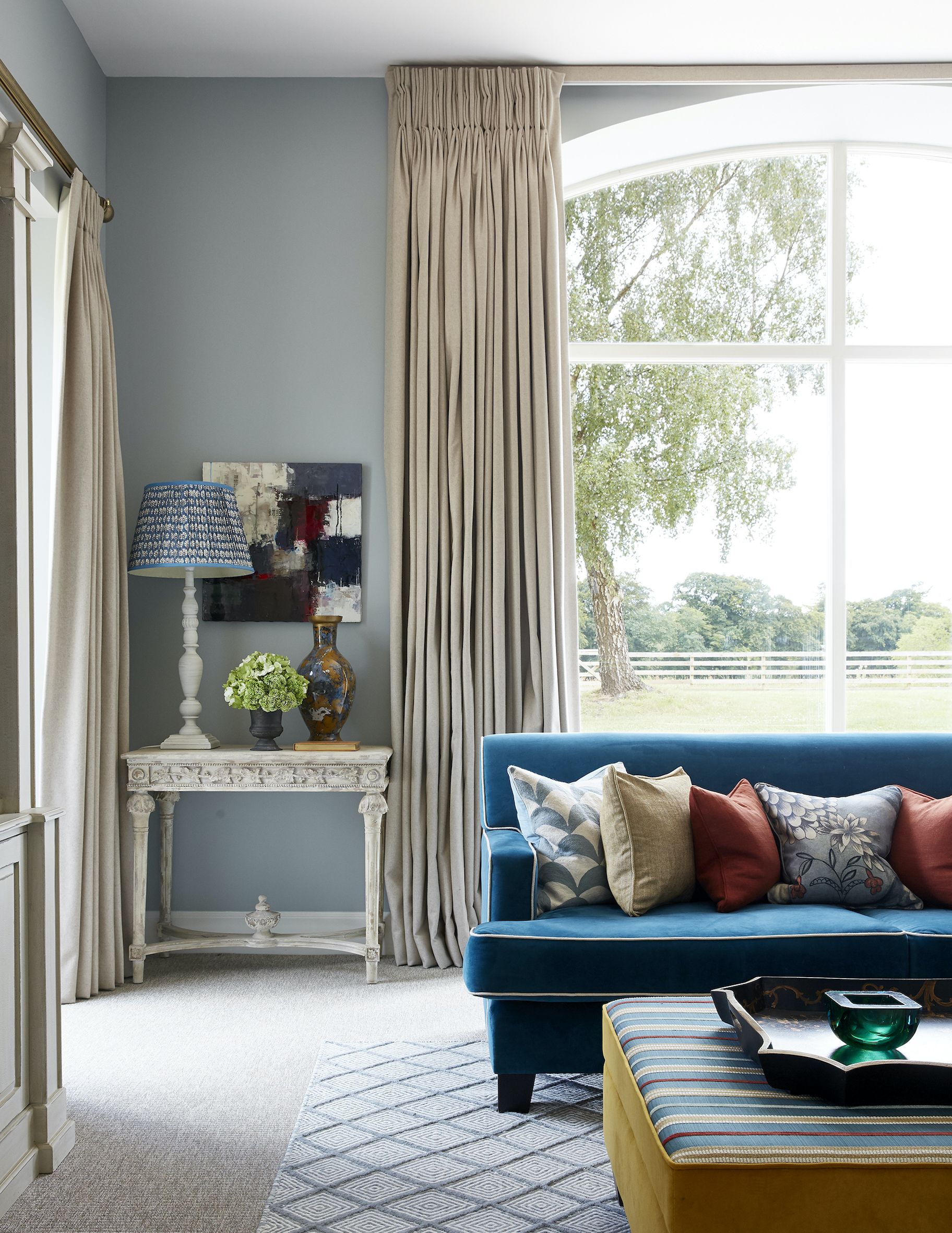 This is something we do at least twice a year – once in the early spring and once as fall starts to set in. Living room curtains may be seen as a bit of an accessory, a soft furnishing that's not as dominant as a sofa, but they are a big feature in the room, size wise, curtains can take up as much visual space as a couch. So changing them out can make a big difference and elevate your room.
Changing your window treatments with the seasons is an obvious time to make the switch. In the warmer months go for something light and floaty like a slubby linen and in the fall and winter change out to heavier drapes that will make the room feel cozier. Of course, you also change your curtains as trends change, using them to bring in an on-trend print or colors without the commitment of having to redecorate.
'We think one of the most important elements of any living room is window treatments,' says Jennifer Walter, founder of Folding Chair Design. 'The texture, body, and overall framing that treatments add to any room, especially a larger great or living room is essential.  Draperies, especially when tailored appropriately to a window's proportions can feel as elevated and curated as custom furniture.  An undressed window feels like the room hasn't been finished or there's something missing.'
Designer Kati Curtis agrees that for a beautiful living room, you should 'never leave your windows bare! Dress them up with curtains to give your living room a polished look. If your budget allows, go for custom window treatments, or you can find off-the-shelf curtains from home retailers. For a creative touch, check out TikTok for ideas on turning a tablecloth into a unique curtain.'
2. Add some of your personality with coffee table books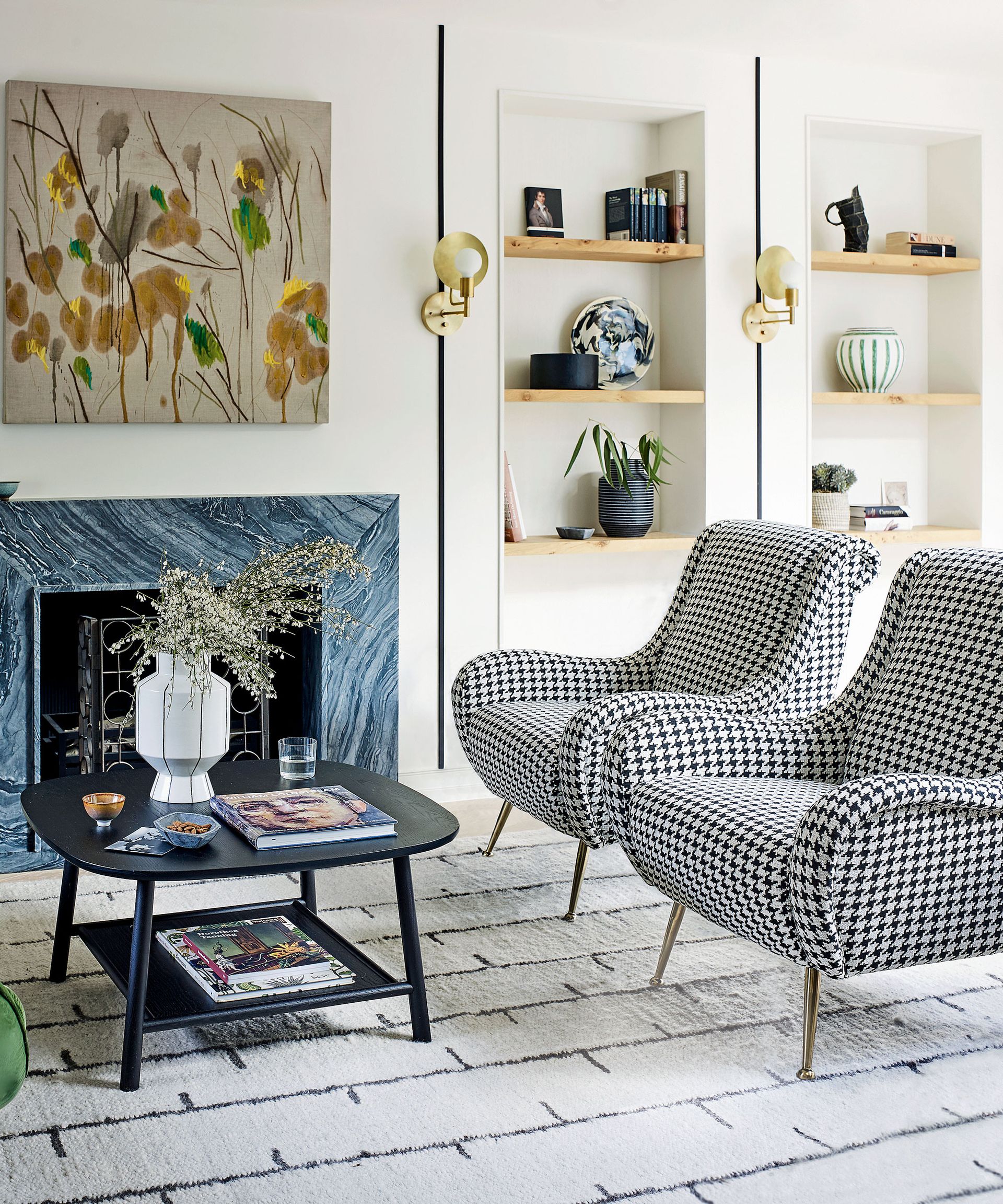 Coffee table books are an essential living room accessory. They are an easy way to make your living room more beautiful and add a pop of color and character. Make them the focus of your coffee table styling, and add in other pieces of decor to vary the shapes and heights – vases, candles, etc. Again, coffee table books are something you can switch around with the seasons. Leave out some colorful, fun vacation inspiration books over the summer (this Aerin Lauder travel book, from Amazon, is perfect for this), and then switch to some cozy decor books in the fall. 
Kati Curtis says she always relies on coffee table books to add some interest to a living room. 'Showcase your interests and values with coffee table books. They provide a great opportunity to express yourself and can spark interesting conversations with guests. Remember to remove the jackets to reveal the beautiful covers underneath,' she suggests.
'When I want to give my living room a refresh to make it look more beautiful, I always start with my coffee table,' adds designer Kathy Kuo. 'Taking the time to create intentionally styled vignettes on your coffee table surface is such a quick, easy, and actually very fun way to add beauty and personality to your space. I like to start with a luxe decorative tray and arrange items like books, candles, framed photos, and bud vases to create a visual focal point that is also full of personality and meaning.'"
3. Always have a vase of flowers or a display of plants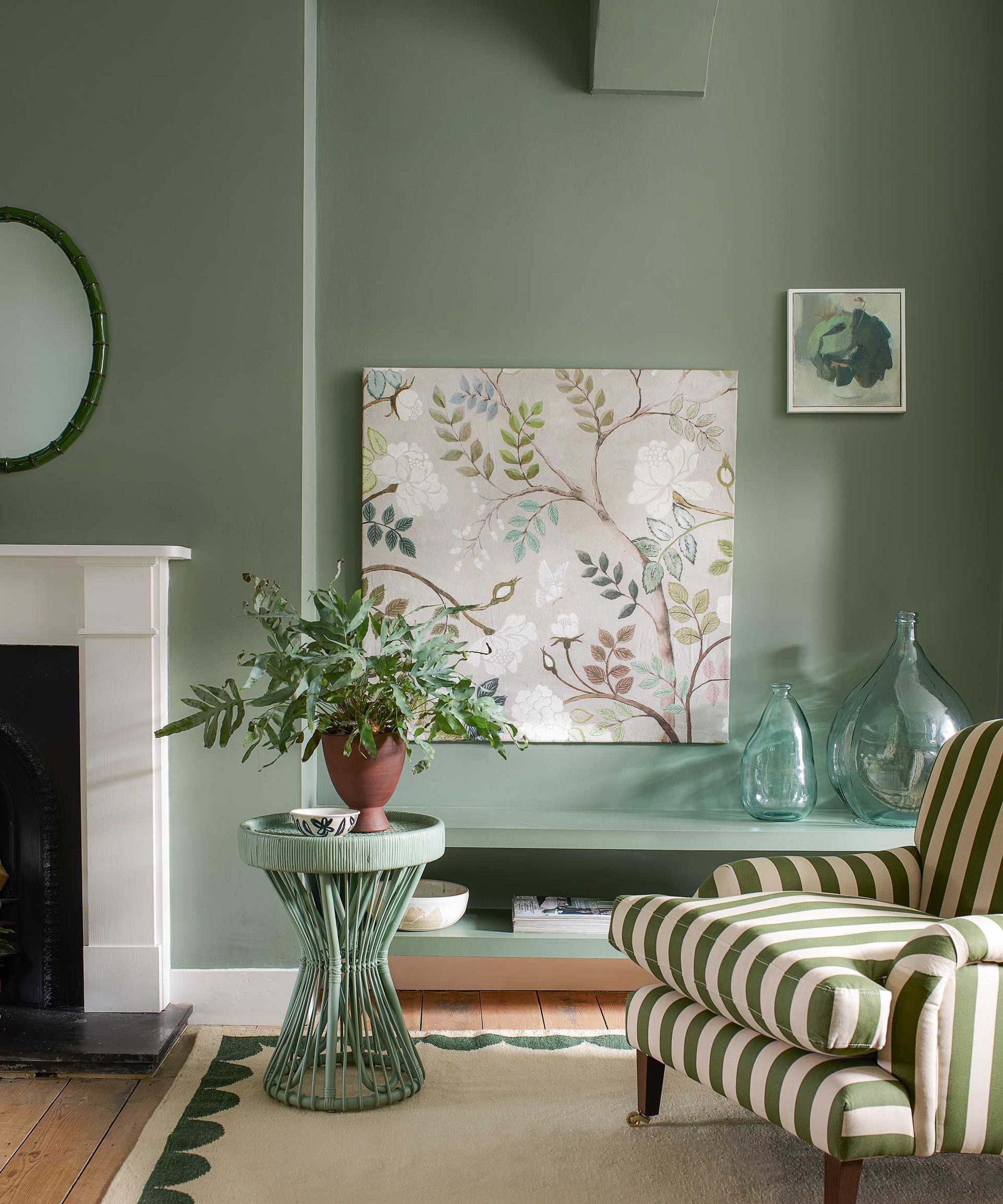 'Bring a fresh and lively vibe to your room with fresh flowers. They always add a touch of natural beauty.' suggests Kati. A super simple way to make a living room more beautiful is to always have fresh flowers in the room, or some form of greenery. They brighten the space and add a natural texture too. 
Flowers can be an affordable addition, but what we would recommend doing is either foraging a bunch from your own backyard or mix and match – buy a bunch and then pad it out and make them more of a feature by adding in your own grown blooms. Keeps costs down and can look more natural. 
If flowers are a bit fussy for your space, and you prefer a more minimalist look, take inspiration from this space and instead display a bunch of fresh, vibrant greenery instead. You still get all those living natural textures and shapes. Or opt for a house plant, or even better a very on-trend indoor tree. 'Adding plants to your living room is a great way to bring some life and color to the space. Plants are not only aesthetically pleasing, but they also purify the air and can help reduce stress,' explains designer Irene Gunter. 'There are various types of indoor plants that you can choose from, depending on your preference and the lighting in your living room. Personally. I like Peace Lilys, Fiddle Leaf-Figs and Mona Lisa. You can place them on a side table, in a corner, or on bookshelves to add visual interest.'
4. Hang artwork that means something to you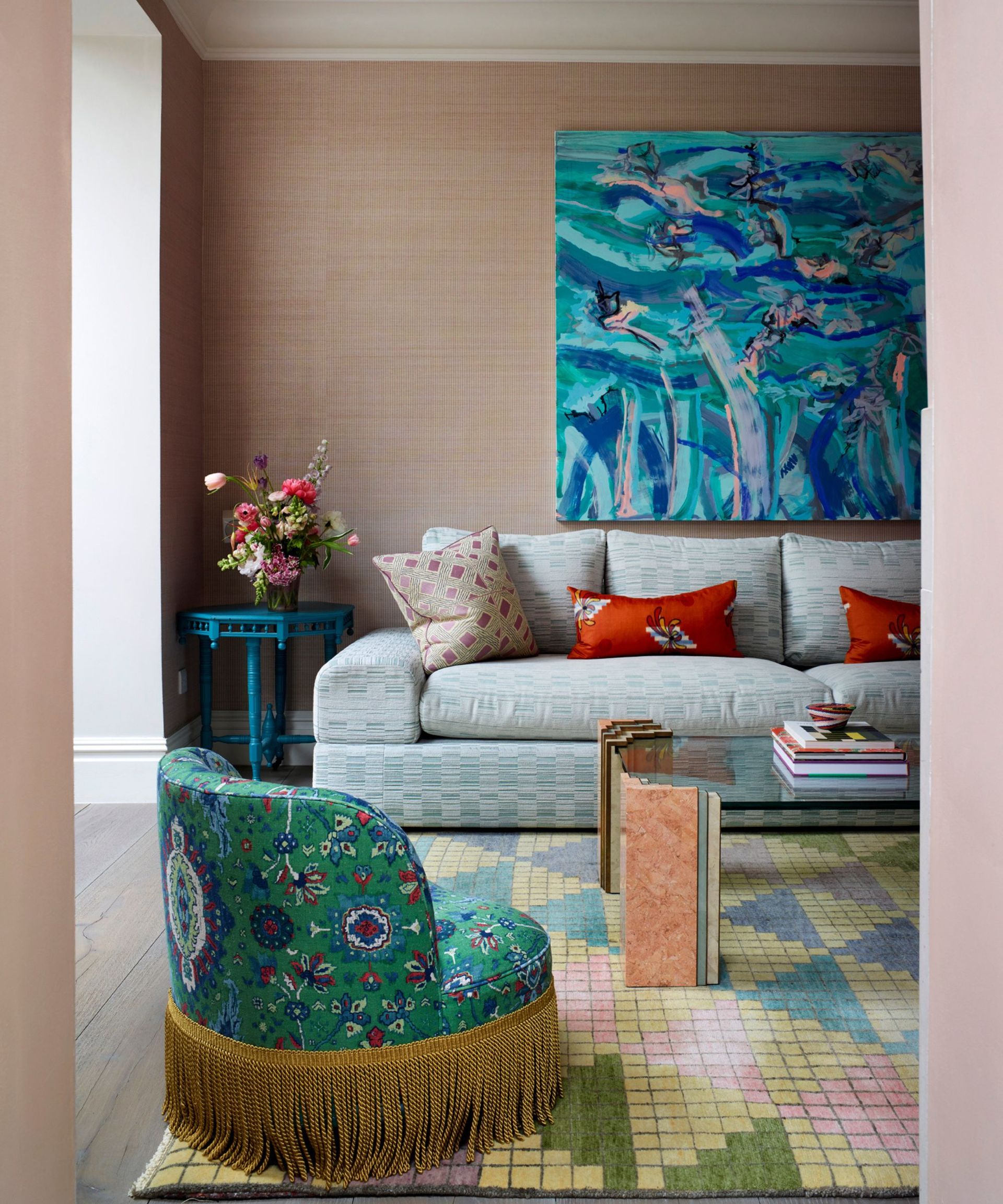 'Adding art to your walls is an effortless and meaningful way to give your space personality,' suggests Kati. 'You don't need to be a blue-chip collector to enjoy this; flea market finds and Etsy creations can make you look like a seasoned art enthusiast.'
Gallery walls are a classic look, however, they do risk looking a tad…busy and if you want to elevate your living room and make it look more beautiful, what we would suggest instead is one or two larger statement pieces. As Kati suggests, don't be too trend-led, pick pieces that mean something to you and aren't just on the trending pages of online print stores. Spend some time looking around, and shop second-hand for something unique. If you aren't sure where to start, look to your living room color scheme for inspiration and pick a shade that you want to make more of a feature in the space to be the basis for your artwork – note the pops of blush pink in this print that ties it in with the wall color. 
5. Shop second hand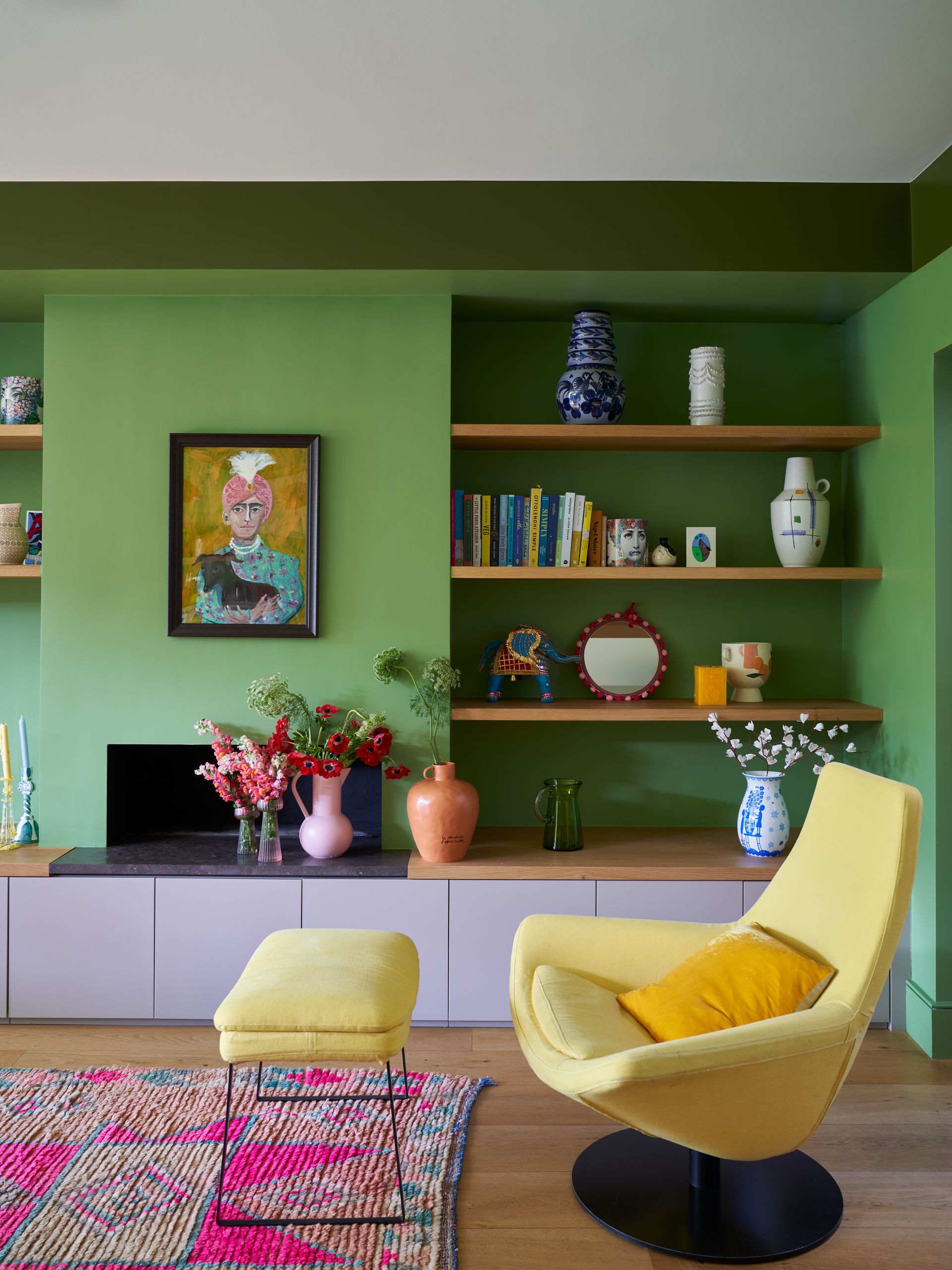 Speaking of shopping second-hand, sourcing vintage antique pieces for your living room is a way to instantly make it look more beautiful. If you are looking for a larger piece of furniture, choosing something unique is going to add so much more character and interest than a new 'on-trend' item. As Marie Flanigan says: 'Don't subscribe to one design style with all of your living room's soft finishes. To make your room look collected over time, which adds an air of luxury, mix antiques with newer pieces, then vary your textile textures throughout.'
Designer Matthew Williamson agrees – 'If I had an empty living room and no idea where to start, I would pick a couple of things that I loved and let them spark inspiration. It could be an heirloom or something from nature. Something personal, rather than following a trend.' 
'One of the most important parts of achieving a unique, special place to call home is filling its rooms with beautiful things that you love. I believe that the world of antiques and vintage can unlock new potential for the home; an undiscovered personality that will reflect its owners' unique lives, passions, humor and style. As much as a living room needs to be a relaxing sanctuary away from the hustle and bustle of the world, it also needs to be a physical manifestation of the person you are.'
Agreed. And this applies to decor too, if you are just looking for smaller pieces to update your living room shelving, or pair with your new coffee table books, rather than buy new ones, look out for cute vintage ceramic or glass pieces or some quirky frames for your prints. 
6. Maximize lighting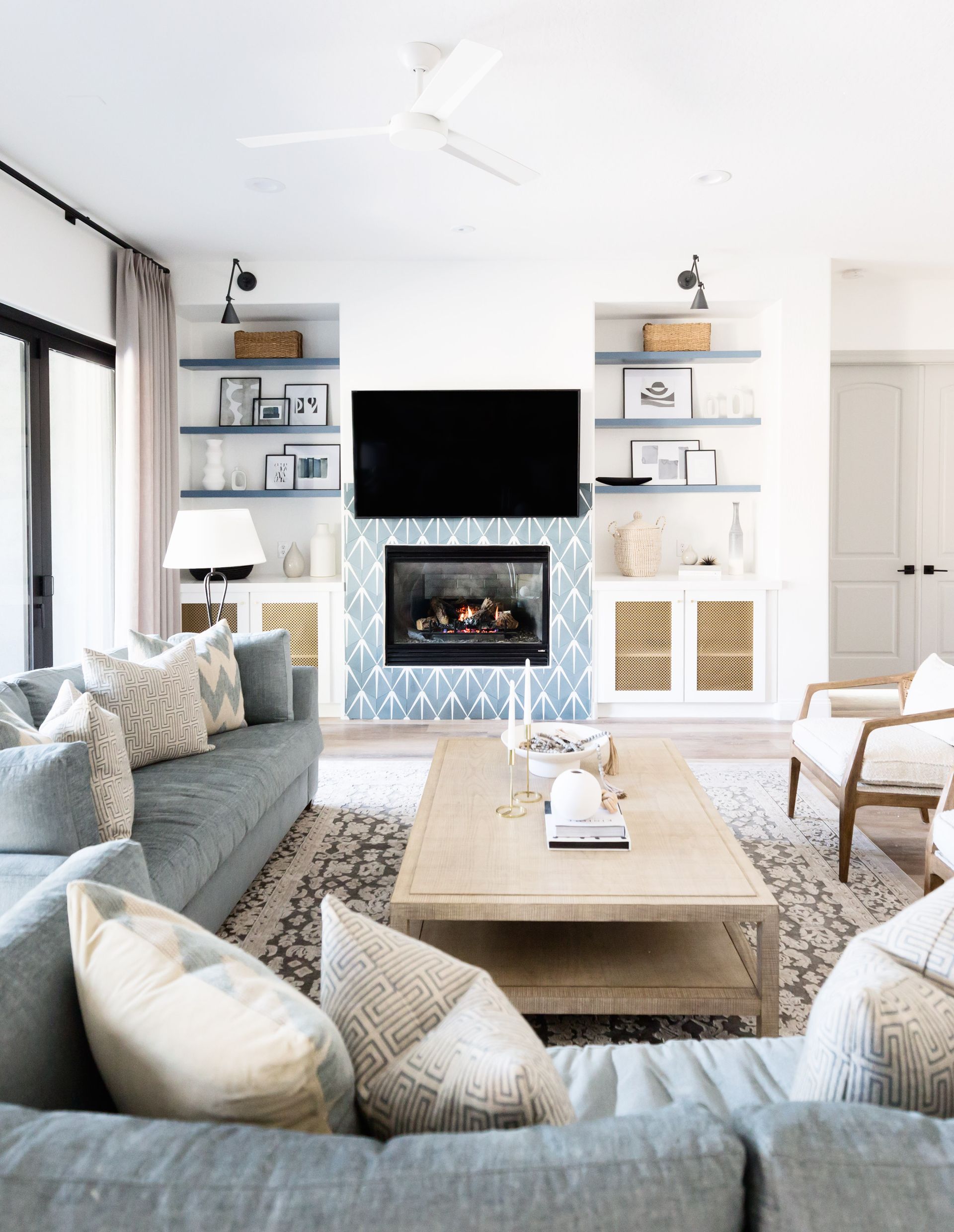 'To make a room feel brighter and more beautiful, embrace natural light!' says Marie. 'Perhaps one of the most important components of a space is the use of natural light. If you don't have a lot of natural light layer in a beautiful ambient, task, and overhead lighting.'
Updating or bringing in more living room lighting is always going to make the space feel more inviting. As Marie mentions, always ensure you have a layered lighting scheme so your lighting works in terms of practicality, but you also create a lovely all-over glow in the room.
'In spaces like the living room, combine ambient, task, and accent lighting,' adds Mara Rypacek Miller, managing director of Industville. Use overhead fixtures or recessed lights for overall illumination. Add table or floor lamps for task lighting in reading nooks or seating areas. Incorporate wall sconces or track lights to highlight artwork or architectural features.'
FAQs
What colors make a living room look more beautiful?
Beauty is in the eye of the beholder and all that, so it depends on what colors you find beautiful. But we will always say you can't go wrong with a soft neutral color palette – warm whites, creams, beiges, and soft greys will always look lovely in a living room. 
'For living spaces, I love a beautifully neutral, light wall to create the canvas for added color. I gravitate toward muted gem tones and colors found in nature as the accent colors in living spaces. You want to choose a palette that's both inviting and relaxing,' suggests Marie Flanigan.