Scandinavian interior design is an aesthetic that works beautifully in modern interiors. A specific emphasis on using natural materials, wood, and soft, neutral tones make this particular look the perfect choice for your bedroom, where creating a calm sanctuary is the ultimate goal, to relax and catch a good night's sleep.
But what are the basic principles of Scandi design and how should we incorporate these ideas into a bedroom?
If you are looking for a new aesthetic principle to introduce into your boudoir, then look no further, the Scandi look could be the one for you.
1. Add warmth with wood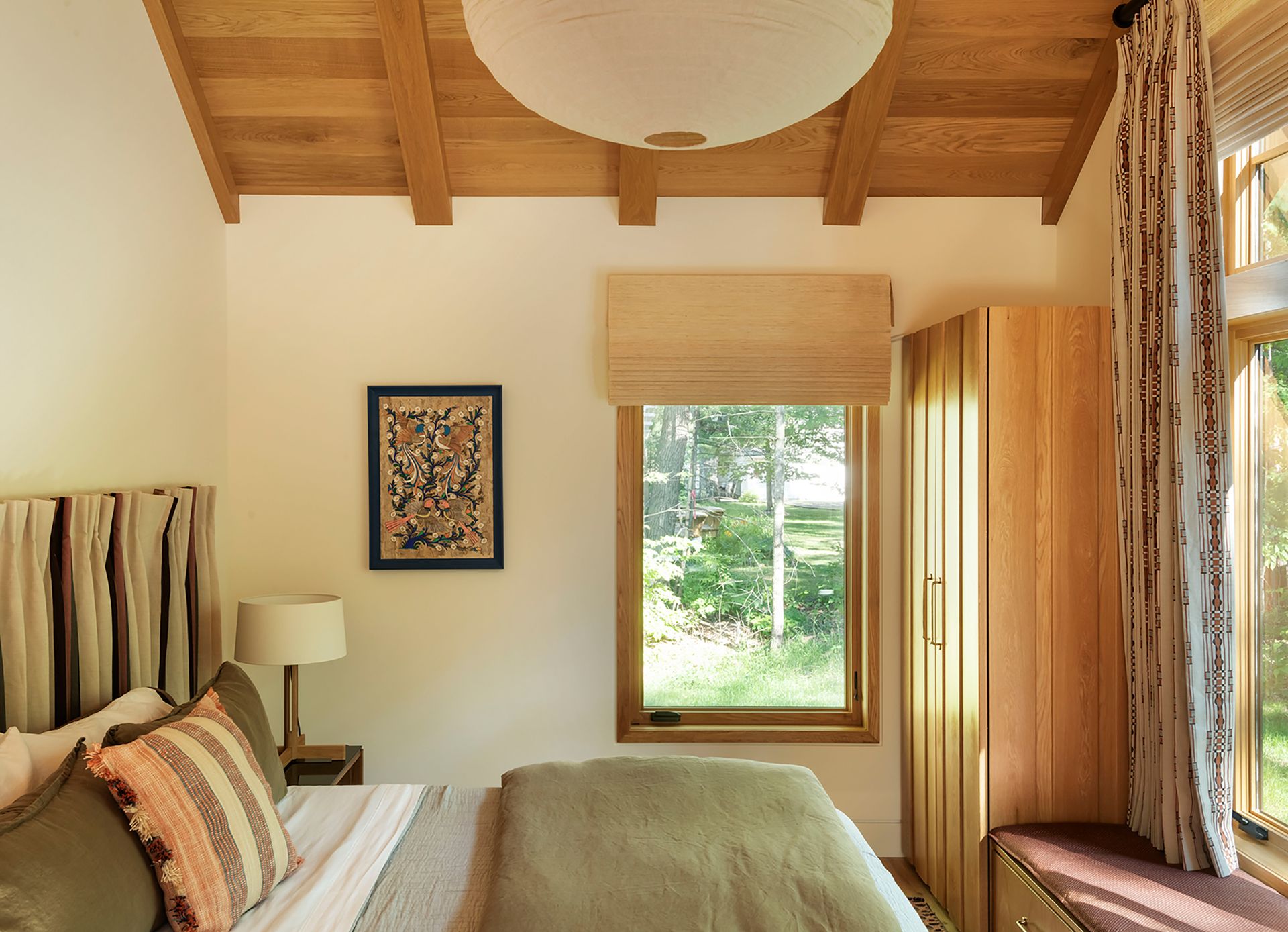 Natural materials are one of the basic tenets of Scandinavian design, and what better natural material? Given that most parts of Northern Europe are covered in forests filled with pine, spruce, and birch forests, wood is abundant, sustainable and readily available.
Consequently, the majority of Scandi architecture and interiors are produced from wood, so choosing this material is key to creating this look in your bedroom. Wood can be used for the flooring,  the bed frame, paneling on the walls and even as a headboard.
Victoria Sass of Prospect Refuge Studio, is half Danish and despite living in Minneapolis, embraces the Scandi styles of Northern Europe, she says: "Woods are always welcome. Ideally, there's a healthy base of wide plank, soap-finished flooring. Knots are fine, maybe a little nickel-gap if you want that old-world vibe. The other acceptable alternative would be a terracotta tile, but that is usually more typical for a common area than a bedroom. Then you might look for some teak furniture. Not too much, just a piece or two, and make it look inherited."
Sabra Ballon, founder and principal designer of ballonSTUDIO also likes to use wood in her Scandinavian styling of bedrooms including on the headboards as well as the floor.
2. Decorate with neutral or white tones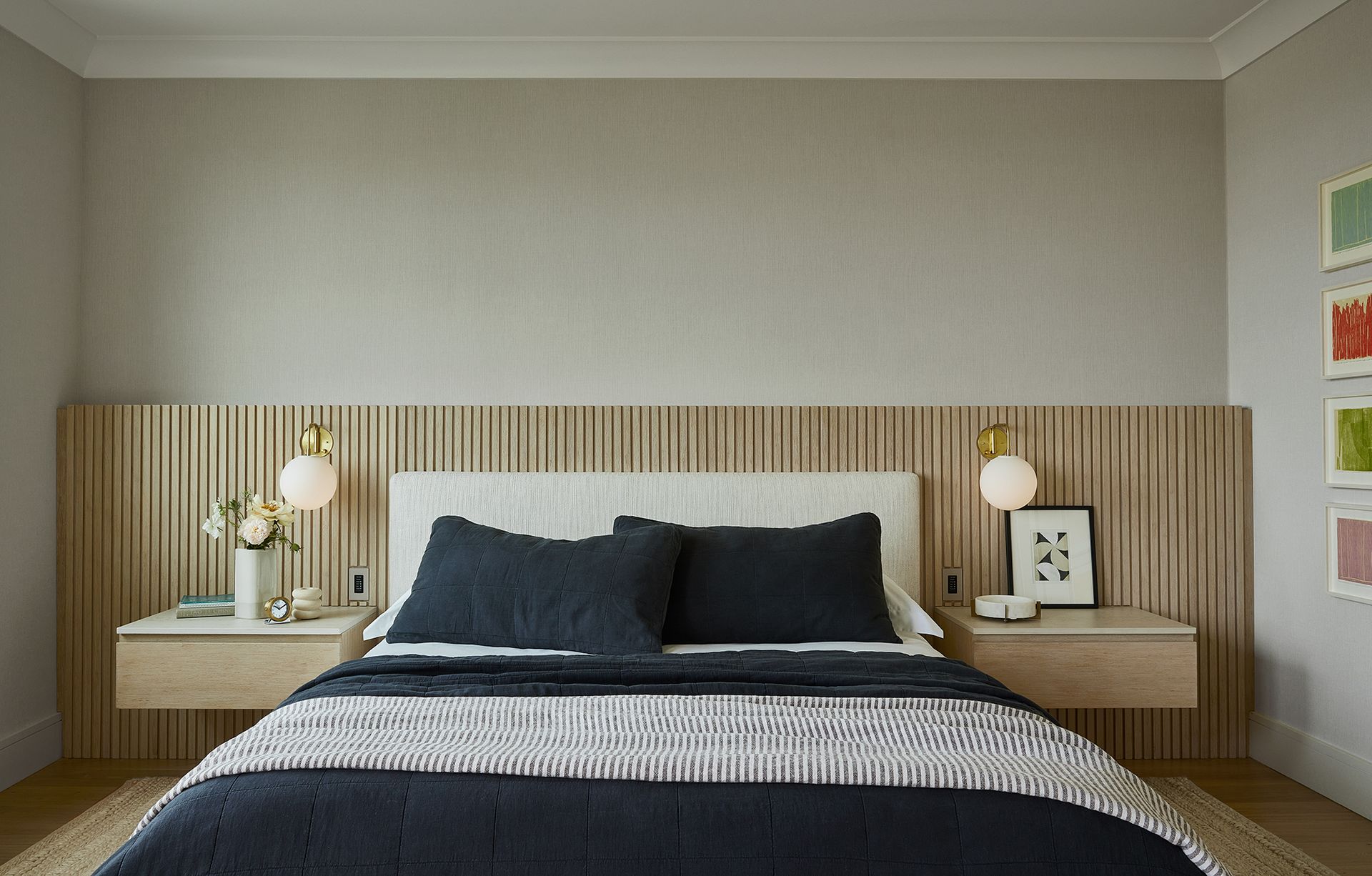 Simplicity is a key component of the Northern European aesthetic and therefore neutral or soft white tones will work best on your walls. The long dark nights of winter, make choosing a neutral tone important to encourage light.
'Scandinavian to me is simplicity, a quietness. Where the main elements are the material palette of natural textures and warm neutrals.' Explains principal designer, Sabra Ballon, founder of ballonSTUDIO. Meanwhile, Victoria Sass of Prospect Refuge Studio goes a step further and believes this should be the first thing you do to create a Scandi or Nordic aesthetic.
'First and perhaps most importantly, find yourself a nice clean but warm white. Paint all the walls, ceilings, and trims the same color. Now you have the perfect Nordic shell for your future Scandinavian-inspired bedroom.'
3. Introduce mid-century or heirloom furniture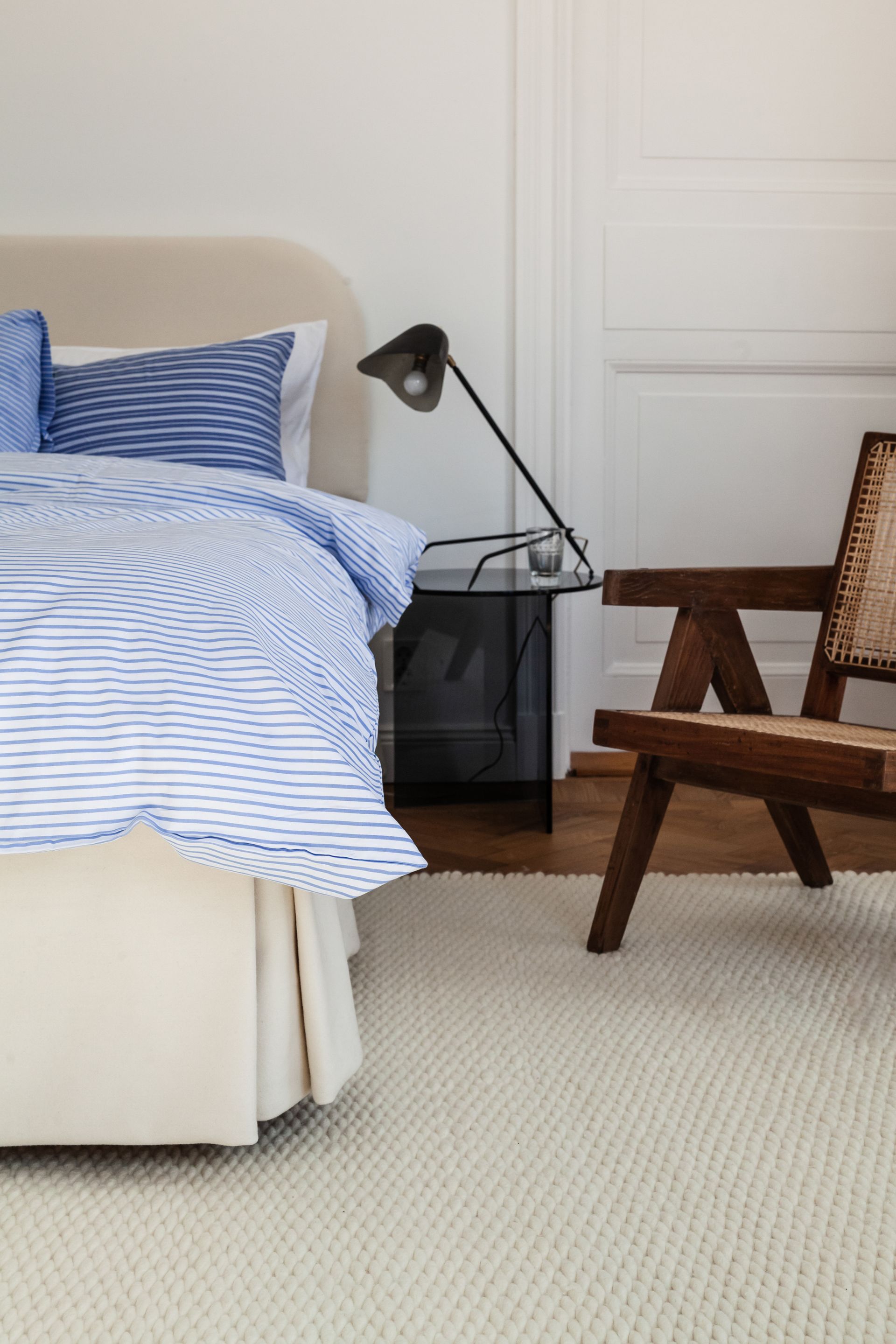 Iconic furniture design is part of the Scandinavian aesthetic, some of the best mid-century and contemporary designers come from Denmark, Sweden, Finland, Iceland, and Norway.
The design movement in Scandinavia has its roots in the creation of functional furniture, which is often, sleek and made from wood and leather.
Designers including Finn Juhl or Alvar Aalto are, as Victoria Sass says, 'the old guard' but she advises a focus on modern designers, Malene Birger or Audo Copenhagen as well. Sabra Ballon, at ballonSTUDIO, agrees, 'Our inspiration for Scandinavian aesthetic is always architect Aalvar Aalto.'
Choose others like Hans J Wegner, whose wishbone chair is a classic piece of design, or Arne Jacobsen's floor lamp and egg chair and there are many others. 
Melissa Lee at Bespoke Only adds, "We work with lots of Nordic designers and makers and we source heavily with vintage Scandi furniture. One can never go wrong with classic Danish furniture design, in my opinion."
4. Go for minimal styling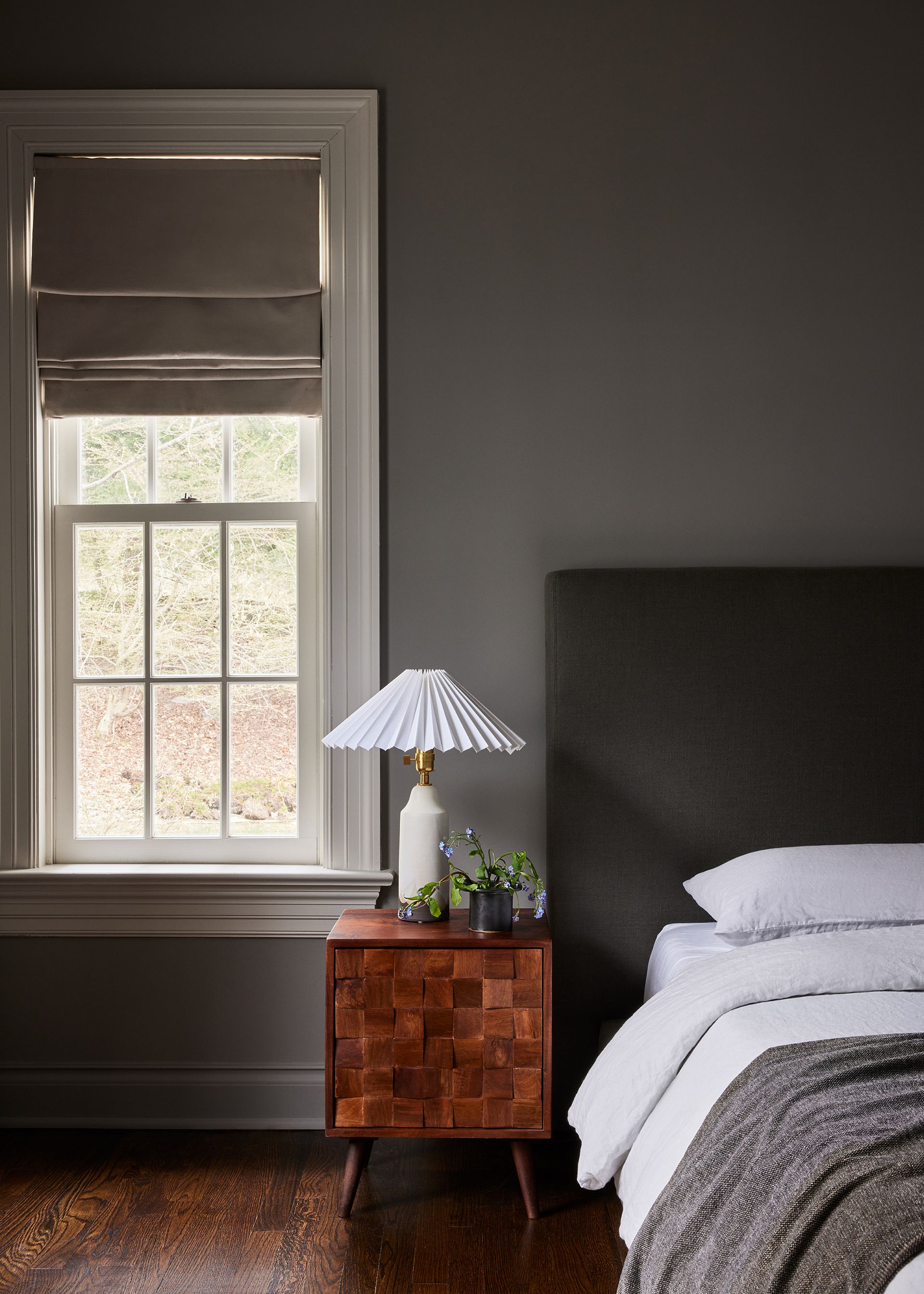 Scandinavian bedroom design reflects its Northern European heritage, exploiting the cold, sunlit, forestry regions by drawing in as much light as possible and reflecting it inside. This is created using white flooring, walls, neutral palettes, and simple styling. The more space and neutrality there is, the more light can be emphasized and embraced.
Sabra Ballon at ballonSTUDIO explains, 'Scandinavian bedroom styling is a simplicity that is elegant yet casual. The beauty comes from reducing down to what's actually necessary to sleep and read.'
Excessive decoration and ornaments are not encouraged, simplicity, practicality, and comfort are key to honing Scandi style at home.
5. Choose natural furnishings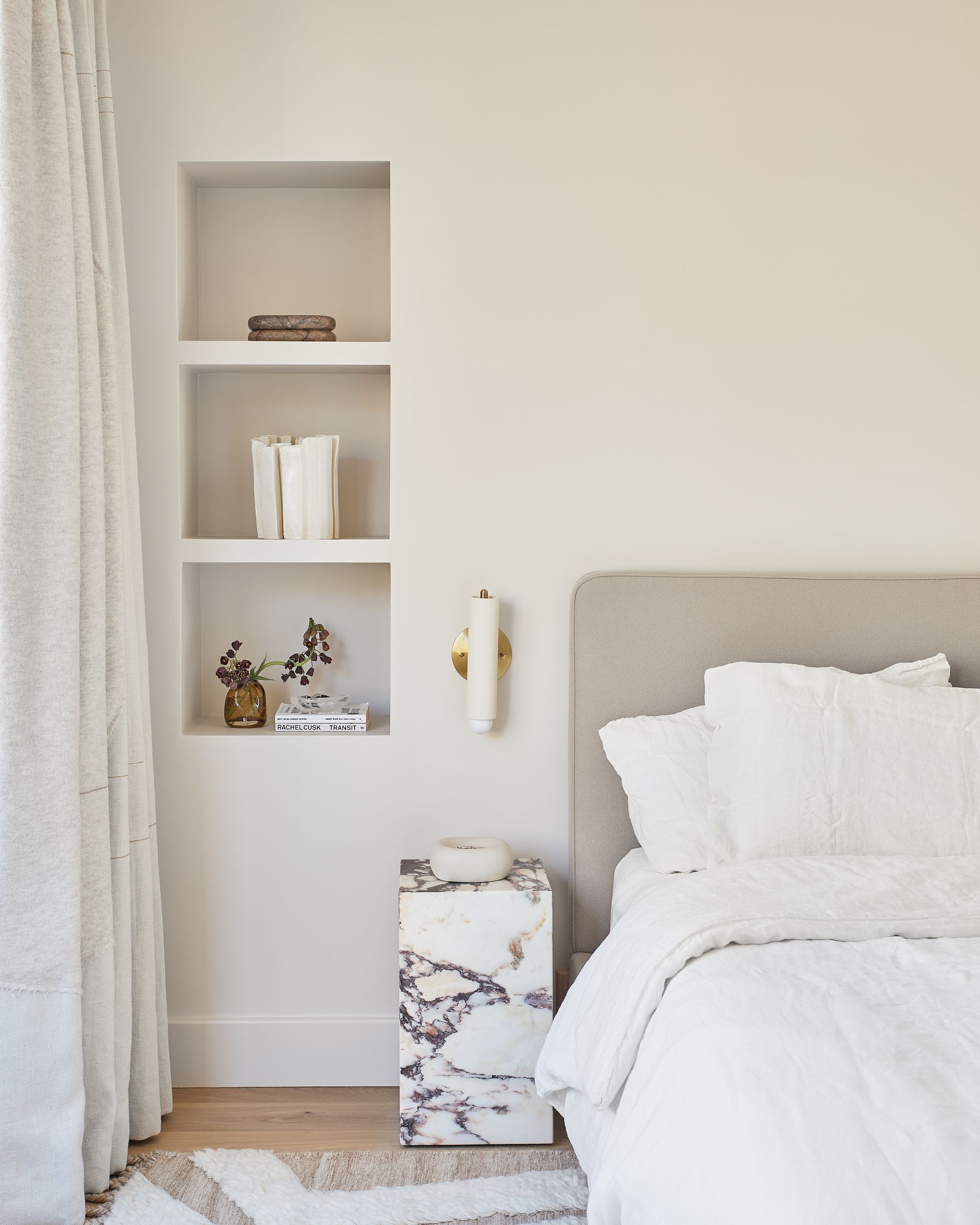 The design staple for the Scandinavian look is to use as many natural materials as you can, leather, wood, stone, wool, and sheepskin rugs, to create a layered, natural look that will introduce a gentle, comfortable softness to this neutral, minimal look.
Maija Rasila, an interior architect at Finnish Design Shop, says, 'Create a soft and cozy Scandi look by adding different layers of natural materials: wool, linen, cotton and wood. Opt for a soft and subtle color palette to increase the calming effect of the room. A mix of different textures also adds warmth and coziness to a room.'
Melissa Lee at Bespoke Only, explains: 'Definitely use lots of natural materials in finishes and hues that tend to be quieter and more subdued.'
6. Select soft ambient lighting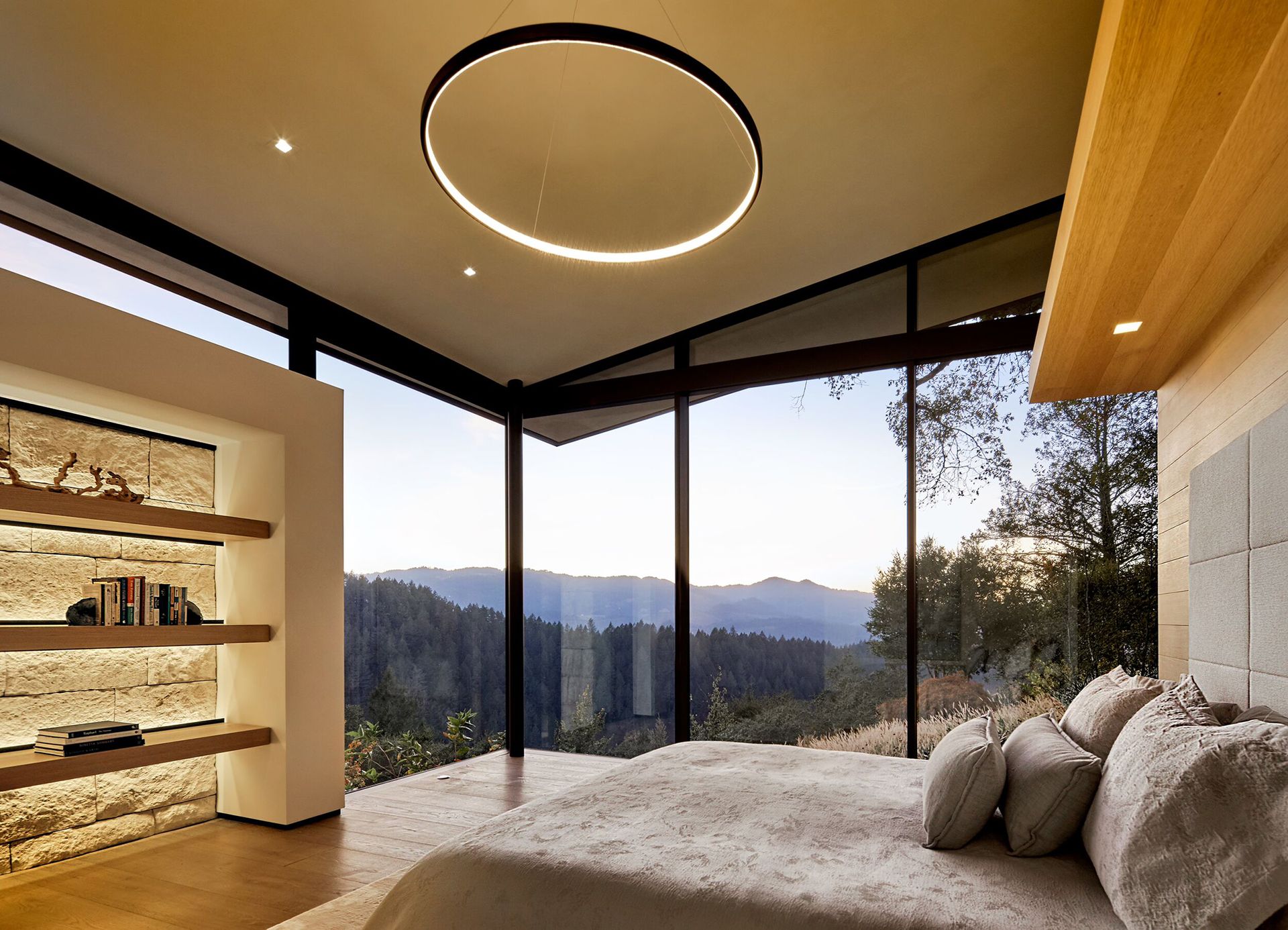 'With such a minimalist approach, lighting becomes very key,' says Victoria Sass of Prospect Refuge Studio. 'For lighting look to Poul Henningsen if you are a classicist, a Nelson lantern if you are a bit bohemian, or someplace like Gubi or Muuto if you have a more youthful spirit. Simple, single-bulb fixtures with dimmable switches are key for that hard-won hygge. Supplement with candles wherever you need a little extra glow.'
Ambient lighting adds warmth and detail to this look and although candles are used in the winter, consideration for overhead and task lighting is an important element to create a cordial environment.
'Using circular pendants adds an organic Scandinavian feel to a bedroom and brass helps to create a calming energy, perfect for a bedroom,' says Ian Cameron, creative director of Cameron Design House.
7. Use rugs to add snugness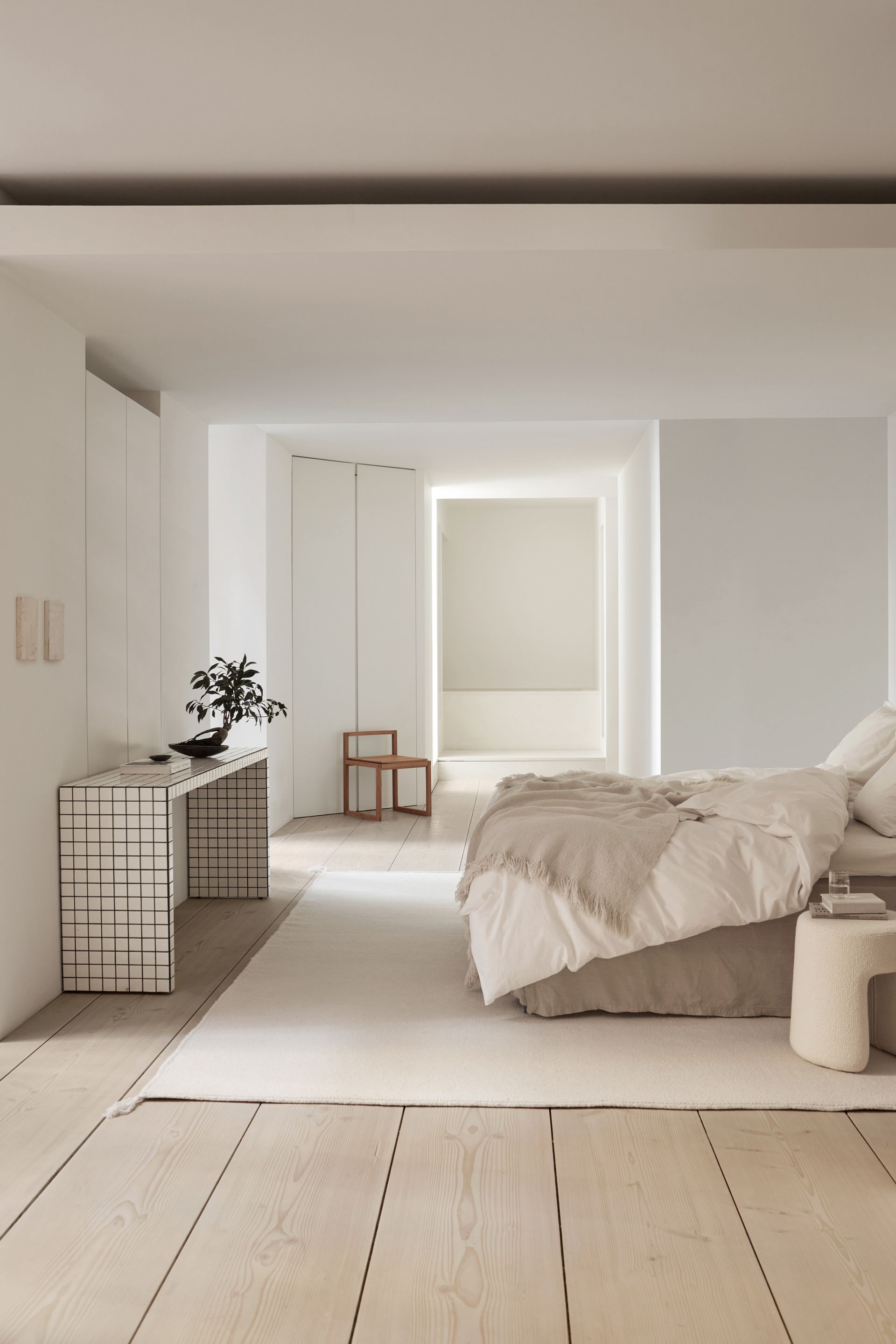 A wooden floor is a common feature of Nordic interior design, so designers often look for neutral, soft rugs to soften and add texture.
So, choosing a rug for the floor and to keep your toes cozy when you jump out of bed in the morning is a good idea.
'I feel like a collection of small rugs can be the Scandinavian way, perhaps because rooms are often small, and the wood floors are lovely! So you might think about opting for two runners on either side of the bed rather than one rug,' considers  Victoria Sass. 
8. Bring in the Hygge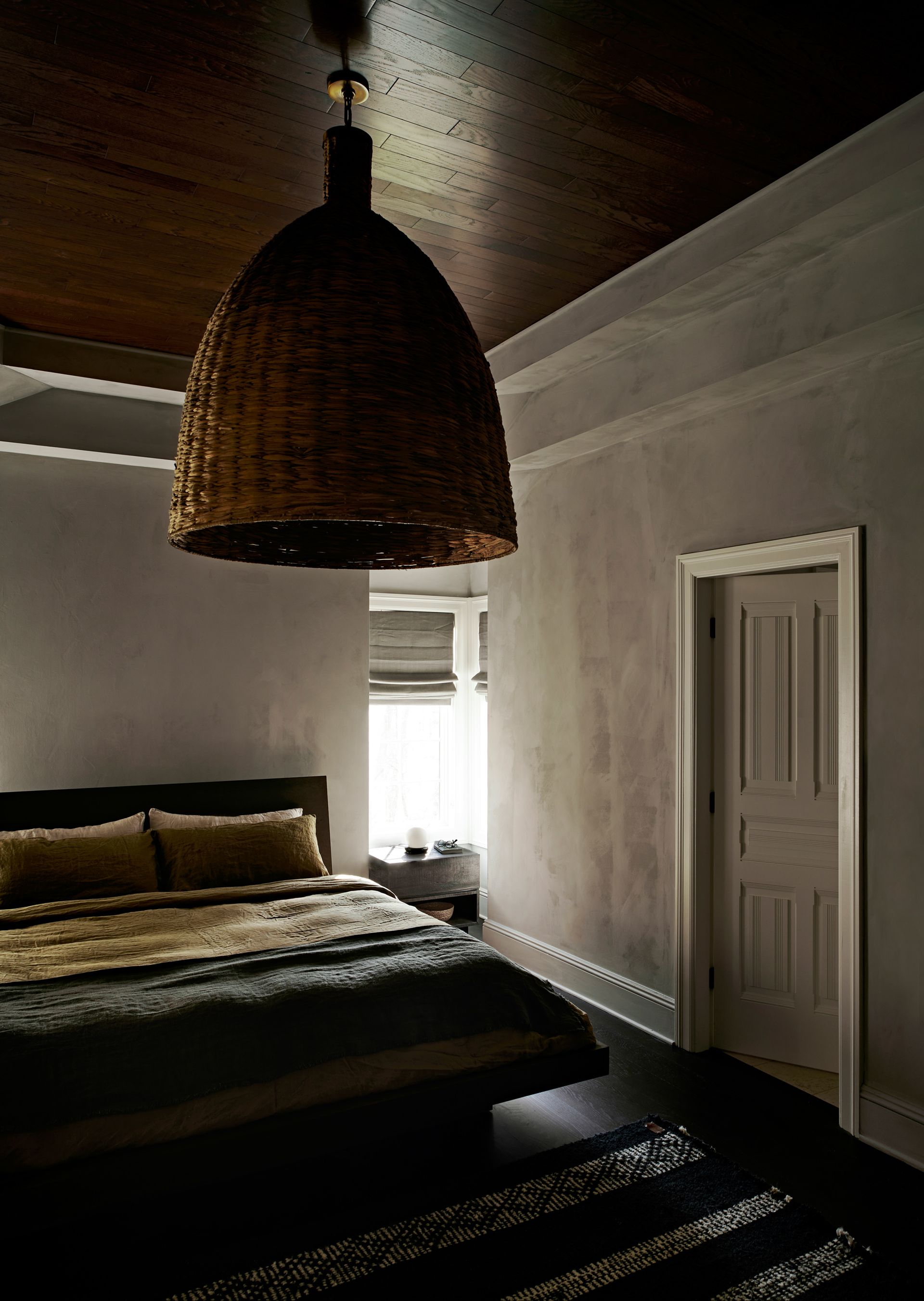 Hygge, a Danish term that translates to coziness and a feeling of contentment is a winter essential in Northern Europe.
Hygge is created using natural materials; wood, stone, wool, and linens and rooms that are uncluttered and simple. Candlelight or dimmable light, large light windows, and natural, layered furnishings. 
'A scented candle finalizes the hygge mood,' adds, Maija Rasila, interior architect at Finnish Design Shop.
Comfortable, modern furniture, often made from wood and leather, is also key to honing Hygge at home.
9. Install unfussy art and decor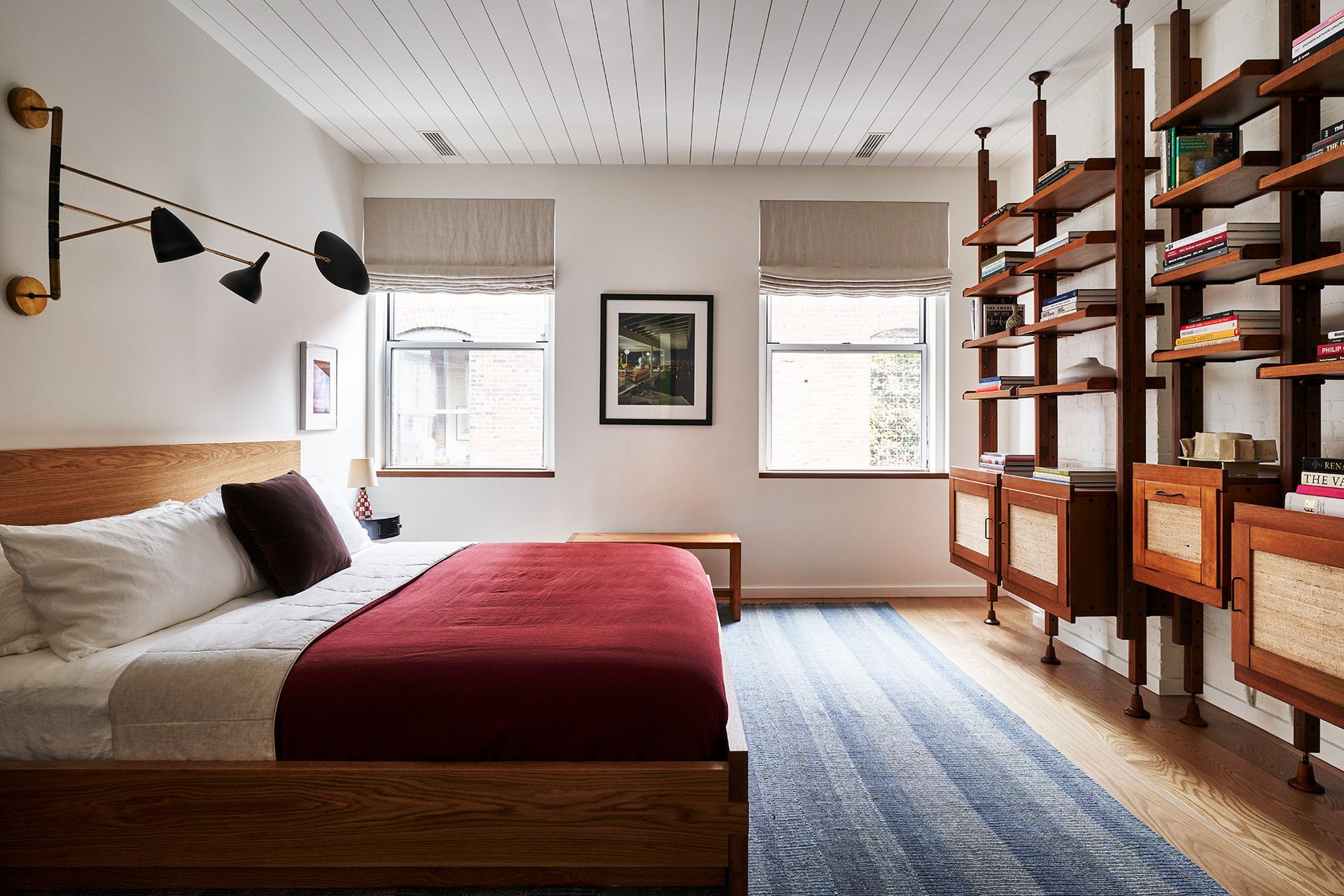 Simplicity is always the starting point for the Scandi look style, so select just a few artworks that are unfussy and unpretentious to decorate the walls. Lighting, books and furniture should be considered part of the styling and kept as simple as the paintings. Tidy and tailored are watchwords for finishing the Nordic look. 
10. Focus on slow design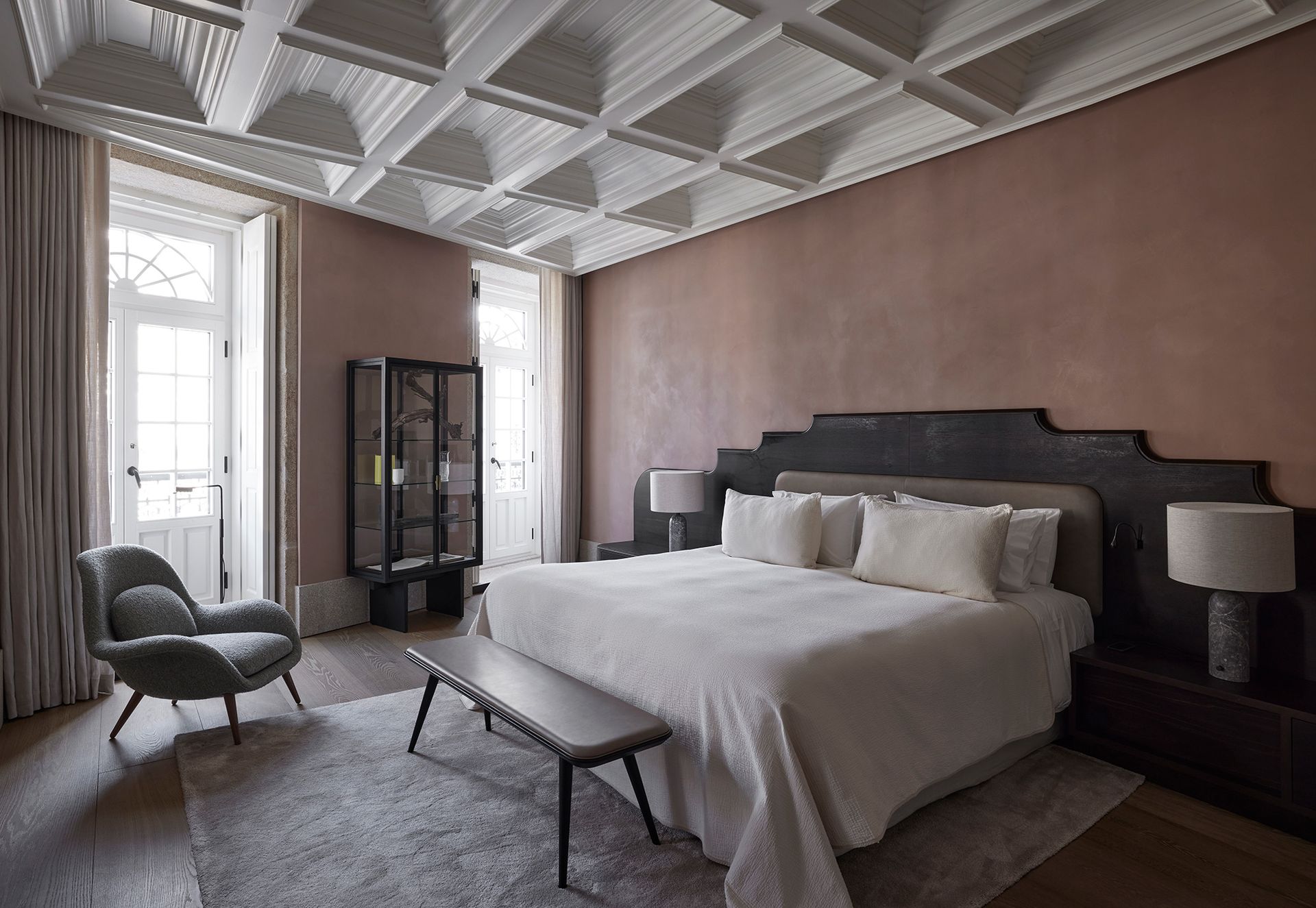 The principle behind slow design is to champion materials, quality over quantity, and create a more holistic and organic approach to design. 
Peter Bundgaard Rützou and Signe Bindslev Henriksen founders of design studio Space Copenhagen, explain, 'We try to let ourselves be influenced by intuition in a combination of both contemporary elements and historic motifs. Seeking a certain slowness to be embedded in our design.'
'This bedroom suite aims to provide a slow, humble pace that doesn't overpower guests but encourages downtime, experience, and reflection. The carefully designated use of soft lighting brings attention to the heritage of the buildings and their tactility. The dimness that projects throughout provides a sense of mystery and adds to the slowed pace of the experience.'
What styling should I use to create the Scandi aesthetic in my bedroom?
Scandinavian design reflects its Northern European roots, using the cold, bright, wooded location by introducing as much light as possible and ensuring it is reflected inside. 
Try to tune in to a slower design approach and aesthetic, drawing on the style guides, which include using white or wooden flooring, and painting the walls and ceilings in soft neutral palettes. Emphasis is placed firmly on ambient lighting and comfort, specifically, hygge, which is trying to create a cozy and warm environment, which is a core component of Scandi design. 
Warmth is introduced into this design with natural materials and fabrics, and the styling is uncluttered and simple. 
As Sabra Ballon at ballonSTUDIO, says, 'A Scandinavian bedroom is a beautiful and visually quiet environment that balances simplicity, texture, and warmth.'