Home Improvement

Plus, a reader grapples with water in a basement that has never had leaks. Send your home improvement questions to [email protected]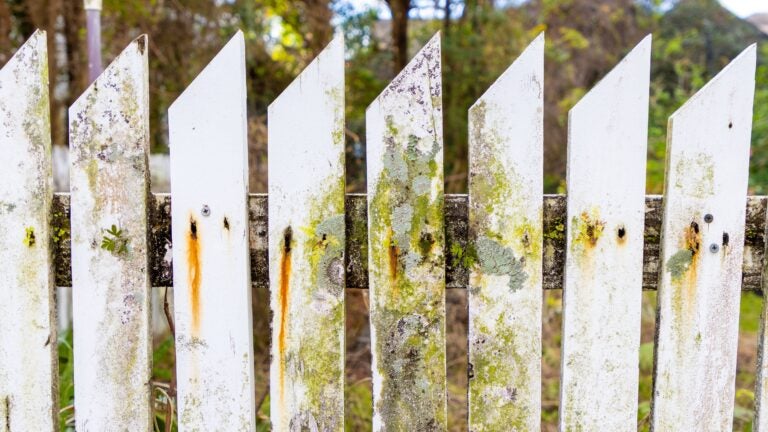 Q. Hi, Mark. I have a wood fence and arbor that need painting. There is quite a bit of mold/mildew on them. How should I remove it? Can I use a paint sprayer? The arbor is higher than my ladder. In the past I've used a spray bottle on the fence itself, but that is tedious. Usually, I apply a white, opaque stain. If I use Kilz and white paint, would that hold off the mold/mildew longer? I am not sanding it. Thank you.
A.G., Stoneham
A. The first thing you should do is to power-wash the fence and arbor with a mildew-removing agent mixed into the water. Power-washers typically have a wand to allow you to get at hard-to-reach places. You could hire someone or rent the power-washer. After that, allow the fence and arbor to dry thoroughly, and then scrape and sand the wood to remove loose paint. (I know you don't want to sand, but it is crucial for a longer-lasting finish.) Prime the wood with a high-adhesion primer. The most important step is to add a mildewcide to the exterior paint you use. You can purchase this at paint stores. Going forward, you can do the occasional light power-washing with a mildewcide-removing agent to prevent buildup until the next time you paint.
Q. I own a Victorian in Nashua that was built in 1887. It has a solid granite foundation, and the house is on a level lot in the city. I have lived there for more than 25 years, and until last spring, I never had water infiltration in the basement. This is happening in a very small section of the basement where water seeps down the interior granite wall and onto the floor. It's not a huge influx, and it doesn't happen every time it rains; when there's a downpour, we have to get out the shop vac. Water appears to seep in about 2 to 3 feet from the floor. There are cracks and crevices on the interior granite where it seeps in, but not unlike on the parts of the foundation where there are no problems.
I do not know whom to call or really what the fix is. The area outside the apparent point of entry is level dirt with a bed of small stones that have been there forever. (On other sections of the exterior perimeter of the home, there is a concrete border or asphalt.) Any insights?
C.G., Nashua
A. Basement leaks are always tricky without knowing all the parameters. Has there been construction nearby that could have diverted the ground water to your home? We have seen that many times, especially in the city. First, make sure your downspouts are directing water away from the house. Ideally, the area around a house should be solid soil pitched away from the home, not level stone. This would be the most cost-effective solution to try.
If reworking the earth around the house doesn't address the problem, you could bring in a basement drain company. They may recommend filling the gaps with a carbon-fiber material, but this may just divert the leak to another area. If all else fails, you may need to add an exterior French drain (along with a drain mat on the foundation's exterior) at the base of the foundation.
Mark Philben is the project development manager at Charlie Allen Renovations in Cambridge. Send your questions to [email protected]. Questions are subject to editing. Subscribe to the Globe's free real estate newsletter — our weekly digest on buying, selling, and design — at pages.email.bostonglobe.com/AddressSignUp. Follow us on Facebook, Instagram, and Twitter @globehomes.
Address Newsletter
Our weekly digest on buying, selling, and design, with expert advice and insider neighborhood knowledge.