No matter whether you're looking to make a statement with bold colours or add some texture and warmth to your sleeping space, there are so many bedroom rug ideas that will fit the bill.
Of course, we know what you're thinking. Most people already have carpets in their bedrooms, right? And while that's true, there's nothing quite like playing with the different shapes, sizes, and styles of the best rugs to really bring a bedroom to life. These can be placed on top of your bedroom flooring – even offering a budget bedroom idea for those who want to hide ugly carpet or old wooden floors. 
Long gone are the days of plain rugs anchored under the bed, though. There are so many ways to experiment with the location, colour, and texture of these bedroom rugs while still allowing you to compliment your own taste and chosen home decor trend. And before you know it, you'll be wondering how you ever lived without a rug in your bedroom. 
Bedroom rug ideas
'A rug can really transform a space and works so well in bedrooms. It can give the room a cosy feel, but it can also help to zone the bed,' explains Sophie Clemson, Director and Co-Founder of The Living House. And while avoiding this rug sizing mistake is a must, so is finding the right rug design and idea for your bedroom. So, we've put together some of our favourite options for you. 
1. Embrace the layered look
It's long been thought that you should stick to one rug in the bedroom, but that isn't the case at all. Rug layering is becoming more and more popular, allowing people the chance to play around with multiple textures, colours, and patterns at once. There's an art to doing this properly, though.
The team at Ruggable comments, 'This technique can be used to trick the eye into adding depth and dimension to your bedroom. Start with a larger, solid-coloured rug as your base and then place a smaller, patterned or textured rug on top.'
'This creates a visually appealing contrast that exudes luxury. You can also position the rug slightly under the bed, allowing it to spill gracefully into the room, enhancing the space's appeal.'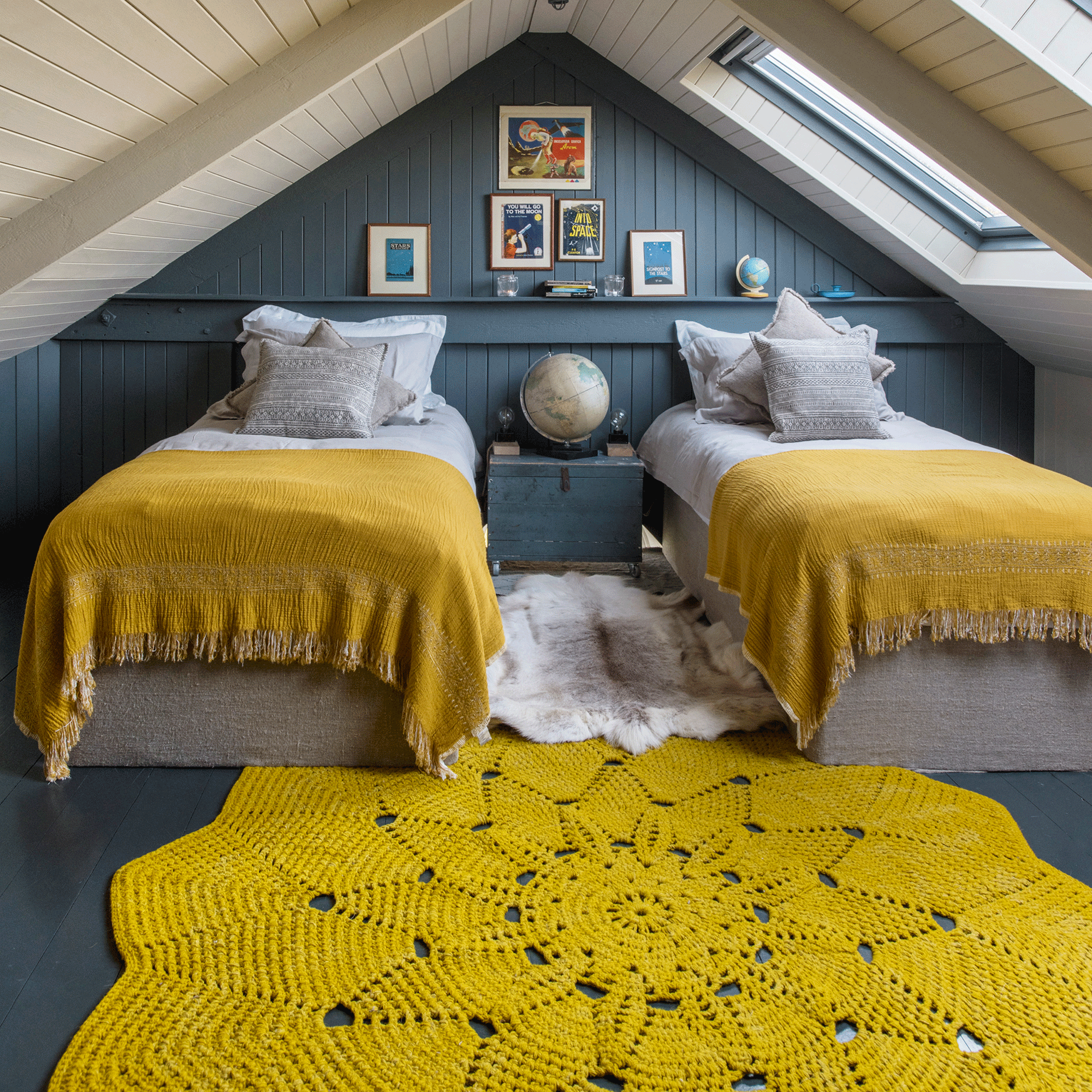 2. Use natural fibres
From jute to wool and cotton, natural fibres have long been associated with bedrooms. These soft and muted textiles bring warmth to your sleeping space, and they benefit from being comfortable underfoot. But what we love most about natural rugs is that they're incredibly versatile. 
Tricia Guild OBE, Founder and Creative Director for Designers Guild, explains, 'Those who look for plush, minimalist bedroom styles look to natural rugs. They work with bright pops of colour but will also work in a room with a muted colour scheme.'
This means that they can work as the perfect base for a bedroom, no matter whether you want to play around with bedroom colour schemes or keep things more neutral to encourage a zen-like bedtime experience.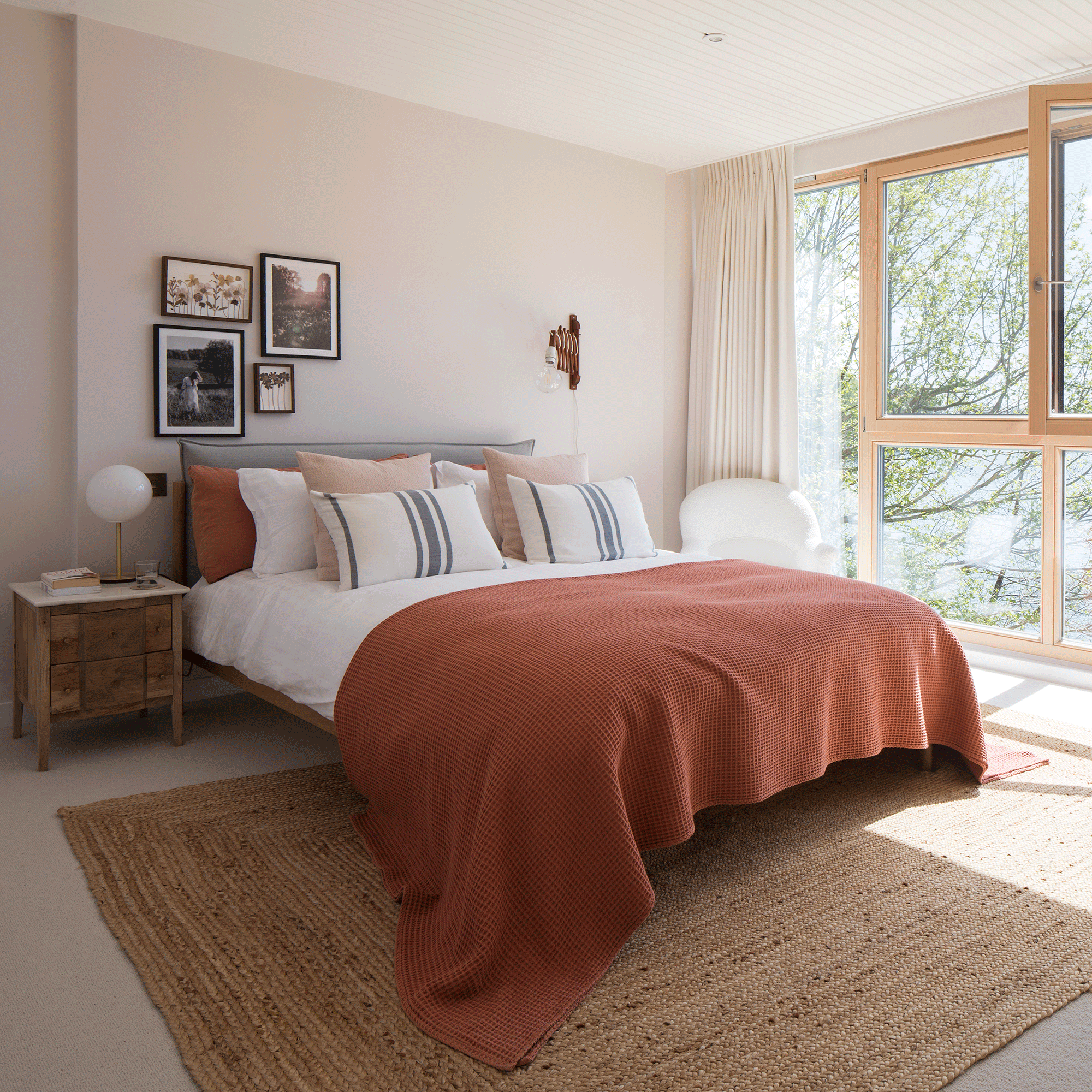 3. Make a patterned statement
Bright and bold bedroom decor has been a welcome bedroom trend of 2023, and we suspect that it's going to continue well into 2024, too. Of course, many neutral lovers couldn't imagine adding patterned bedroom wallpaper or maximalist furniture to their sleeping space, but there may be some among you who still want to make a statement. 
And adding a patterned rug into the mix is a great way to do this. Not only can these bold rugs add visual interest and depth to a space, but they can also help you play with perspective. Smaller patterns can make a bedroom look smaller and more intimate, while larger, more spread-out patterns can make a bedroom look more spacious. 
Plus, they have the added bonus of putting a smile on your face after a long day.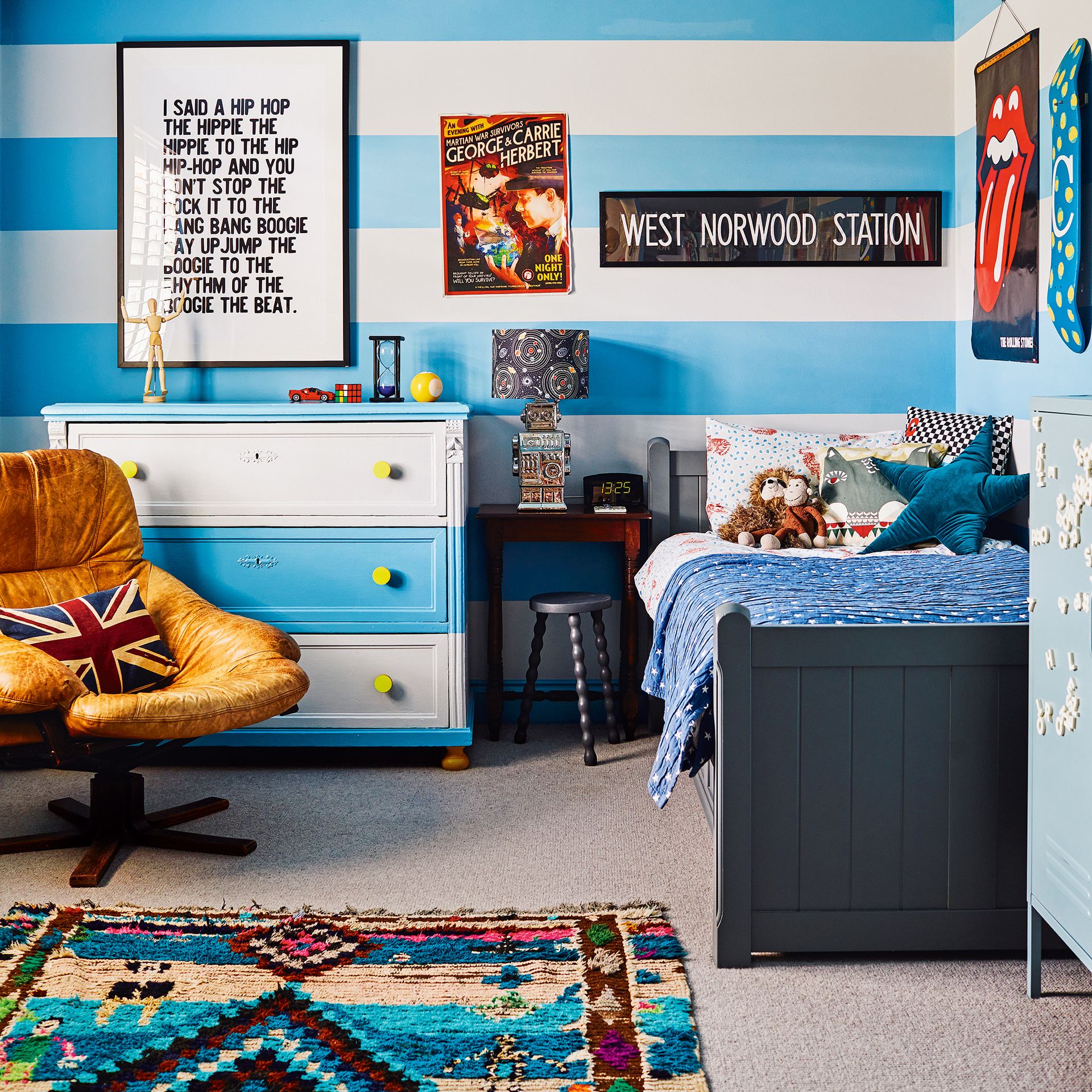 4. Opt for a scalloped edge
The scalloped rug trend is everywhere right now, and while this soft yet statement rug can work anywhere in the house, we think it's a great addition to a bedroom.
The wavy edges can add warmth and softness to what can be a boring rectangular or square bedroom, as well as add a sense of whimsy that many people are looking for in their bedrooms.
There are so many different scalloped edge rugs to choose from, too, from natural jute rugs to giant fluffy things that'll feel so good underfoot.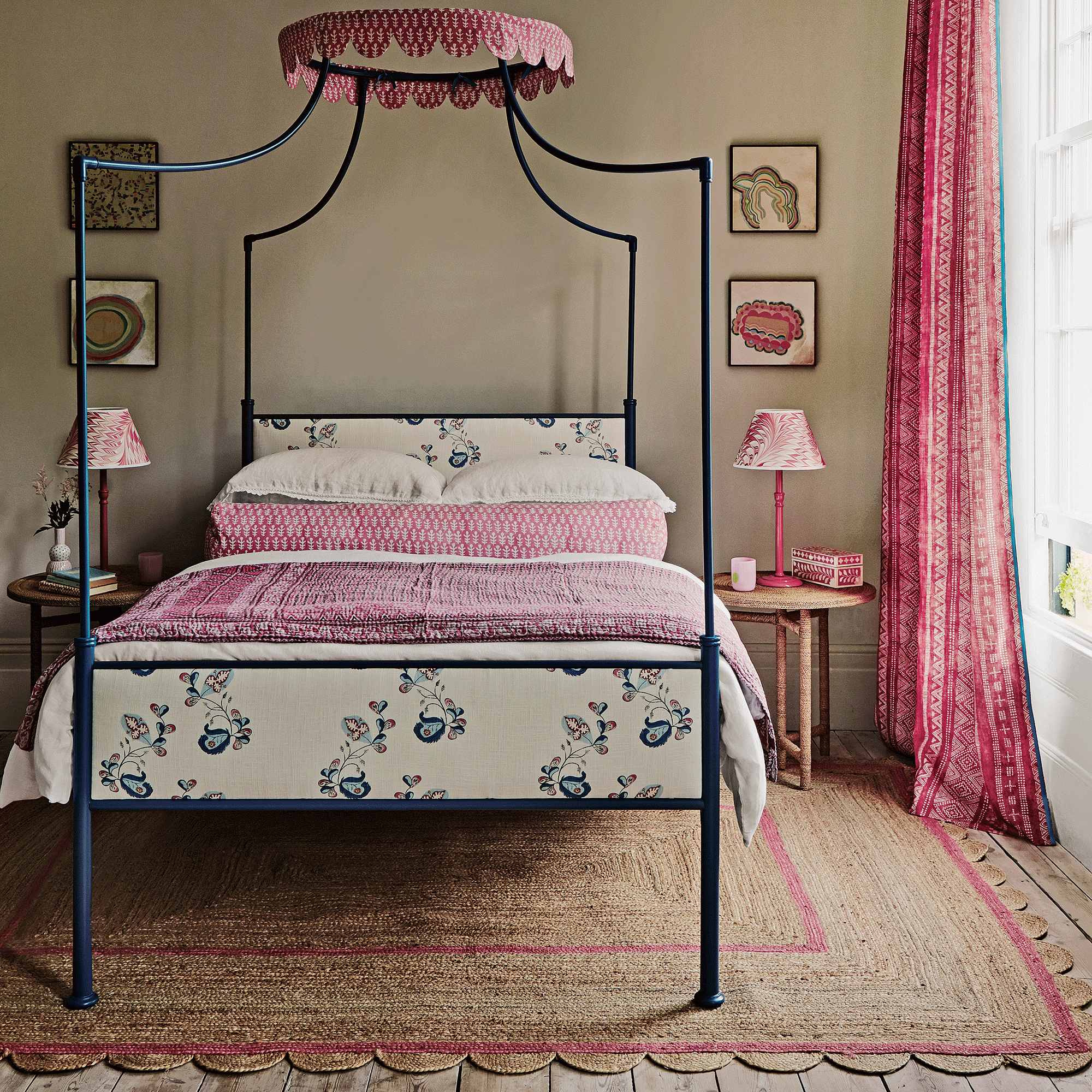 5. Go plush with Berber
If you want to turn your bedroom into a soft and cosy sanctuary, it's important that you don't forget about the floor. And with a Moroccan-inspired Berber rug, you can appreciate the soft and plush pile under your toes while also admiring the tell-tale diamond pattern.
Yes, Berber rugs work extremely well in a home, and so many people choose Berber when looking for the best living room rugs. But their neutral tones can also lend themselves well to people who want the comfort of a rug without making too much of a statement at the same time.
Don't worry, though, you'll struggle to find a Berber rug that isn't absolutely stunning to look at.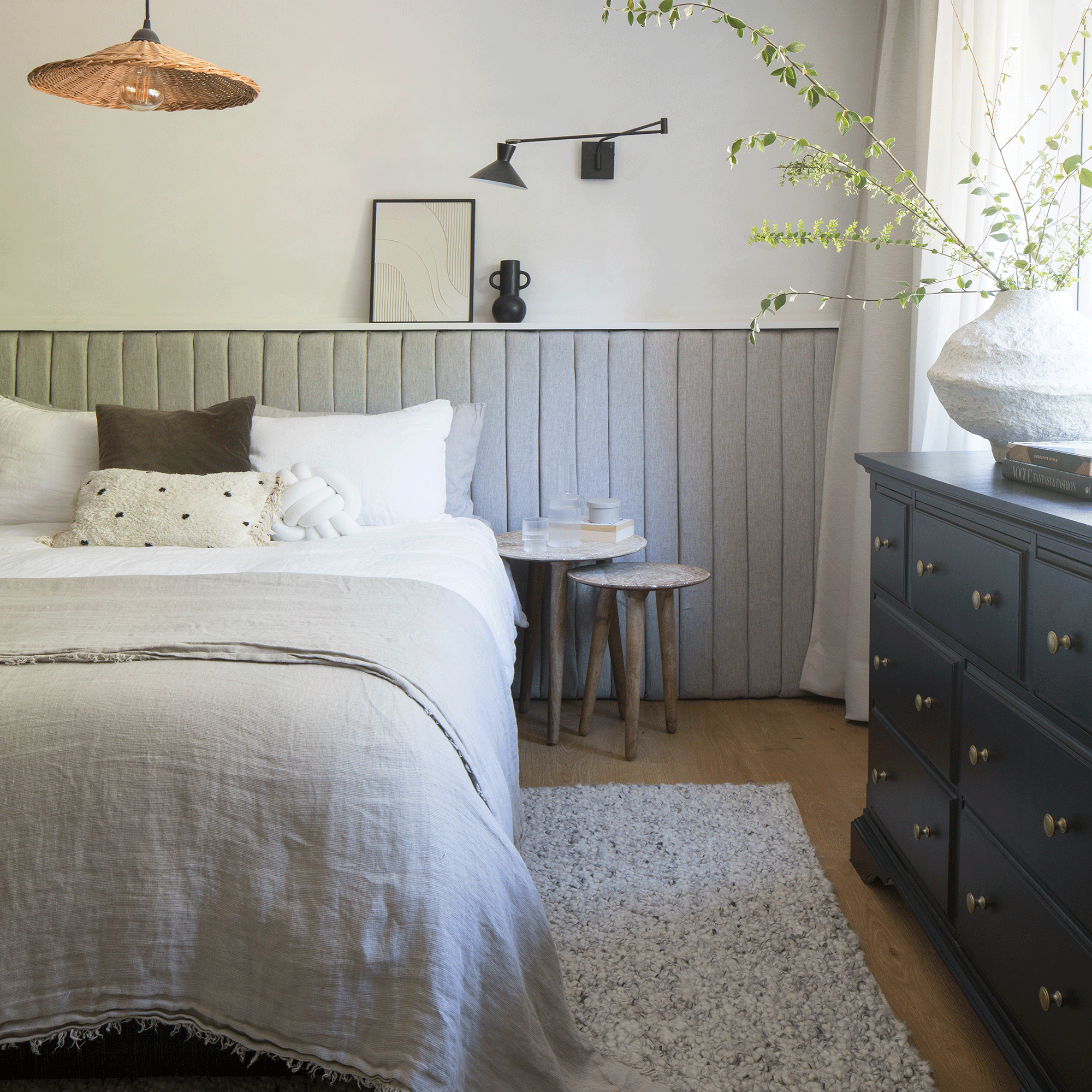 6. Switch up your shape 
Bedroom rugs are traditionally rectangular, and this shape works extremely well when they're placed underneath a bed. But that doesn't mean that you have to stick to the status quo. More and more people are experimenting with alternative shapes, and these can work perfectly in the bedroom.
From circular rugs to organic shapes that don't quite have a name, these rugs can add a new dimension to a bedroom while also providing a focal point for the eye. And you don't just have to stick them under a bed, either. 
You could place these rugs at the end of your bed, at the side of your bed, or even by a dressing table for a little extra comfort.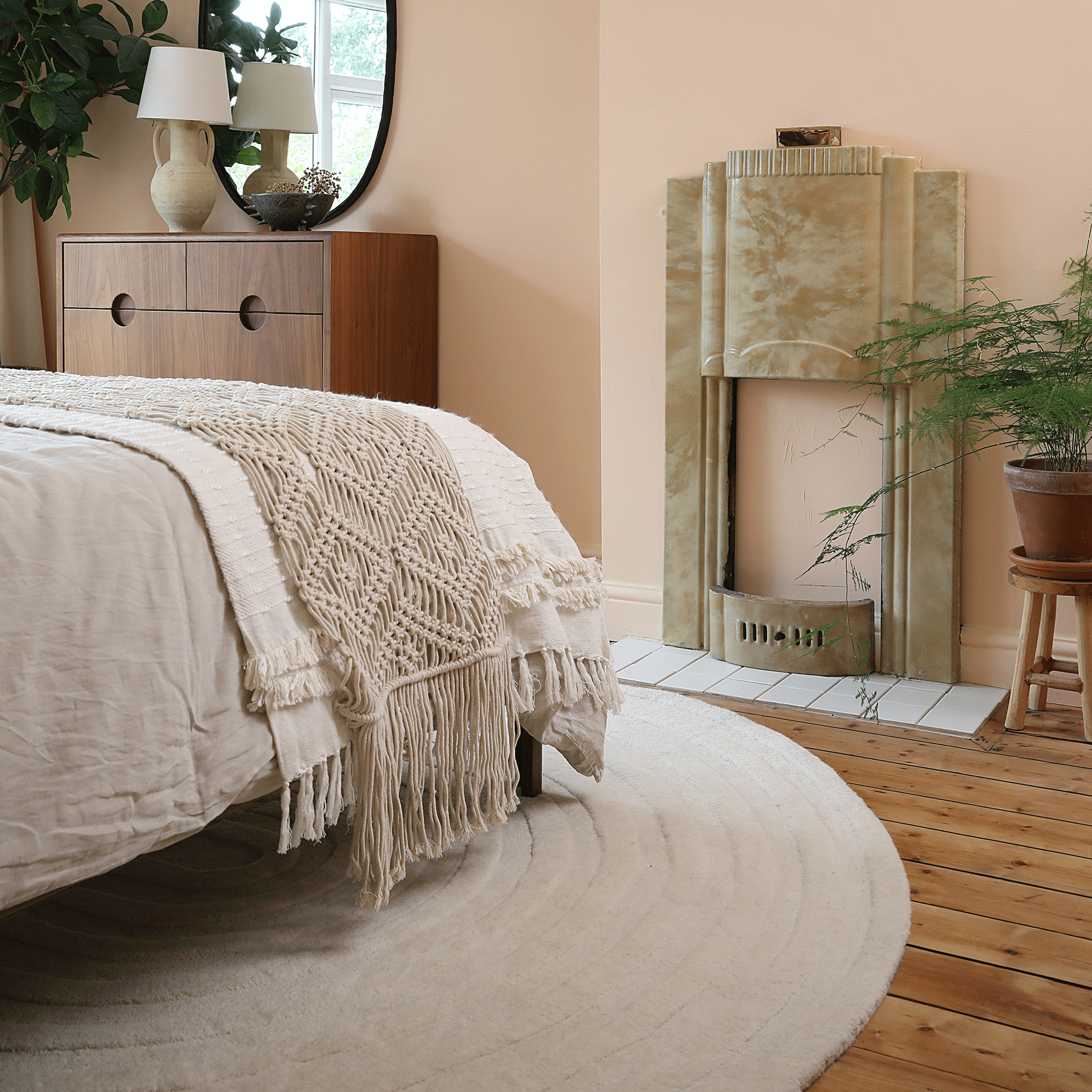 7. Go vintage
Whether you want to extend Second Hand September to make it an all-year-round way of life or you just want to save some money, buying a vintage rug could be a great option for your bedroom. These rugs can offer unique textures and patterns, as well as offering some impressive history. Just make sure you clean the rug carefully before adding them to your home.
Blogger Kirsty Merrett is particularly fond of vintage rugs and has mastered the art of finding the best ones over the years. 'Personally, I love Facebook marketplace, eBay, local vintage warehouses (the kind where you get multiple dealers under one roof!),' she says. 
Of course, you can also get a distressed, vintage-inspired look from online retailers. They won't have as much history attached to them, but they'll still add a rustic and subtle warmth to your bedroom while still allowing you the chance to match your rug to the rest of your bedroom decor.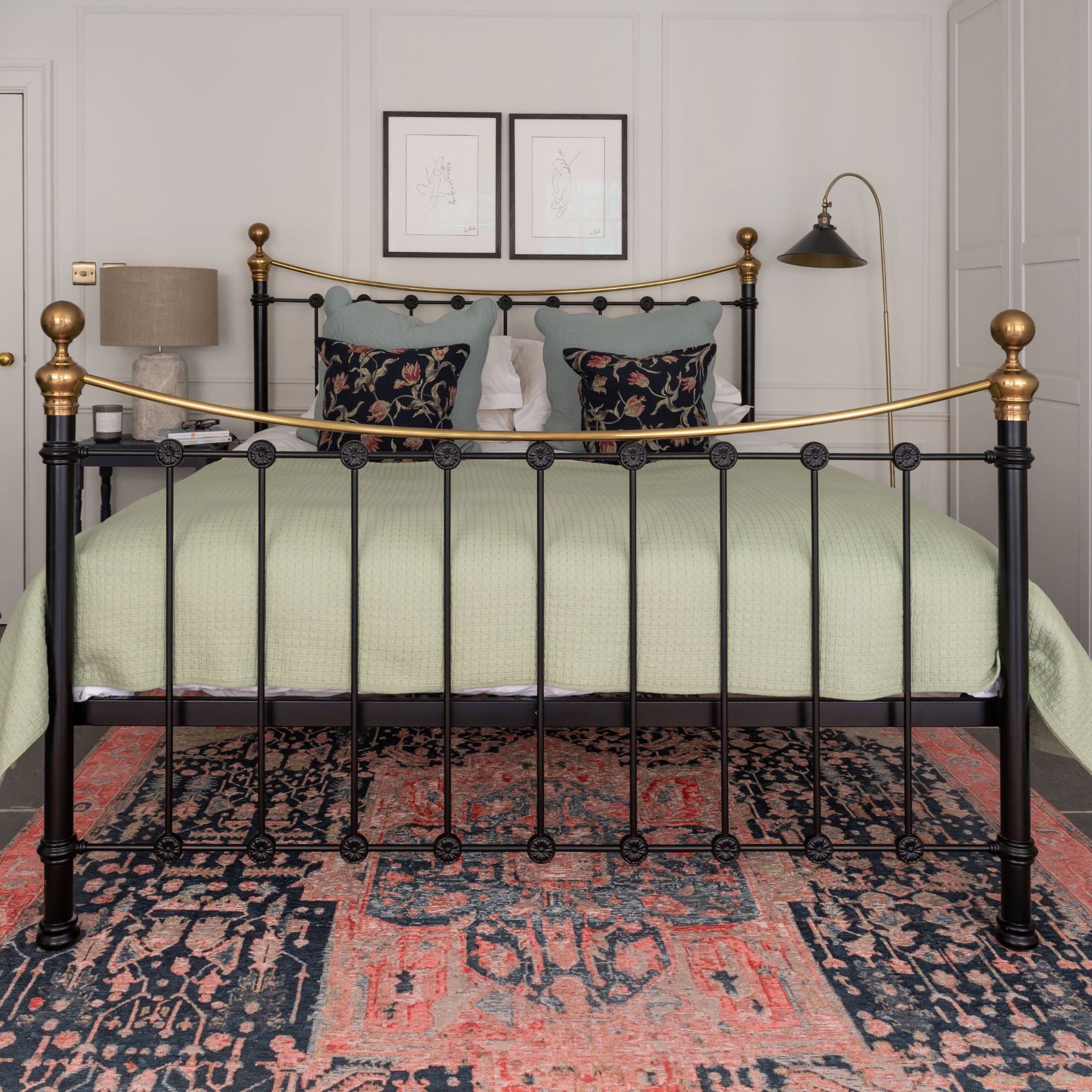 FAQs
What type of rug is best for a bedroom?
The key difference between choosing a rug for a bedroom over more high-traffic areas such as with your hallway flooring ideas, if you can afford to opt for more high pile and fluffy rugs. Jute rugs are having a moment in terms of trends and will complement boho bedroom ideas, but our personal preference is for lovely fluffy rugs that feel gloriously luxurious between your toes when you're climbing in or out of bed each day. 
Where should a rug be placed in a bedroom?
According to design experts the best position for a rug in a bedroom is under the bed with the nightstands standing on it if the rug is large enough. Of course this will all depend on the size of bedroom rug you can afford. The best sized bedroom rug is one that sits under the bed leaving a small frame of flooring around the edge so the rug doesn't look like an island.
However, if you can only afford a smaller rug our teams top tip is to position it so that it sits under the bottom half of the bed. 'I could only afford a mid-sized Berber rug from Asda for my bedroom, however I've faked the look of a bigger rug by positioning it so it sits under the bottom bed legs and covering most of the floor that is visible from the door,' says Rebecca Knight, Deputy Digital Editor at Ideal Home.
Have you been inspired to cosy up your bedroom with rugs this autumn and winter?