Wondering where to start decorating your small bedroom?
Of course, there's rarely one universal place to begin when decorating any room, including a small bedroom. Instead the answer depends quite significantly on what shape bedroom you have, what you need to use it for, what you need to fit in it and its architecture features. 
If you pushed us to choose, small bedroom's layout and how you arrange your small bedroom is where to start your decorating process, but there are so many other factors to consider, which we asked experienced interior designers to comment on, below.
What to decide on first when decorating a small bedroom?
This was the question I put to decorating experts. This is what they said.
1. Consider the function of the room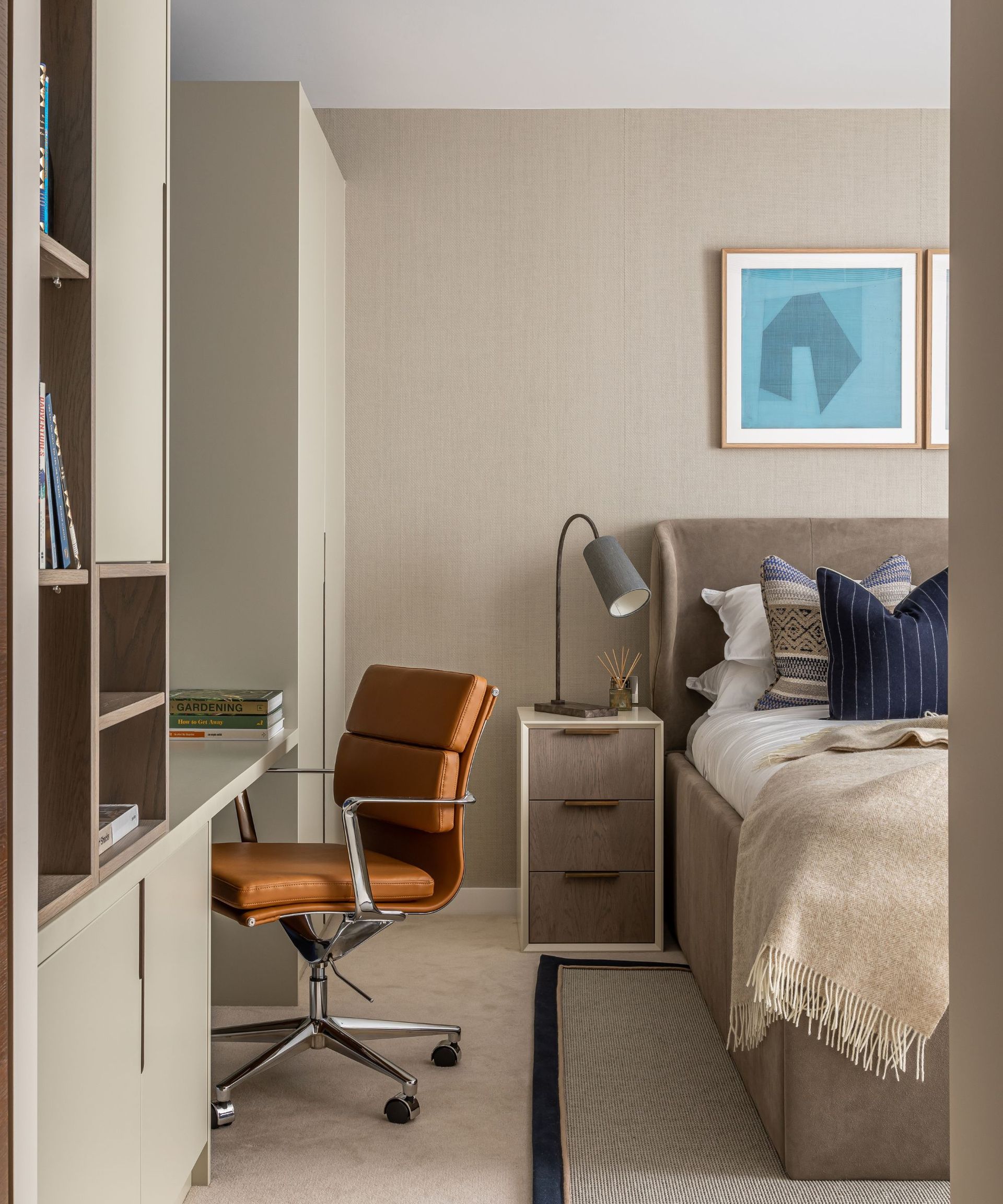 'When embarking on the task of decorating a small bedroom, it is crucial to begin by determining the primary function of the room,' suggests Jennifer Davis, Principal at Davis interiors. 
'It is important to carefully consider what activities you intend to accommodate within the limited space. Naturally, one of the most apparent purposes of a bedroom is sleeping, making the size of the bed for small rooms a fundamental aspect to consider. 
'Additionally, clothing storage should be taken into account to ensure efficient small bedroom organization and utilization of the available area.
'Will the room serve any secondary functions, such as a bedroom office or a playroom? In such cases, it becomes essential to explore options where furnishings can cleverly fulfil dual roles, optimizing the room's functionality. For instance, a closet office or a clever toy storage under the bed can maximize the utilization of space,' continues Jenifer Davis.
'By thoughtfully evaluating the intended purposes of the small bedroom, considering aspects like sleeping arrangements, clothing storage, and the potential for multifunctionality, one can make informed decisions regarding furniture selection, layout, and small bedroom storage solutions. This approach ensures that every square inch of the room is utilized efficiently, creating a harmonious balance between functionality and aesthetics within the limited space.'
To help you consider how to structure your room around its function consider the must-haves all small bedrooms need, as well as what is most important to you, and go from there.
Jennifer fell in love with design at a young age and has been working in the industry for over 25 years. She has developed an eye for detail and a talent for creating timeless designs. Jennifer offers a balance of creativity and forward-thinking with a structured, organized, and detailed mentality. Jennifer is driven by her deep passion for design while curating an exceptional client journey, ensuring pure delight from the very beginning to the end.
2. Get the layout right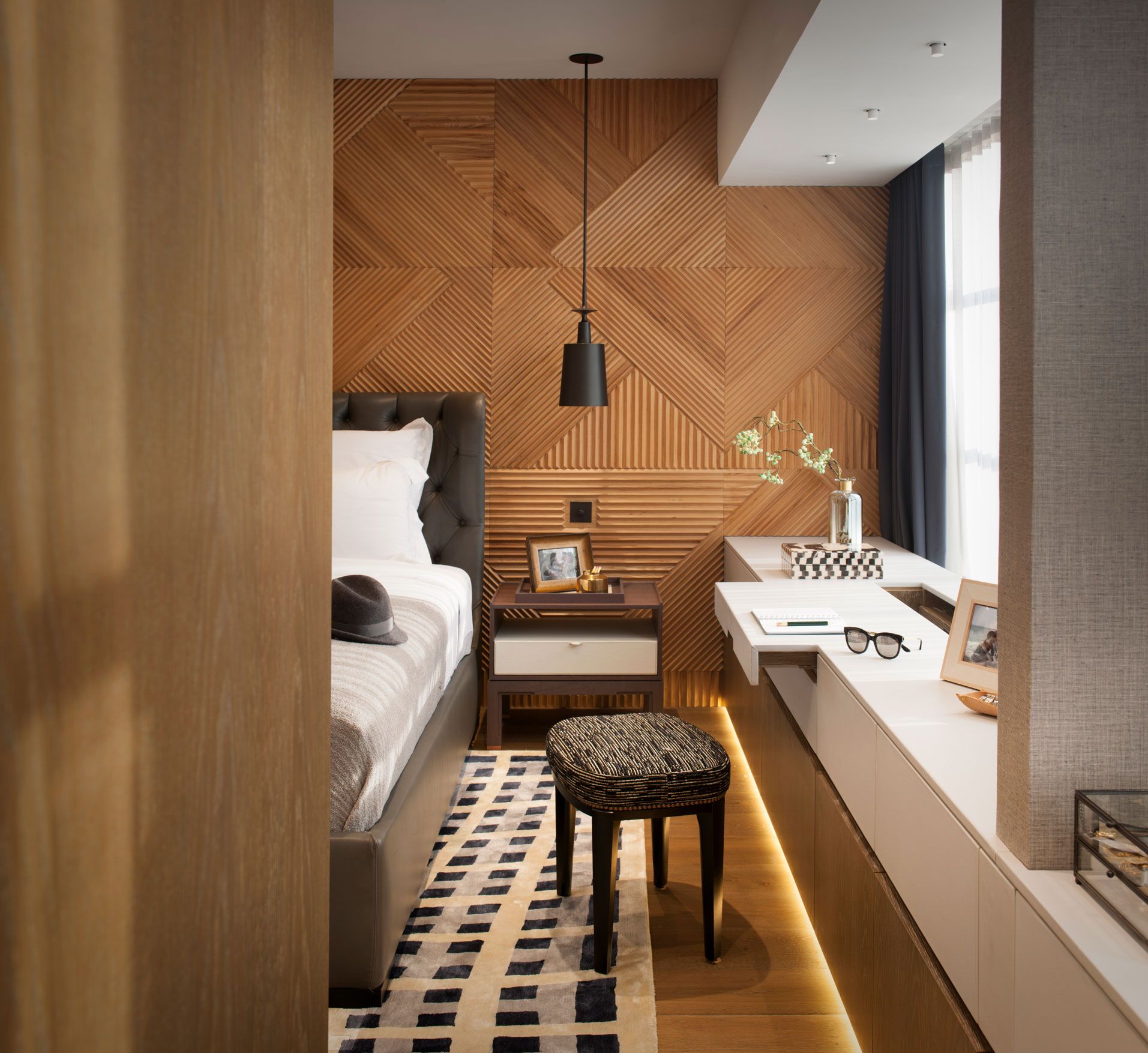 Brad Smith, Interior Designer and CEO of Omni Home Ideas says, 'In my experience, the first thing to decide on when decorating a small bedroom is the layout. This step is crucial as it influences every subsequent decision from furniture selection to color schemes.'
Start working out your small bedroom's layout by assessing where the essentials should be located, including the bed, dresser or closet and bedside table. Then work your way down to other, smaller pieces.
Brad Smith continues, 'By focusing on layout first, you can ensure that the room is functional. In a limited space, a well-planned layout ensures that every square foot is utilized to its full potential. 
'Considerations should include how freely you can move around, the accessibility of storage, and if there's enough space for daily activities.
'A strategic furniture arrangement can dramatically influence the perceived space in the room. For example, anchoring the bed against the wall, opting for vertical storage solutions, or strategic placement of small bedroom mirrors can make a room feel more spacious.
'Once the layout is decided, it becomes easier to choose suitable furniture, decide on a light, space-enhancing color palette, and plan efficient storage solutions to keep clutter at bay.'
Artem Kropovinsky, interior designer and founder of Arsight advises, 'In a small bedroom, functionality is your sacred mantra. Every item you introduce should earn its place. Think multipurpose furniture such as a bed with built-in storage or a desk that doubles as a bedside table. This way, you provide for your needs without consuming valuable square footage.'
 Brad "Omni" Smith, the CEO and chief editor at Omni Home Ideas, based in Dallas, Texas. Brad Smith is also an interior designer, committed to providing tips about renovating homes.
Based in New York, Artem Kropovinsky, founder of Arsight, has a decade of extensive and considerable global design experience. Prioritizing minimalism, sustainability, and authenticity, Artem, alongside his team of professionals, works on projects in the US and worldwide.
3. Furniture size and scale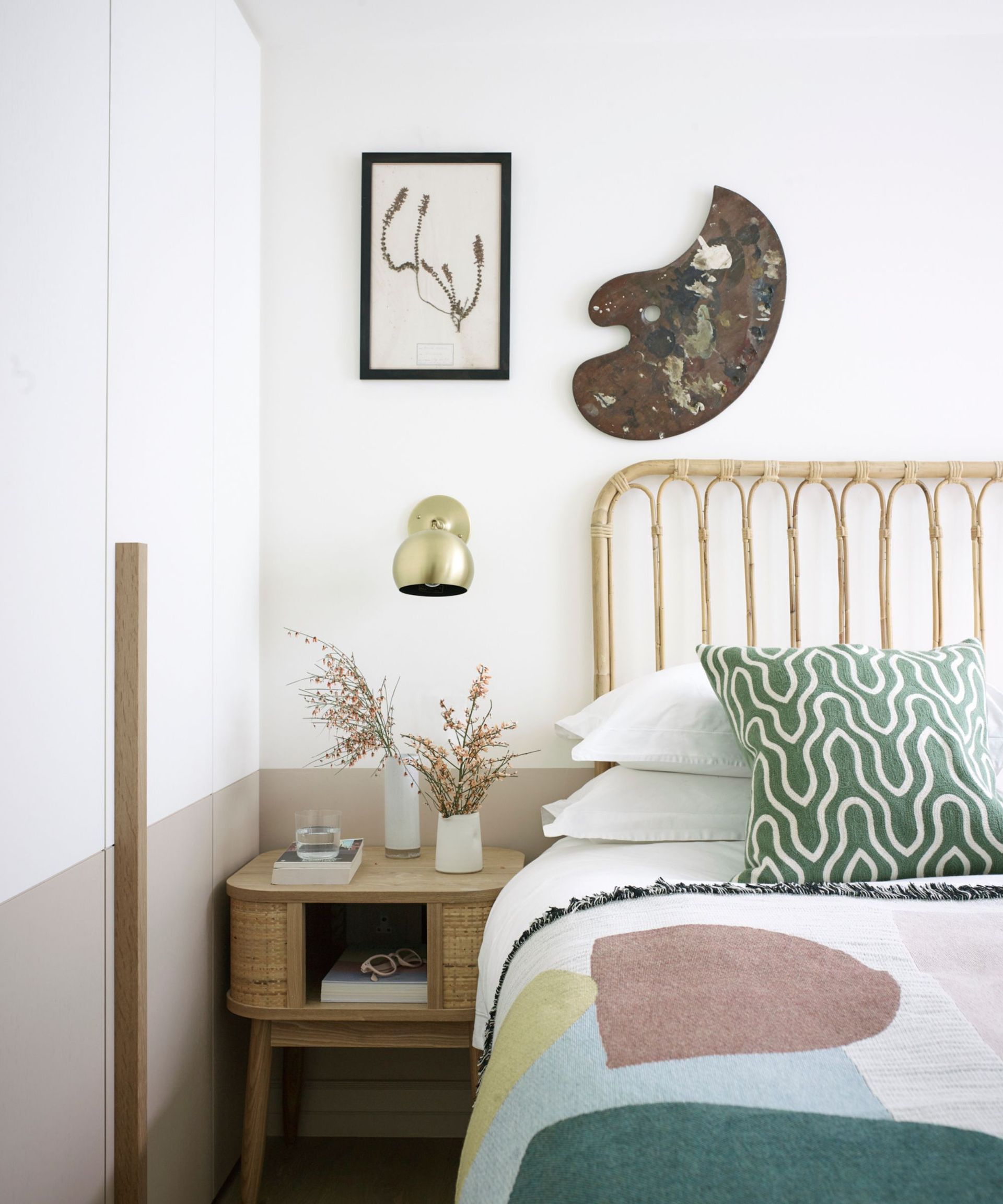 Scale in interior design is vital to get right, especially when considering where to start when decorating a small bedroom. 
Choosing pieces of furniture that are the proportionate size for the room, don't take up too much floor space and match the sizes of the other pieces of furniture is very important in a small bedroom for not only practicality but also aesthetics.
Avoid oversized or bulky furniture that can crowd the room and reduce floor space, and find space-clever furniture, such as closets with sliding doors. And: measure, check, measure.
Beth Martin, Founder and Designer at Beth R Martin recommends, 'Since the bed is the foundation of any bedroom, this will be the most crucial consideration in a tight space. A small bedroom might limit the allowable size of your bed, so be sure to measure your room carefully.'
4. Look for ways to save square footage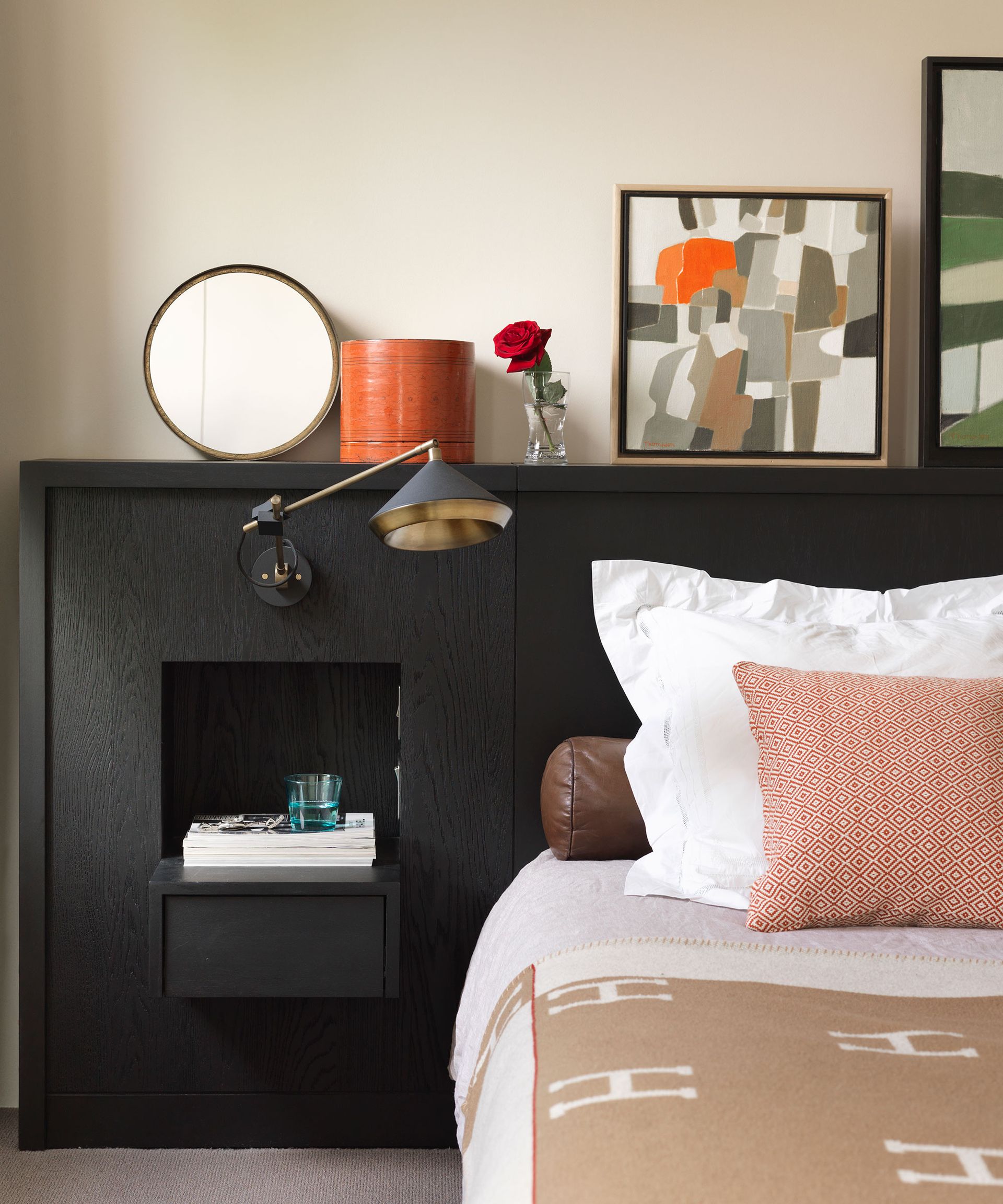 Roman Smolevskiy, the owner of A+ Construction and Remodeling says, 'Based on our extensive experience, the pivotal first step when decorating a small bedroom is defining its primary function. This seemingly simple decision forms the foundation for the effective use of space.'
Roman suggests that if, for example you want a restful sleeping area and a productive workspace without creating a compact space, use 'a loft bed with a built-in workspace underneath. This solution provides a comfortable sleeping area and a productive workspace without occupying extra square footage.
'In addition, the dual function of the room dictates choices in lighting fixtures. Layered lighting with a softer, dimmable option for the sleeping area and a brighter, focused light for the workspace.' 
The room's primary function can direct the rest of the design process for your small bedroom. 
'After the function is clear, we can move forward with other decisions like including a sleeper sofa, choosing the room's color scheme, furniture selection, and storage solutions, all aimed at optimizing the space.' adds Roman.
Beth Martin, Founder and Designer at Beth R. Martin suggests, 'Since there's never enough storage in a smaller room, consider how your bed can help. Adding risers, built-in drawers, or even a lofted mattress are all innovative ways to maximize your square footage. If you plan this from the beginning, your life will be so much easier down the road.' 
In considering the functionality of a small bedroom, first, you also need to consider your furniture options to not only fill, but maximize the space by finding the best options.
Ashley Yeates, Founder, and principal of AYI & Associates, says: 'I look at best use and openness of space when designing small bedrooms. Multi-purpose use of space like desk under a raised twin bed or fold down desk in wall cabinetry provide function without competing for floorspace.  
'Less is more when space is limited, keeping the design simple and bright can open a room. Also, adding lighting and keeping windows free of furniture, accessories and adding mirrors opposite the window allows the illusion the space is larger than the footprint.'
Find furniture with dual purposes such as a bedhead with shelves, a bed with built in drawers or underbed storage, or storage in an ottoman. In small bedrooms where floorspace is limited, make the most of wall space by investing in mounted shelves.
Some of our favorite small bedroom finds are just below.
Ashley Yeates is the founder, and principal of AYI & Associates, based in Monterey, CA. Ashley founded The Ashley Yeates Collection in 2013, aspiring to create a healthier furniture line that is fully customizable, higher quality and uses sustainable and ethically sourced materials. Seeing a market space flooded with mass-produced furniture that wears out and negatively impacts the environment when taken to the landfill inspiring her to go the opposite direction. A focus on human connection, protecting the environment, selecting ethically harvested materials, employing American talent, and spotlighting the art of craftsmanship are just a few of the things that go into every piece of furniture she creates.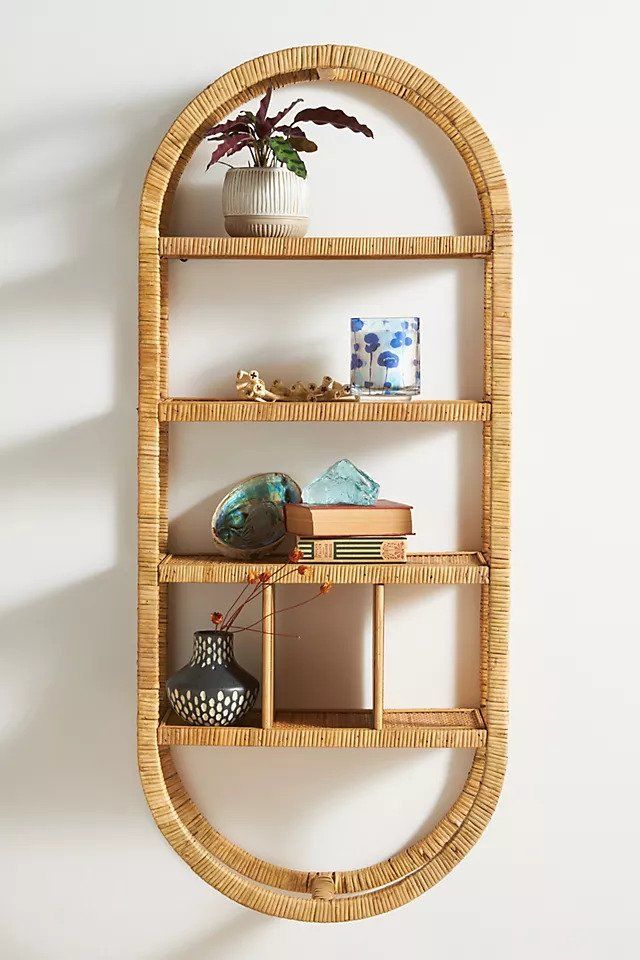 Selena Rattan Shelving Unit
$248.00
This four layer rounded rattan shelving unit is an elegant storage solution which is also the perfect opportunity to create a focal display point in your room.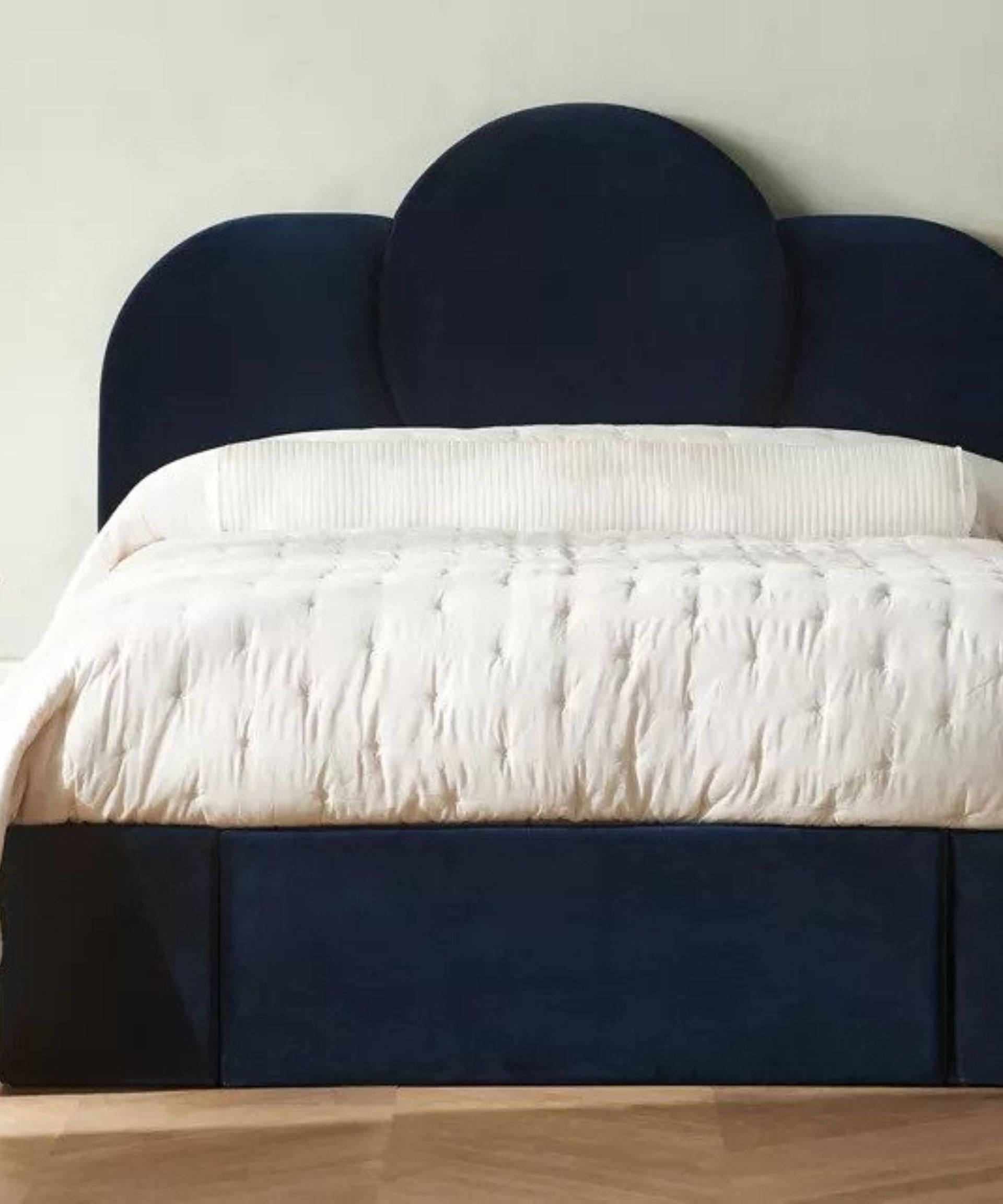 $2,698.00
This queen sized bed come with an in-built storage drawer in the base of the bed to save space. The bed come in velvet estate blue in Valencia linen in swan.
5. Choose room color according to light levels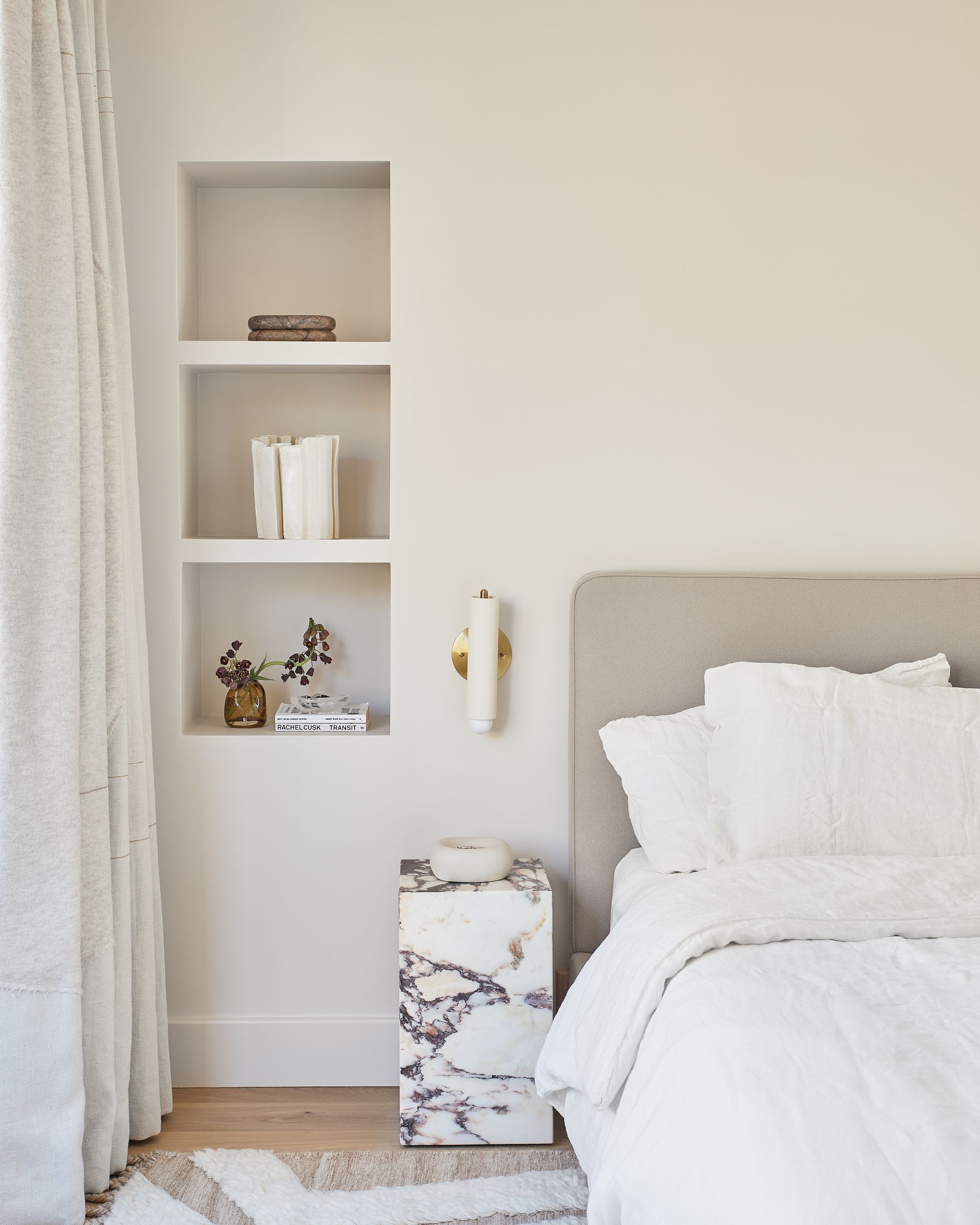 When decorating smaller rooms, you need to be especially cautious about the primary wall color you are using, since you want to avoid overwhelming the room and making it look smaller. So, a great starting point is choosing colors that make a small room look bigger. 
Artem Kropovinsky, interior designer and founder of Arsight says, 'The first decision to grapple with is the choice of color. It's a conversation that begins and ends with light. Opt for lighter hues like cream, pastels, or muted blues, as they reflect light and make your room feel more spacious. Color continuity enhances the flow of space, so let your walls and ceiling dance in the same tone.'
Lucy Searle, Editor in Chief at Homes & Gardens adds, 'I would always consider the daylight levels in a small bedroom when considering where to start the decor scheme. This doesn't just mean how bright the room is but also the temperature of the light that it receives: warm if south- or west-facing, cool if north- or east-facing. Then, you can temper your bedroom color ideas or bedroom wallpaper ideas to get the mood you want to achieve in the room. 
'It doesn't stop there: because you'll often be using the room when it's dark outside, so think, too, about the artificial light the room will be lit with. If the room is not having the lighting replace, use the current lighting to look at paint or wallpaper samples, or try to mimic the artificial lighting you will have to get the right shade on your walls, floors and at the windows. With the right small bedroom lighting ideas,  you can create a scheme, whether cool, warm, space-enhancing or cozy, that suits your personal taste.' 
You may also want to explore small bedroom mirrors ideas that can be used strategically to reflect light and create the appearance of more space.
Lucy Searle has written about interiors, property and gardens for over 30 years, starting within the interiors departments of women's magazines before switching to interiors-only titles in the mid-1990s. In 2018, Lucy took on the role of Global Editor in Chief for Realhomes.com, taking the site from a small magazine add-on to a global success. She was asked to repeat that success at Homes & Gardens, where she has also taken on the editorship of the magazine, which is the UK's oldest interiors magazine at 103 years old. Lucy is a serial renovator and also owns rental properties in the UK and Europe, so brings first-hand knowledge to the subjects she oversees.
6. Inject character with decor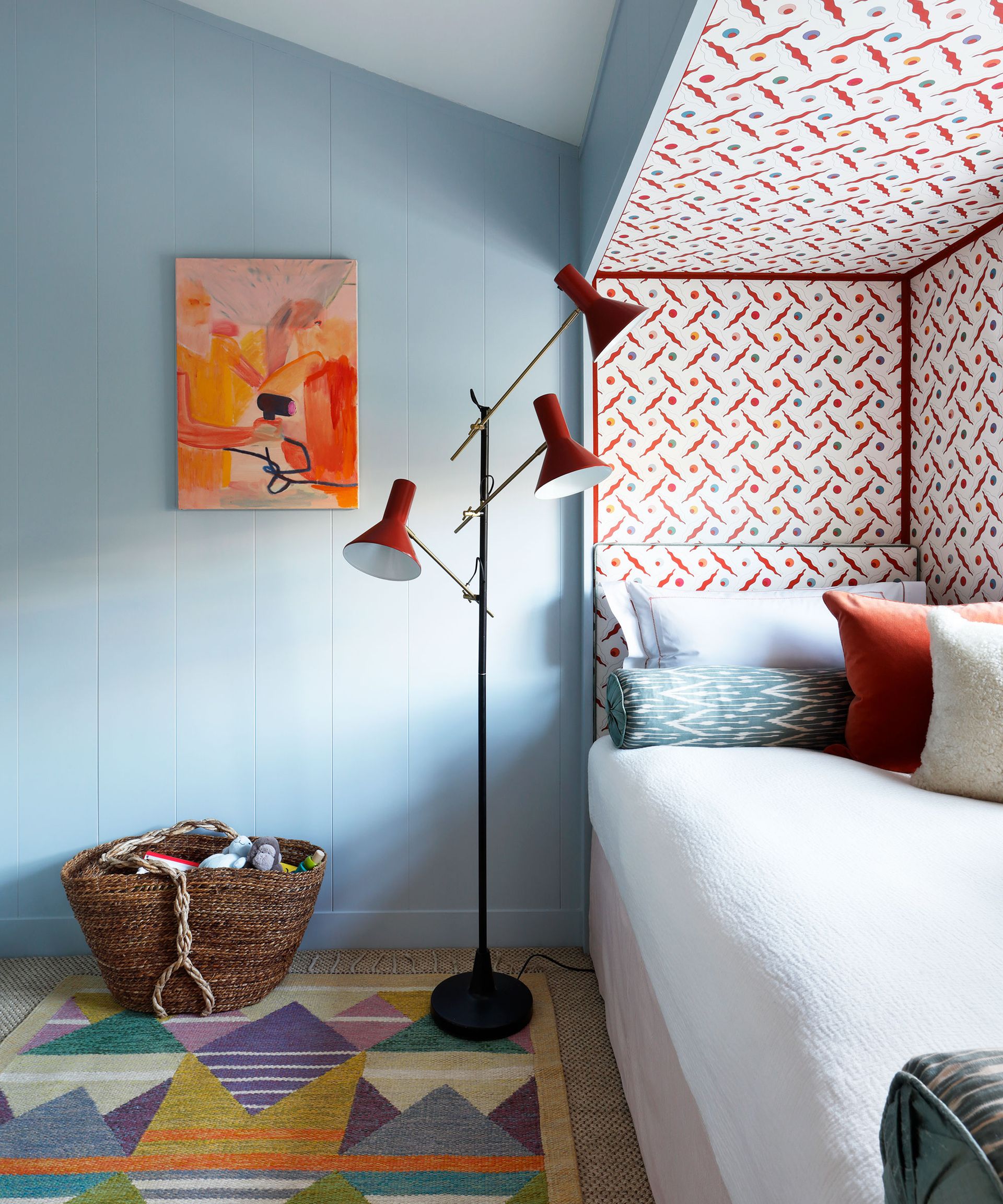 Small bedrooms needn't be void of character, and you can include it through decor.
Artem Kropovinsky says, 'Inject personality in a monochromatic space. The beauty of a monochromatic space is the blank canvas it provides. To create depth and interest, play with textures. Introduce materials like faux fur, velvet, or reclaimed wood, and even sculptural elements like a unique light fixture or an abstract piece of wall art.
'While monochromes form the basis of your design, consider strategic pops of color to give your space character. Perhaps a jewel-toned cushion, a vibrant art piece, or a plant with colorful foliage. It's your story; you choose the punctuation.'
Jo Bailey, Deputy Editor at Homes & Gardens suggests, 'Consider the overall impact you want your small bedroom to have. You don't need to save your bolder ideas for the bigger rooms in your house. Like with a downstairs toilet, sometimes a smaller bedroom can benefit from a louder scheme. Why not opt for a large-scale mural wrapped round all four walls or try a bold painted ceiling in a contrasting color?' 
Jo Bailey is Deputy Editor of Homes & Gardens, overseeing all features for the print edition. Before joining Future PLC, she worked as an interior stylist for over ten years, specializing in commercial photo shoots for luxury clients such as; Design Centre Chelsea Harbour, Christopher Farr Cloth and Heal's. She has worked with Homes & Gardens for over a decade, having styled and produced editorial shoots and events over the years.
FAQs
How can you determine a focal point in a small bedroom?
Start by identifying a stand-out feature in or for the room. This could be a window, fireplace, decorative light feature or bed, and can help guide the direction and flow of the room, creating structure for you to build around.
'A bedroom is one of the most private and intimate spaces in the home, somewhere you can truly relax, unwind and be yourself. Art, then, is particularly significant here and one of my favorite ways to decorate a small bedroom. A favorite artwork is a designer-approved starting point for a bedroom scheme, even if your bedroom is on the smaller side. You can also make this your color cue – experiment with the colors used in the piece, select two or three, then take it from there.' adds Jennifer Ebert, Deputy Editor at Homes & Gardens.
Jen is the Deputy Editor (Digital) of Homes & Gardens online. Before starting this position, she had completed various interior design courses at KLC Design School, as well as working across Ideal Home, LivingEtc, 25 Beautiful Homes and Country Homes & Interiors as an interiors writer.
---
By addressing the layout of your small bedroom, and considering the light, added focal points, and storage space allowance, you can not only assess the optimal approach to make a small bedroom functional, coherent and visually appealing, but can also work out what you want to begin with when decorating. 
Whether your first focus will then be furniture, lighting, or color choices, you can set a strong foundation for decorating a small bedroom, and all the other decisions will follow and fit into place.