Home Improvement was a staple of the mid-nineties and its legacy lives on decades later, thanks to some memorable grunting from series lead Tim Allen and the inclusion of the popular character of Wilson, who mainly spent his tenure on the series hiding his face behind a fence. Of course, the relatable concept of a Fix-It guy eking it out with his family in suburban Michigan appealed to many people – even those living outside of the Great Lakes region. The popularity of Home Improvement can't be understated, and fans still fondly remember the sitcom even as the TV schedule has changed over the decades. 
In fact, many of these fans are still asking the age old question: Why did Wilson always hide his face behind the fence on Home Improvement?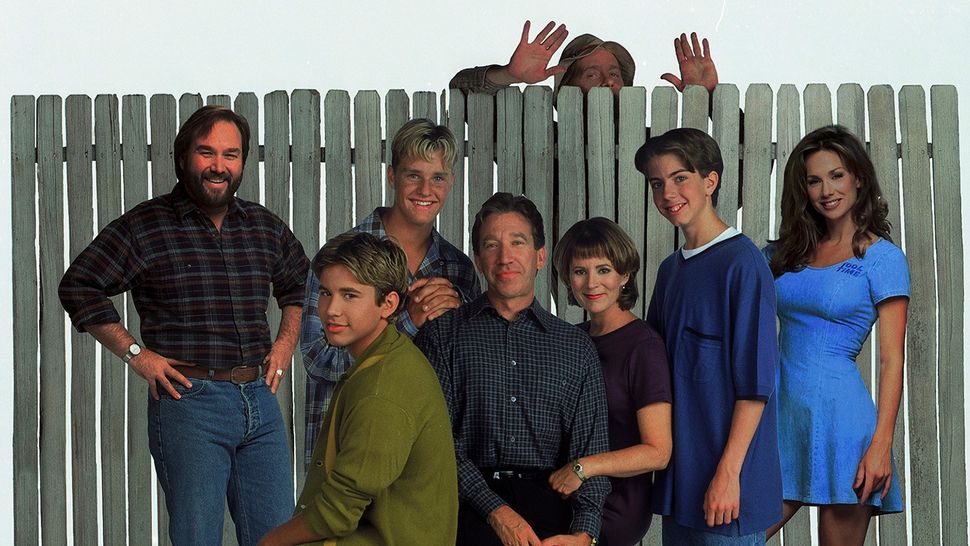 Tim Allen Based His Idea For Wilson On His Idea Of A Neighbor While Living In Michigan
While Tim Allen credits the writers and an "extremely competent" director for making Home Improvement the success it was, if you were to ask him, he would confirm the idea for the character of Wilson was all his, and it came from his general concept of what a neighbor was. He said the idea came while he was being pitched for other sitcoms by then Disney head honcho Jeffrey Katzenberg, including a pitch for a Dead Poets Society TV series Allen didn't want to touch with a 10 foot pole. 
He'd been thinking about what he could pull off in a sitcom world, so when Katzenberg said 'Disney wants to be in business with you' it wasn't that Allen wanted to say 'no' to Disney, it was more that he wasn't into ABC's ideas. He said on Marc Maron's WTF podcast: 
Katzenberg wasn't so easily deterred, however, giving Tim Allen the ability to pitch. And pitch he did, a concept that neatly provided the framework for what Home Improvement would become. It also included a neighbor who was always somewhat hazy in the distance. 
Some things changed a bit from this pitch, including Wilson being more than simply a figure in the distance, but a lot of what the ABC sitcom was was thought up by Allen himself. The actor was also very clear with Maron that it would never have come together as well if Katzenberg hadn't hooked him up with the creative team he did. 
And Wilson, along with Tim 'The Tool Man' Taylor was born.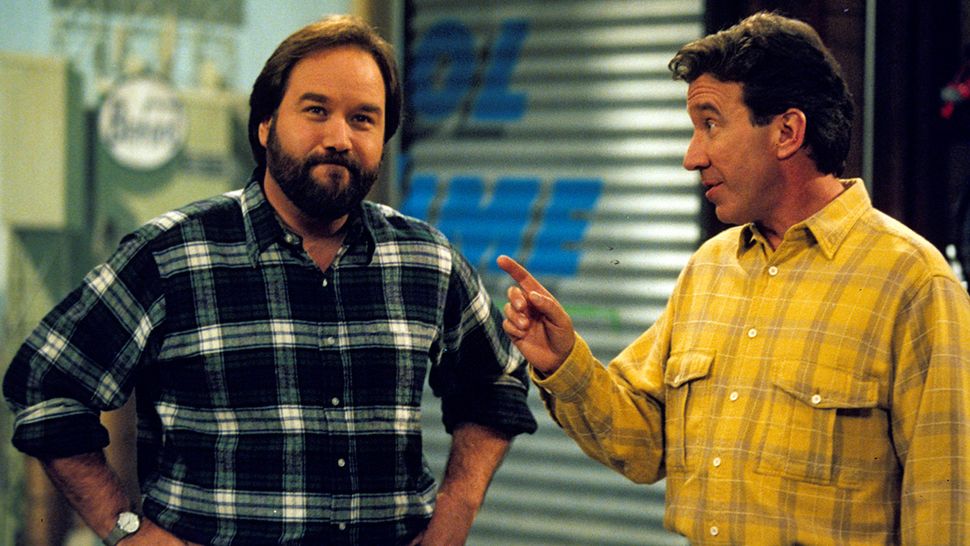 Intriguingly, Tim Allen Didn't Get Writing Credit For Helping To Create The Series And Its Characters
When Home Improvement premiered on September 17, 1991, Tim Allen was already a well-known comic who had satirized an act based around a character he'd created (who loved power tools) for the stage. Even at the time, however, there were comments made about how the show used a lot of original Tim Allen material, including his jokes, but he still didn't get any credit from the Writer's Guild. 
In an interview with the Los Angles Times at the time, Allen called the decision "unfair." His showrunner Matt Williams agreed, saying:
Eventually, Allen would get writing credit for just 14 episode of Home Improvement that aired. The majority of these came during Season 1.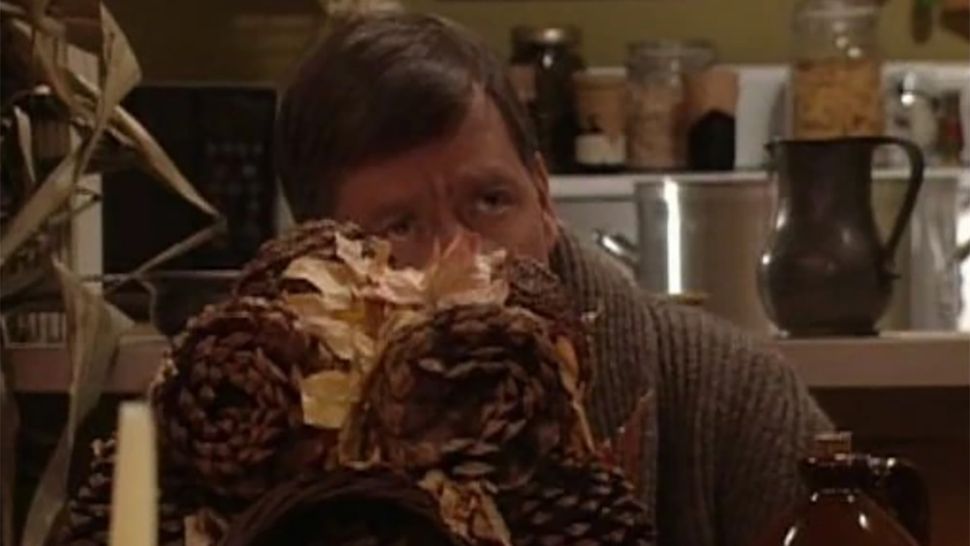 Wilson Evolved Over Time
Wilson may have been designed by Tim Allen as a reminder of his own interactions with his neighbors in his home state of Michigan. However, Wilson W. Wilson became a character who evolved over time, thanks to some genius ideas from the writers. Not only was Wilson not simply a fuzzy face in the distance, but instead he was a person who was always willing to listen and give a helpful anecdote. Plus, over time the writers were also able to keep up the gag and find new and creative ways to hide his face. For example, at one point in the fourth season, Wilson actually went to Thanksgiving dinner with the characters, and his face was hidden behind a pine cone art display even while sitting down to dinner with the Taylors.
Hindman even hid his face for a final episode interview, though old footage from the filming of the Home Improvement finale shows that Earl Hindman was given a chance to come onstage, show his face and give his final bow as the series was wrapping its run on ABC. It was a nice final moment for the fans to celebrate the actor, as there'd long been a (literal) barrier between him and the people who watched the show.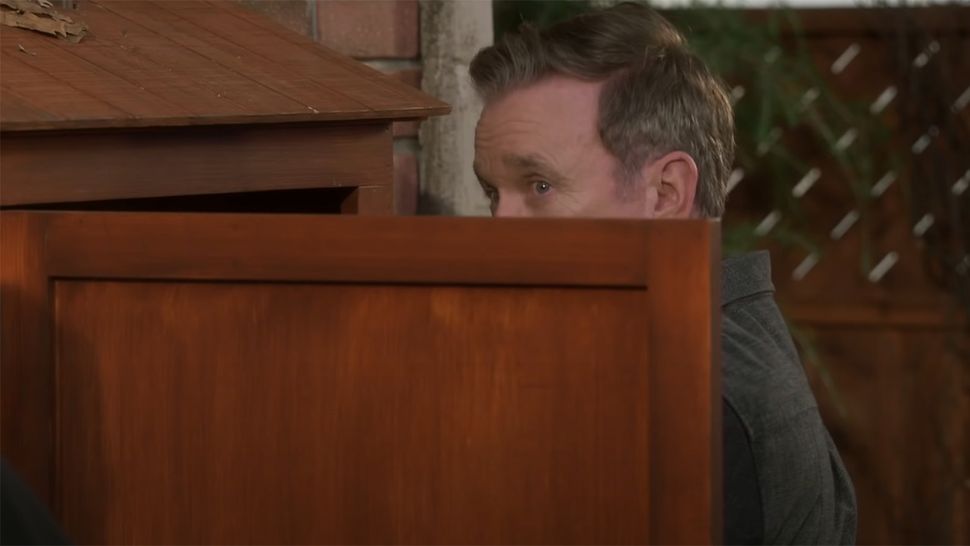 Last Man Standing Later Nodded At Earl Hindman And The Wilson Gag
Tim Allen later created a show that had a lot of spiritual ties to Home Improvement. Allen has called Last Man Standing's lead character Mike Baxter a "real version of Tim Taylor," also lovingly referring to his previous lead character as a "joke."
In fact, an episode of Last Man Standing tied in with Home Improvement, with both the characters of Mike Baxter and Tim Taylor interacting. The episode "Dual Time" has Taylor mentioning his old neighbor from the other side of the fence while talking to Mike Baxter's partially obscured face. He noted during the now-famous episode, 'I always find it easier to open up when talking to the top half of another man's face." 
Tim Allen said he got "emotional" about the crossover episode. Earl Hindman passed away back in 2003, and it hit the comedian hard. He said he started reflecting on the former sitcom while the crossover episode was filming, noting:
Home Improvement ultimately ended its run in 1999 after nearly a decade on the air. Last Man Standing came along in 2011 and also had a successful run on Fox and ABC. Both shows made an impression, but it is Home Improvement that has fans clamoring for a revival, and years later, people are still asking about the face behind the face.