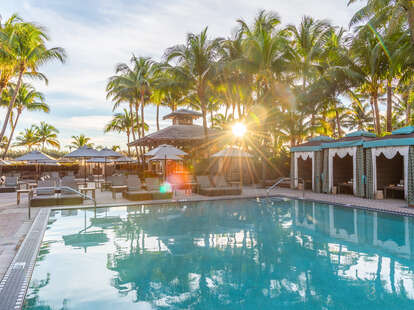 Photo courtesy of the National Hotel
Photo courtesy of the National Hotel
It's been a disrespectfully brutal summer so far, even by South Florida standards. The only way to enjoy some fresh air without immediately drenching yourself in sweat is to post up next to a swimming pool, and if you're not lucky enough to have one at your house or condo complex you're left with one option: hotels.
Many of our city's beautiful properties have equally alluring swimming pools, from rooftop gems and palatial lagoons to pool party spots perfect for the spring break set. The best part is many of them offer day passes for locals too, so whether you're a tried-and-true local looking to cool off or a tourist just passing through, here are some of the best hotel pools in Miami.
1 Hotel South Beach
South Beach
The view from the top of the ecocentric 1 Hotel isn't just one of the best hotel pool views in Miami, it could stand window-to-window with any hotel pool in the world. Gazing in one direction, guests have an elevated view over the turquoise waters of the Atlantic. Look in the other, and it's the colorful Miami skyline, with Biscayne Bay in between. It's a perfect place for sunset cocktails at Watr at the 1, one of the top rooftop bars in Miami, especially when views from the bathrooms are just as spectacular.
How to go: Posting up at the bar is your best bet for getting in on the action, unless you're up for dropping over $1,000 on a daybed.
Novotel Miami Brickell
Brickell
No hotel on the mainland does more with its pool deck than Brickell's Novotel, where every Thursday you can catch a movie under the stars—with full bar and food specials—for $25. The panoramic city view makes an ideal backdrop for Saturday yoga sessions, though the noon start times often mean they're effectively hot yoga classes. Novotel also hosts monthly jazz nights with live music on the roof, and Sunday barbecue parties.
How to go: Sign up for one of its many events, or buy a day pass for $25.
The Goodtime Hotel
South Beach
The Goodtime Hotel's pool deck is a pink-and-pinstripe Miami dream, quickly making it the most sought after pool invite in Miami. Painstaking design detail from Ken Fulk makes the place almost campy, where palm tree fountains and shallow spots for selfies create an Instagrammer's mecca. The pool parties are among the best in Miami, often headlined by top DJs and frequented by visiting celebs. Nothing is cheap, but good times rarely are.
How to go:Buy tickets for the pool party, which vary based on which DJ is headlining. If you'd rather go on an afternoon when the pool isn't raging, grab a Half Moon or Full Moon pass, which gets you access to the pool, drink tickets, valet parking, and brunch for $150 for two people or $300 for four.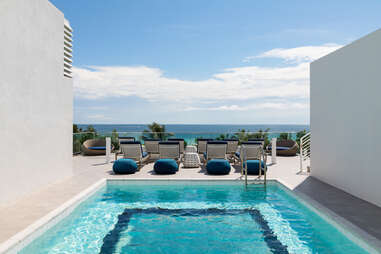 The Gabriel South Beach
South Beach
The Ocean Drive hotel pool scene has been historically lacking, save maybe for the day rager at the Clevelander that doesn't exactly invite swimming. Enter The Gabriel, whose splashy new rooftop offers stunning front row views of the Atlantic and the street below. The view gets even better, though, when swimmers look down, as the glass bottom allows them to peer into the atrium that stands over the hotel's common areas.
How to go: You can score a day pass to The Gabriel via Resort Pass for $30.
The Biltmore
Coral Gables
Often forgotten in the world of glam South Beach pool scenes is the esteemed Biltmore. That's partly because getting in is nearly impossible if you're not a guest or member. But also because the old-world Mediterranean elegance is kept fairly secluded so it's not plastered all over social media. Still, the vibe here is pure luxury, where Greek statues and marble columns surround the 600,000-gallon lagoon. The pool also boasts as much history as any Miami swimming spot not called the Fontainebleau, once visited by the likes of FDR and Judy Garland, and former workplace of Johnny "Tarzan" Weissmuller back in his lifeguarding days.
How to go: Book a room or join the Biltmore's social club. You can also rent a poolside cabana starting at $300 during the week.
The Standard
Miami Beach
The retro-glam Standard might boast the best ground floor pool view in Miami, where sunbathers hover just above Biscayne Bay and can gaze in all directions at Downtown, Midtown, and all points north. It also scores points for being mostly accessible to the public, as lazy, cocktail-laden lunches here are a local tradition. The hotel also added some new amenities in the past year to sweeten the deal, and stopping in for classic cocktails in the mid century-inspired Monterrey Bar is a perfect way to cool off if you're not one to actually get in the water.
How to go: Enjoy a meal by the water at Lido to sip cocktails poolside or buy a day pass to the spa via Resort Pass for $100.
Mondrian South Beach
South Beach
Skyline views from the pool are hard to come by in Miami, with the bulk of the city's most sought-after pools sitting on the ocean side of South Beach. The grand exception is the Mondrian, whose weekly pool parties end with spectacular sunsets over Biscayne Bay and the steel and glass towers of downtown. Even before the sun goes down, the Baia Beach Club is an ideal spot for a lazy Sunday brunch. Just make sure to wear a swimsuit, as the endless rose can sometimes lead to impromptu cannonballs.
How to go: Book brunch at Baia Beach Club or buy a day pass via Resort Pass for $100.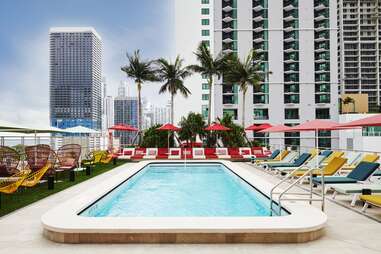 CitizenM Miami Worldcenter
Downtown
It is strange to feel immersed in a city skyline, then immediately look out upon an endless expanse of turquoise water. That's why the pool at downtown's CitizenM is so unique, as the urban jungle towers around you, but Biscayne Bay sits in the not-so-far-off distance. Lounge chairs face east, with the Kayesa Center and Freedom Tower framing the bay and giving this pool perhaps the greatest sense of place of any in Miami. Though if you're looking to tan you'll want to get here early as the sun dips behind the skyscrapers relatively early in the day, especially during winter season.
How to go: Book a room at the CitizenM.
The Fontainebleau
Miami Beach
No discussion of Miami's best pools is complete without a nod to the venerable Fontainebleau, perhaps the most famous and photographed hotel swimming pool in America. Everyone from Frank Sinatra to the guys from Scarface have made it a South Florida icon, and even today its frequent concerts and poolside DJ sets make it one of the beach's top destinations.
How to go: Buy a day pass via Resort Pass for $39.
Eden Roc
South Beach
If the Fontainebleau seems a little too sceney, but you still want all the art deco glam of a Morris Lapidus-designed pool deck, head next door to the historic Eden Roc. The sprawling space boasts an elevated view of the Atlantic Ocean, with a cool lawn and pool bar down on beach level. Those fortunate enough to have a room at the Nobu Hotel inside Eden Roc get access to the adults-only pool, which offers poolside champagne and a lot more quiet afternoons.
How to go: Book a day pass via Resort Pass for $60.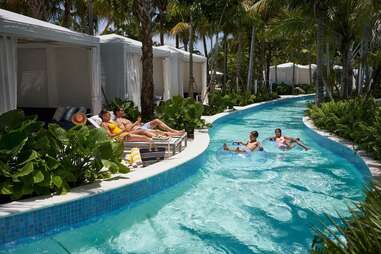 J.W. Marriott Turnberry
Aventura
There are hotel pools, and then there are hotel pools with a 60-foot waterslide tower, a lazy river, and a FlowRider surf simulator. That's the scene at Tidal Cove, the water park/hotel pool at the J.W. Marriott Turnberry. Once you've gotten in your requisite adrenaline rushes, you can also kick back in a cabana or lay in a lounge chair, cocktail in hand, as you feast on the gourmet poolside offerings between trips down the speed slide.
How to go: Resort day passes start at $55 on weekdays. Now through September, you can show up after 3 pm during the week and pay only $33.
Mayfair House and Hotel
Coconut Grove
You won't find a better hotel pool view outside downtown and the beach than the view at the newly restored Mayfair. The top floor pool deck boasts a panorama over Coconut Grove, the marina, and Biscayne Bay beyond. It's equal parts urban oasis and seaside escape, made especially delicious when enjoying Bahamian-inspired cocktails and bites from the Sipsip Calypso Rum Bar.
How to go: Grab a drink and some conch fritters at Sipsip or buy a pass via Resort Pass for $40.
National Hotel
South Beach
Infinity pools are nothing novel in Miami, but the one at the historic National Hotel holds the distinction as longest, stretching 205 feet from the hotel's back patio to its secluded beachside oasis. While ambitious swimmers might be tempted to get their laps in here, the space is far better used for soaking up sun with a pitcher of margaritas instead. The National has a whole tower of rooms looking right over it, if you want a front row seat. Or, if you'd like something a little wider, you can wander back towards the beach and take a dip in the National's leisure pool.
How to go: Day passes are available for $45.
YOTEL Miami
Downtown
Nothing kills a great hotel pool day faster than an out-of-nowhere thunderstorm. But when the clouds roll in, the party rages on at downtown's YOTEL, where the indoor-outdoor pool deck is completely covered. That means you can order another round from Vela Sky, the YOTEL's rooftop bar, without worrying if the rain will force you to take it inside. You can also snap pictures in front of the poolside mural, if the 12th-floor skyline views are obstructed by the clouds.
How to go: Head up to Vela Sky for a drink and you can enjoy the pool deck. No day passes are available.
W South Beach
South Beach
The W pool does a spectacular job of making its exclusive guests feel secluded, surrounding the deck in thick, tropical foliage giving it the ambience of a wild, secret swimming hole—with waiter service and a live DJ. Still, the surroundings make an ideal place for poolside movies and cookouts from local chefs, both parts of the frequent public programming you'll find at the W.
How to go: Grabbing a drink at the bar or lunch at Irma's is open to anyone. Pool chairs are open to hotel guests only.
Matt Meltzer is a Miami-based contributor for Thrillist, a veteran of the United States Marine Corps, former pageant judge in the Miss Florida America system, and past contributor to Cosmopolitan magazine. Matt graduated with a BBA from University of Miami and holds a master's in journalism from the University of Florida. He currently lives in Miami with his Betta fish, Bob.