Do you believe that artfully designed interiors can transport you? Cher's home, designed by celebrity interior designer Martyn Lawrence Bullard, seems to suggest that it can. The Turn Back Time and Believe singer's California home is a beautiful mix of furniture and textiles sourced from around the world. Look through Cher's decorating ideas below.
Cher's Malibu house reads like a liveable museum. Each room is inspired by international travel to a different country with furniture from Asia, North Africa, and Europe combined in a stylish and cozy manner. The combination of antique and modern elements gives Cher's house a cozy feel. Interior designers love Cher's home decor ideas.
First, the experts say, the internationally inspired furniture in Cher's home creates an inviting warmth. 'An eclectic home inspired by international travels accomplishes more than mere decoration; it cultivates a profound sense of global awareness and
cultural enrichment,' says Harvard Cooper, architect and interior designer.
Havard Cooper is an accomplished, Brooklyn-based, architect and designer with
over 15 years of experience. He graduated from the Savannah College of Art and Design. He has worked on various projects ranging from residential homes in the Hamptons to boutique flagship stores. Havard's work has been featured in Hospitality Design, Architectural Digest and other publications
He continues, 'Even the most minimalistic dwelling can acquire a human touch by infusing a rich tapestry of colors, textures, and patterns, continuously captivating the eye and inspiring curiosity. The pursuit of artisanal crafts may be a challenging endeavor. Still, each piece, regardless of size, carries its unique narrative, catalyzing engaging conversations.'
Furthermore, Cher's global style makes her home very visually interesting. Ginadi Feldman, interior designer, states: 'Creating an eclectic home inspired by international travels is like taking a journey without leaving your living room. It's an adventure for your senses.' 
Ginadi Feldman is an acclaimed interior designer in the San Francisco Bay Area. He has extensive experience working with high-end clients, including tech executives from big tech companies like LinkedIn , Google and Facebook in Palo Alto. 
He continues: 'The benefits? Well, first, it's an instant conversation starter. Your guests will feel like they're traveling the world with you. Second, it's a chance to showcase your personality. It's like a scrapbook of your life's adventures but in the form of furniture and décor.'
Finally, experts say Cher's home idea tells a fascinating and cohesive story. Architect and designer Havard Cooper says, 'Thoughtful curation of a harmonious color palette instills unity and cohesion, even when incorporating diverse and disparate elements.'
He adds, 'Take Cher's home, for instance, where neutral, natural tones create an elegant backdrop. Including deep, rich mahogany Torana and Moorish ogee arches within the same space alludes to the shared essence between various cultural groups. These architectural elements draw inspiration from many sources. However, originating from different ethnic backgrounds, cultures, and geographical regions, these motifs, like the iconic Gothic arch, developed for similar purposes, emphasizing our interconnectedness.'
Ginadi Feldman states: 'This type of design is a constant source of inspiration. Every piece has a story, and that's a beautiful thing.' He says, 'You layer pieces from different parts of the world, allowing them to complement and enhance each other. The result? A home that's uniquely yours, a storybook of your global adventures.'
---
As travel increases annually, it is likely that the internationally inspired interior design trend will become even more popular. Follow in the Goddess of Pop's footsteps, and shop a version of Martyn Bullard's favorite piece in Cher's space, a Chinese wedding bed (also known as an An Chuang) below.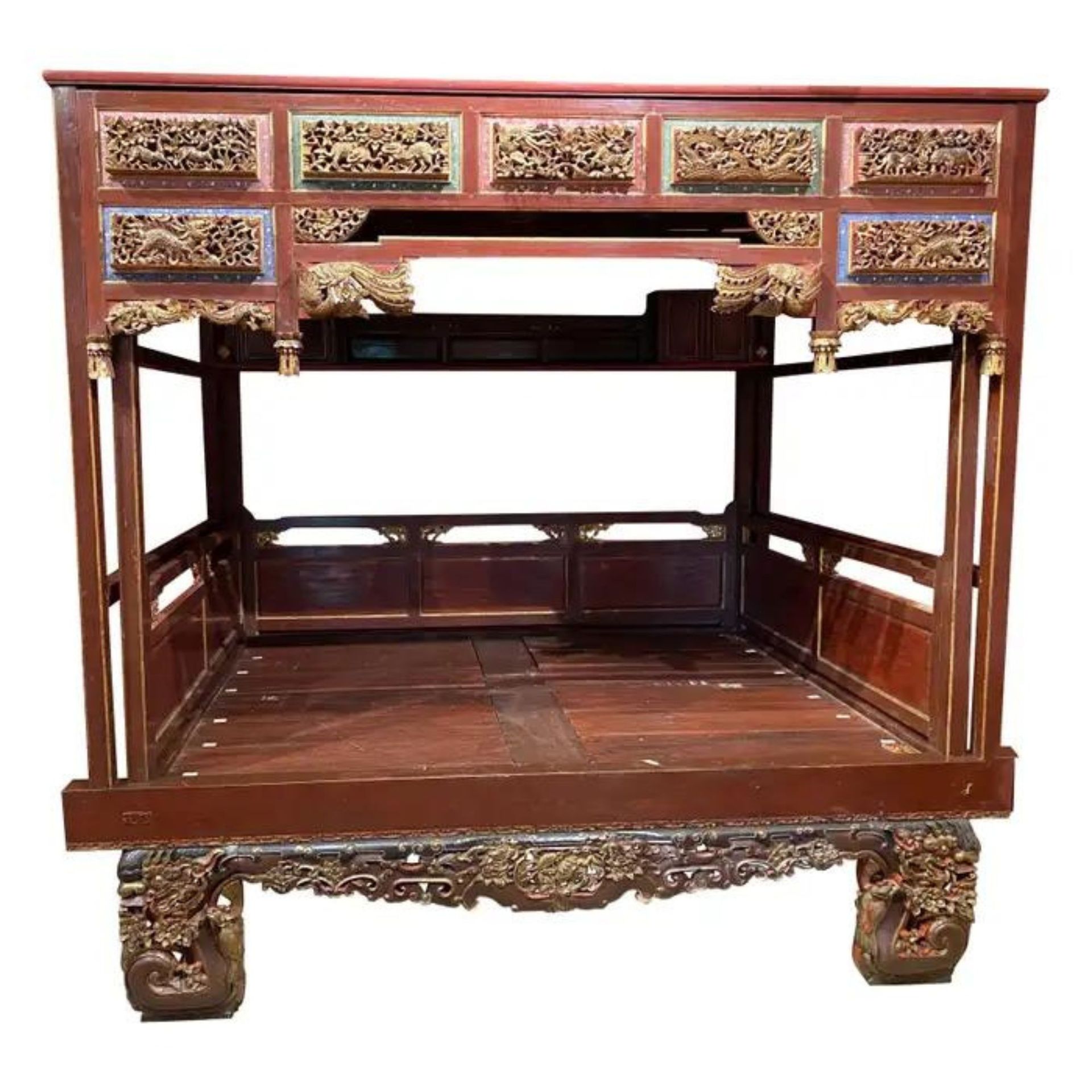 This late 19th century canopy bed was make in China. It has pierce carved polychrome and gilt panels and supports featuring animals, vines and flowers. Made of hand-carved polychromed elm.