Many homeowners often get swept up with the latest bathroom design choices and upgrades when planning how to create their dream bathroom. These are often bold decisions with high price tags that homeowners grow tired of a few years later. 
Our experts have shared the top bathroom upgrades that people often regret and why. Now this isn't to say we don't think all of these can be gorgeous bathroom ideas, but when redecorating a bathroom and making costly renovations, it's important to consider the cons of the design ideas you may be considering in order to decide whether you have weighed up the best options for you that will serve you long-term.
Dream bathroom upgrades homeowners regret
When planning how to design the bathroom of your dreams, homeowners often make bathroom renovation mistakes that leave them wanting to redesign a few years later. However, this costly error can be avoided if you make sure to fully consider functionality and style choices that are timeless rather than sticking to temporary bathroom trends.
Our experts have listed their top dream bathroom design mistakes you may regret.
1. Open concept layouts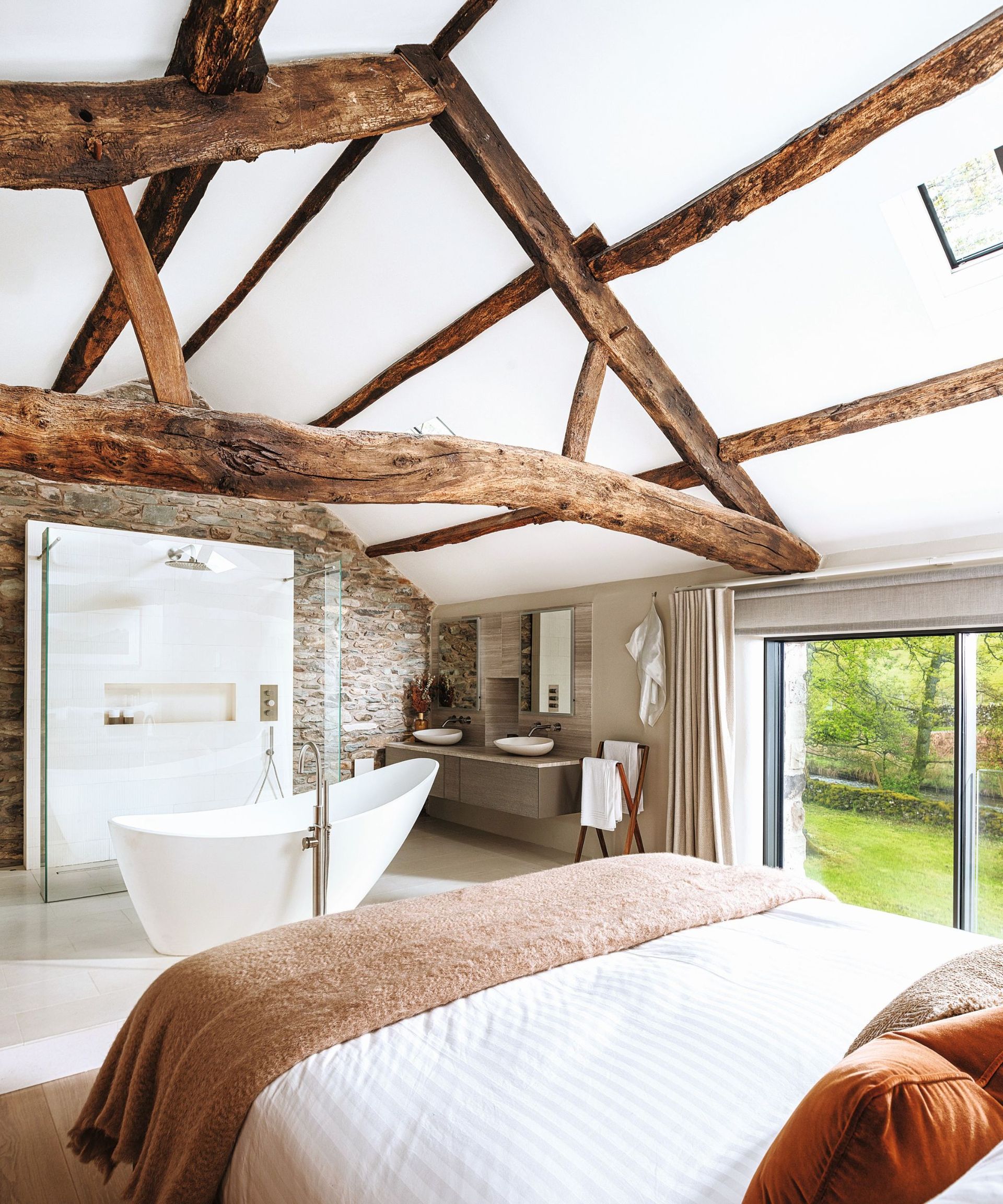 Open-concept bathroom layouts are an exciting design idea that can completely transform a space, amping up the luxurious aesthetics of your space, however, for many reasons they can be quite an inconvenient choice that homeowners may not only come to regret while living with it but also when selling their home.
'In my opinion, they can look really trendy and spacious, but as an expert,
I would recommend looking beyond the initial allure,' suggests Interior designer Henry Brook. 'While the idea of a seamless flow between the bedroom and bathroom might sound appealing, there are practical aspects to ponder. 
'Open concept layouts might compromise that privacy, especially if you have guests or family members around. Also, do consider the humidity and moisture levels that bathrooms naturally have. An open layout can expose your bedroom to these elements, potentially affecting furniture and decor. It's crucial to ensure that the design addresses ventilation and moisture control effectively. While open layouts
can certainly have a modern feel, it's equally important to assess whether they align with your comfort and practical needs.'
Before installing an open-concept bathroom consider how comfortable, relaxing and practical an exposed bathroom space would feel and whether this will suit you and your family's lifestyle and needs long-term.
2. Statement wallpaper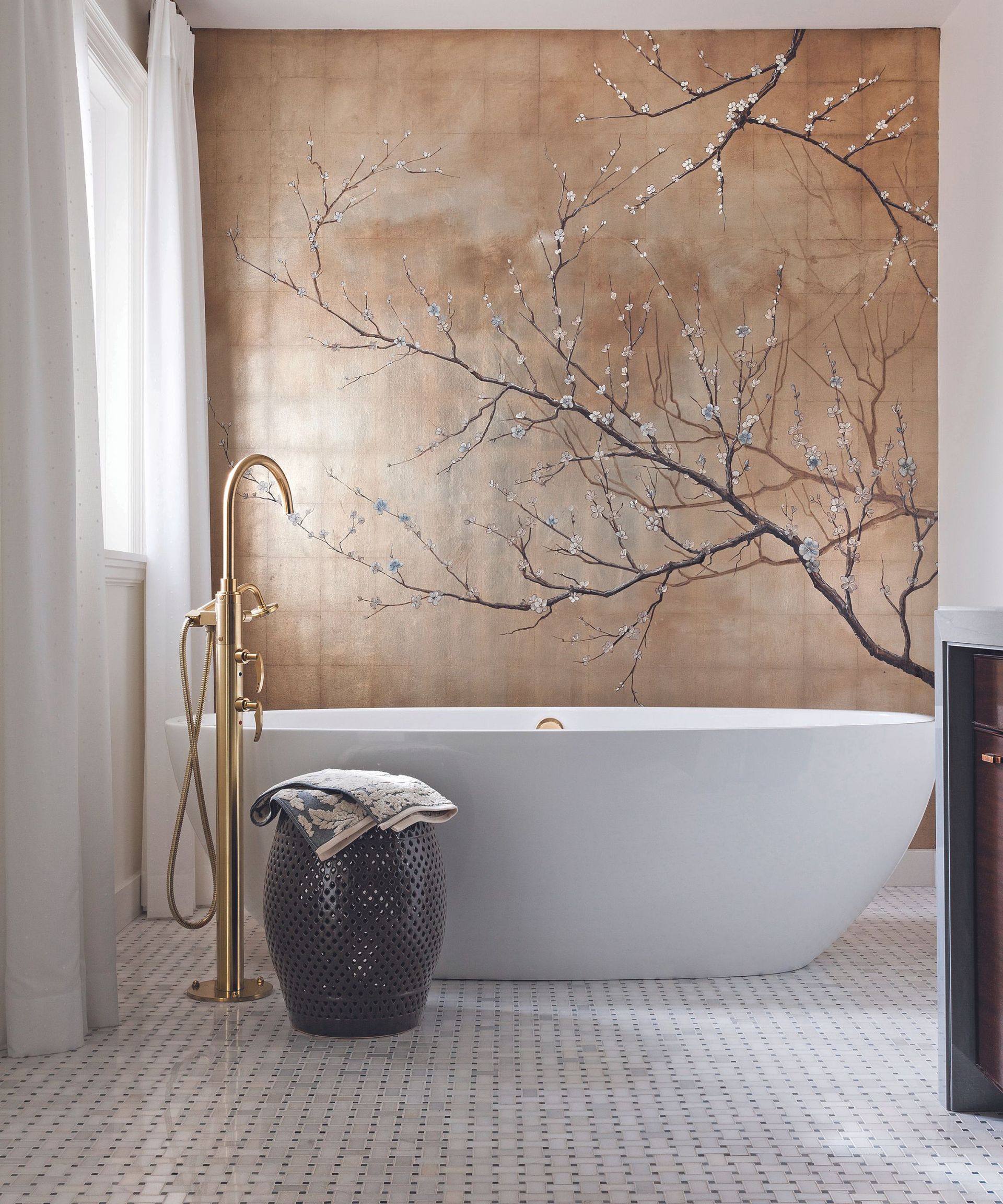 An easy and often affordable way to create visual interest and add color to your bathroom can be to add some statement wallpaper, however, bold bathroom wallpaper choices can often be an acquired taste that can shift in its appeal as trends change. There's also the potential for wallpapers to overwhelm other parts of your bathroom, meaning you are limited on other design elements you can incorporate that won't clash with the wallpaper. 
Henry Brook says, 'Although they can add personality and flair, I would recommend approaching them with thoughtful consideration. While bold and vibrant patterns might catch your eye initially, it's essential to think about long-term appeal. Trends change, and what's exciting today might feel overwhelming in a year or two. 
'I suggest choosing a pattern that resonates with your style and complements the overall feel of your home. It's crucial to strike a balance so that the design doesn't overpower the space. Think about how the wallpaper interacts with other elements like fixtures, mirrors, and lighting. Sometimes, a subtler pattern or a well-placed accent wall can achieve the desired effect without overwhelming the room.'
Using textured wallpaper in neutral or muted tones may be a safer option that will be appealing for longer, such as this Rider Textured Wallpaper from Anthropologie.
3. Sleek design over storage solutions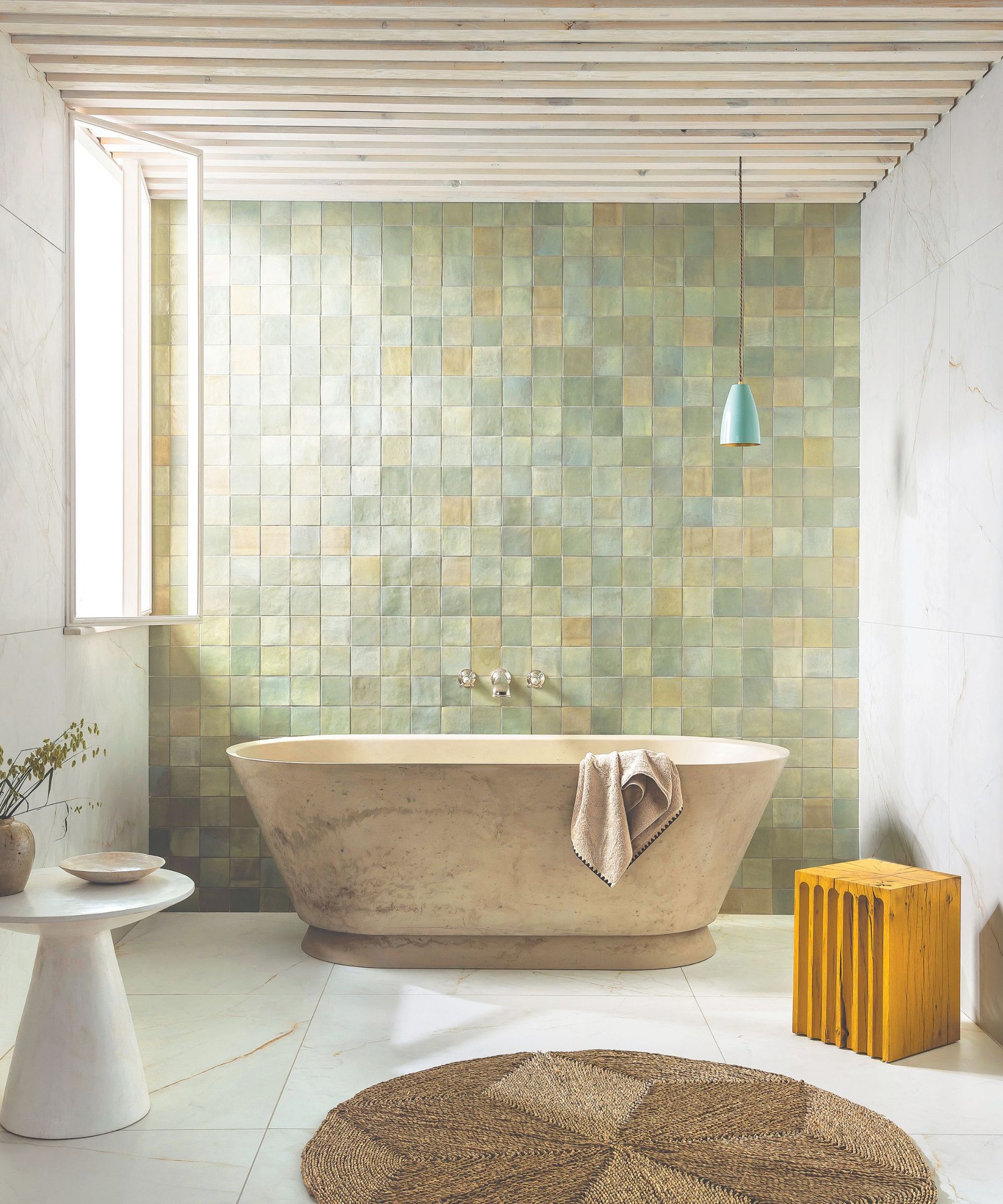 Although many homeowners are keen to design a minimalist bathroom, and undeniably this can be a stunning and elegant choice, don't make the mistake of sacrificing storage space for the sake of a sleek design.
A bathroom without enough storage can quickly become cluttered and
stressful, being counterintuitive to the desired effect of a minimalist bathroom.
Bathroom storage doesn't need to be clunky, finding sleek designs can mean you still get the best of both worlds. We recommend this Maison Two-Tier Bathroom Shelf from Anthropologie.
4. Trading out baths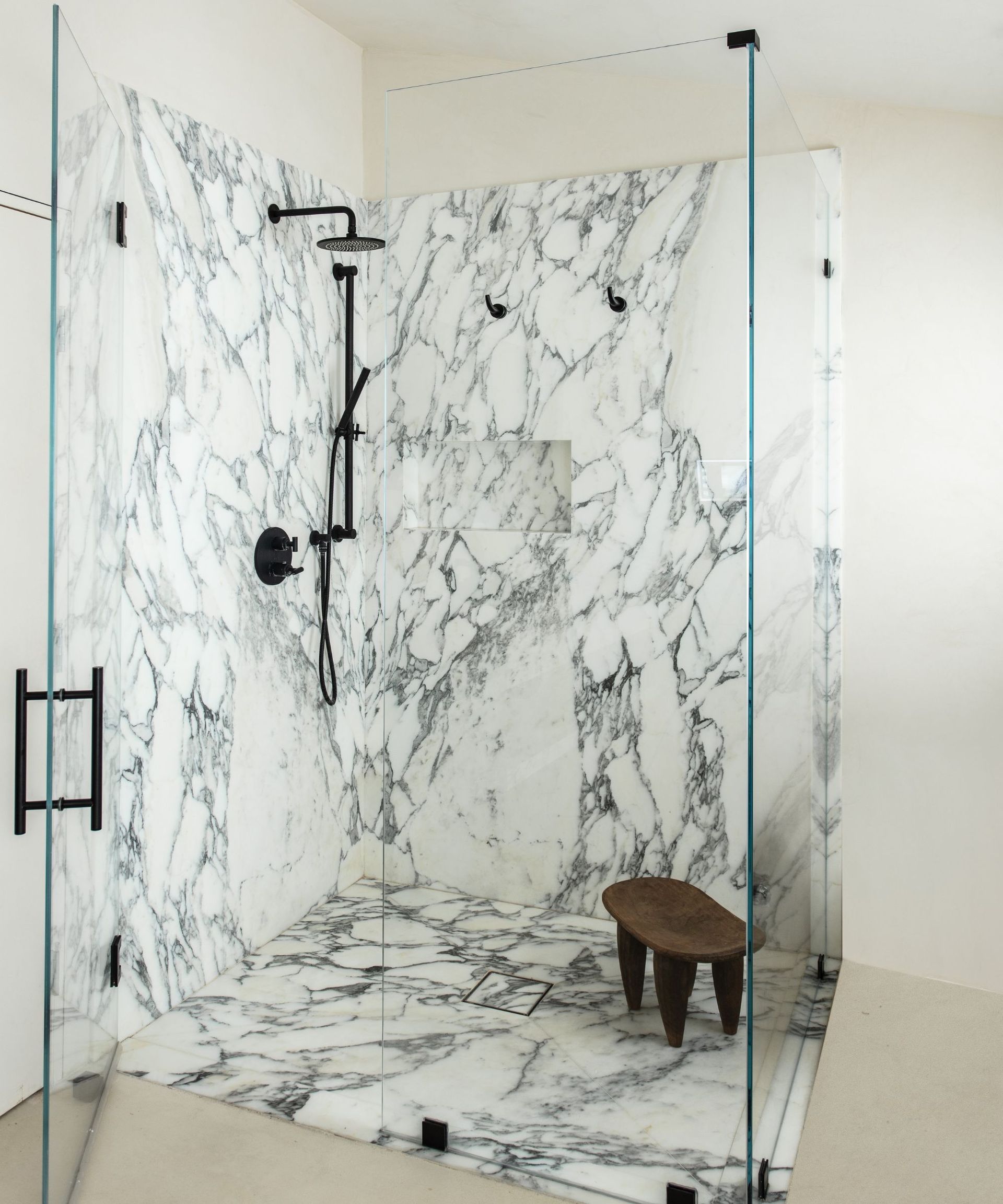 'A lot of people decide to remove a bath to have a luxurious walk-in shower, especially if space is tight. However, it is often the case that a lot of people come to regret this, especially if they go on to have children or wish to sell their property,' advises Barrie Cutchie, Design Director at BC Designs. 
This is one of the key bathroom layout mistakes that can be costly later down the line. Barrie Cutchie adds, 'Removing a bath can actually have a negative effect on the resale value of your home as it is often a necessity on prospective buyers' lists. Research has actually shown that a freestanding bath features in the top five of the ultimate property wish list.
'Instead, there are now smaller bath models on the market – from as little as 1360mm – compared to a typical bath/shower tray of close to 1700mm. Mix with a wet room or shower over the bath, and you can still have the shower experience, but without regretting it later down the line.'
Instead, finding a way to have the best of both worlds is a more practical and cost-effective solution. You can see our guide for bath ideas to inspire your choices.
5. Intricate tiles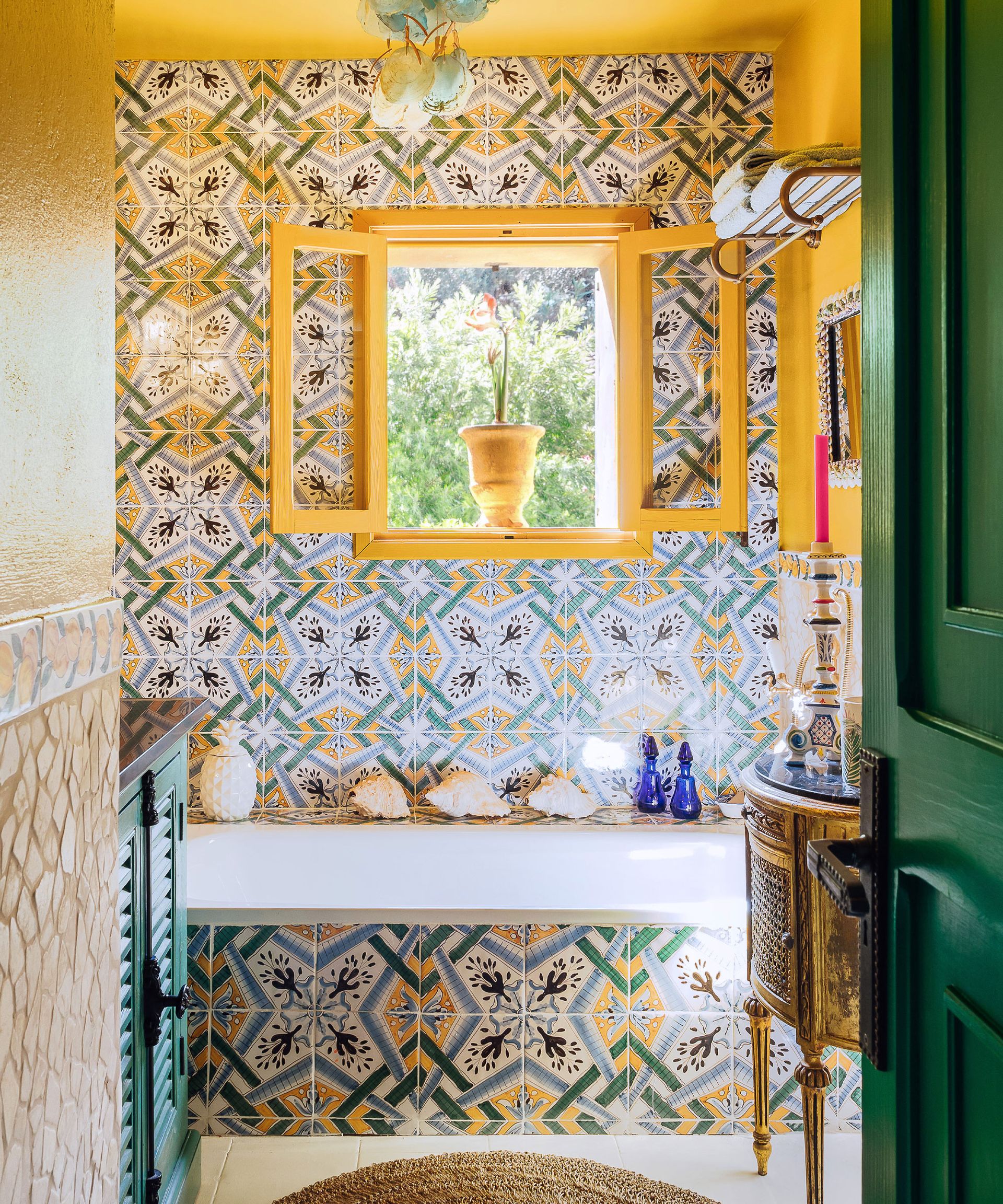 While it is true that incorporating beautiful tilework can elevate the aesthetic appeal of a bathroom, as well as being a practical solution, it's important to consider the cons that may lead you to regret this choice. For one, intricate bathroom tile patterns and designs can come with a higher price tag and may be more difficult to source. This more expensive option may also restrict the other design choices you can make in your bathroom without creating an overstimulating aesthetic. These tiles may potentially clash with future design trends, making flexibility in updating the overall appearance of the bathroom more challenging.
'Mosaic patterns and tile designs can provide aesthetic interest, but they may
not hold up over time. What is popular today may seem out of date in a few
years, necessitating an expensive makeover earlier than anticipated,' comments CamDowski, real estate expert at We Buy Houses Chicago.
6. Double vanity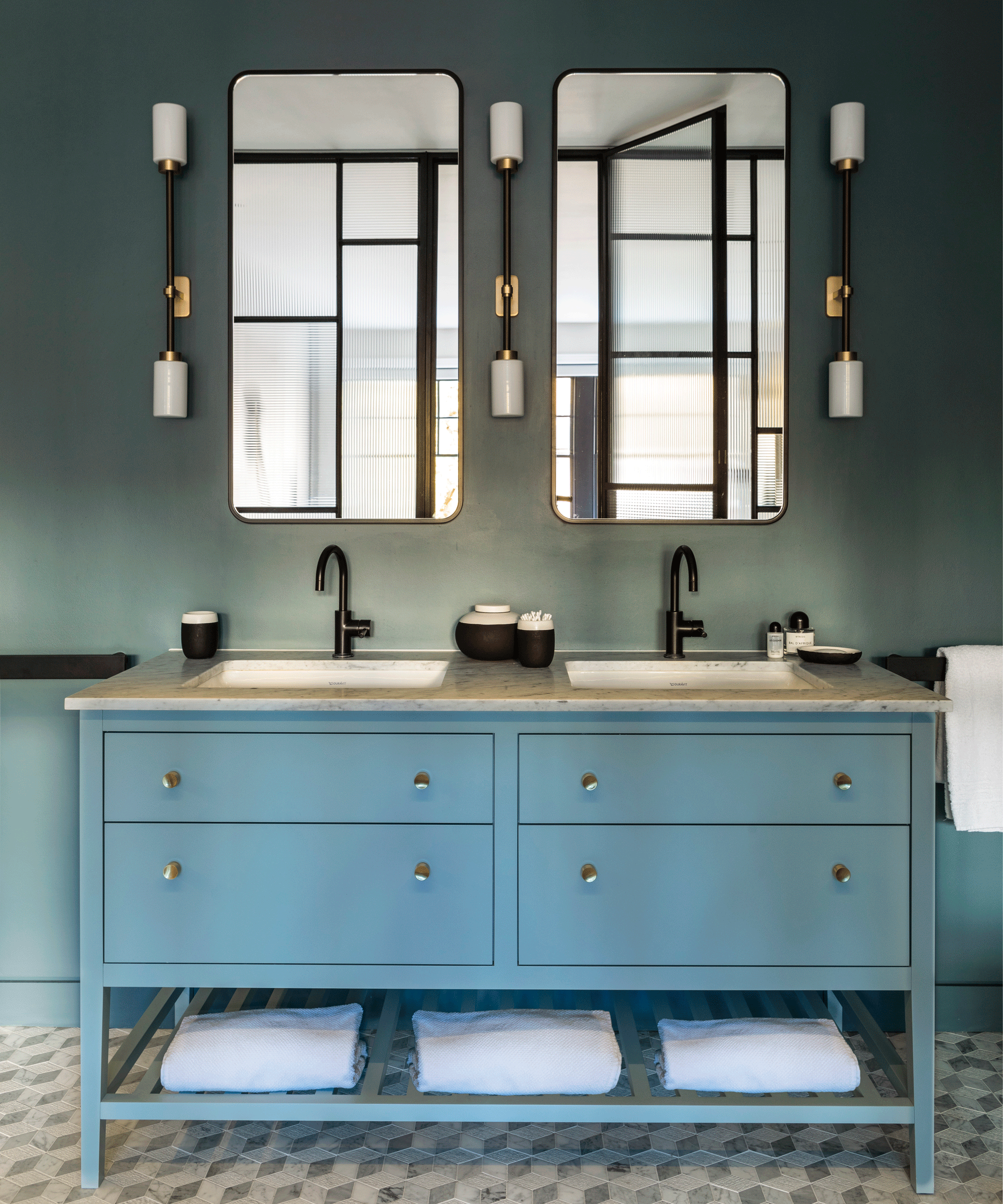 When considering bathroom vanity ideas, double vanities are often a tempting option. While this is an elegant and roomy bathroom design choice, offering double the bathroom storage options and making fighting over the sink a thing of the past, they aren't always the most practical option.
Jonathan Faccone, interior designer and founder of Halo Homebuyers says, 'They can be really handy for shared spaces, but they might not always be as perfect as they seem. While the idea of having separate sinks for you and your partner might sound fantastic, I would recommend thinking about your actual daily routines. 
'Double sinks can eat up valuable counter space, leaving you with less room for your
essentials. It's essential to weigh the benefits against the space they take up. If you have ample space and both of you will genuinely use separate sinks, then it could be a great addition. But in my opinion, if counter space is at a premium, a single well-designed sink might be just as practical and more efficient.'
7. Wet room showers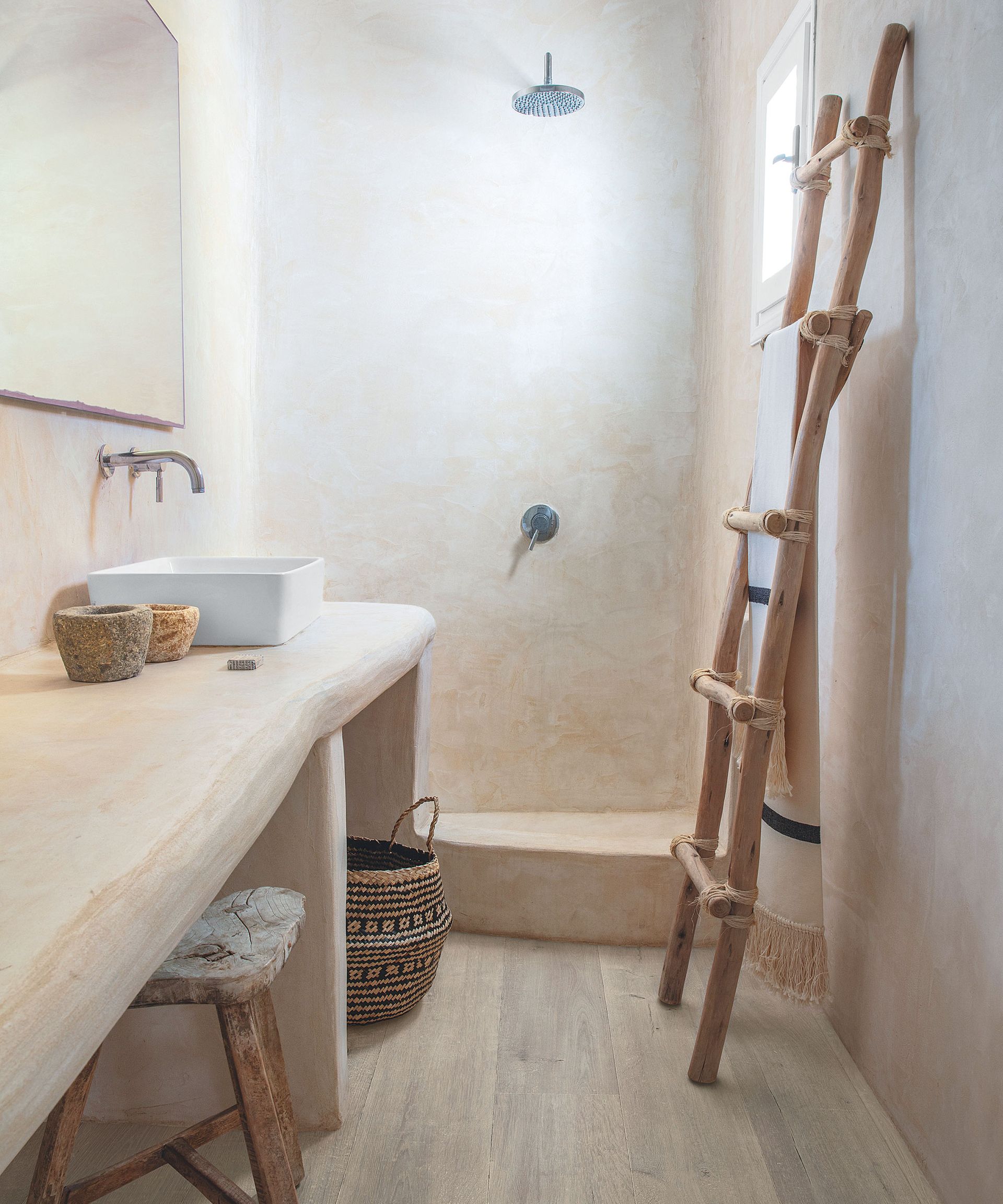 Wet rooms can be an exciting bathroom layout idea, however, they are certainly not the most low-maintenance of options, and if you don't fully consider your bathroom layout as well as how it will be used, installing an open-concept shower can be a big mistake.
Ritika Asrani, owner of St Maarten Real Estate warns, 'While open-concept showers have gained popularity, homeowners should approach this trend with caution. While they offer a sleek and modern look, they can lead to issues like water splashing outside the designated area and inadequate privacy. 
'Moreover, in colder climates, the lack of enclosure can result in chilly drafts. Opting for a well-designed, semi-frameless or frameless glass enclosure can offer the best of both worlds – an open feel while maintaining functionality and comfort.' 
For those with a small bathroom space or children who are likely to splash about and soak your bathroom, this can be a shower room design mistake that you will regret on a daily basis.
8. Jet tub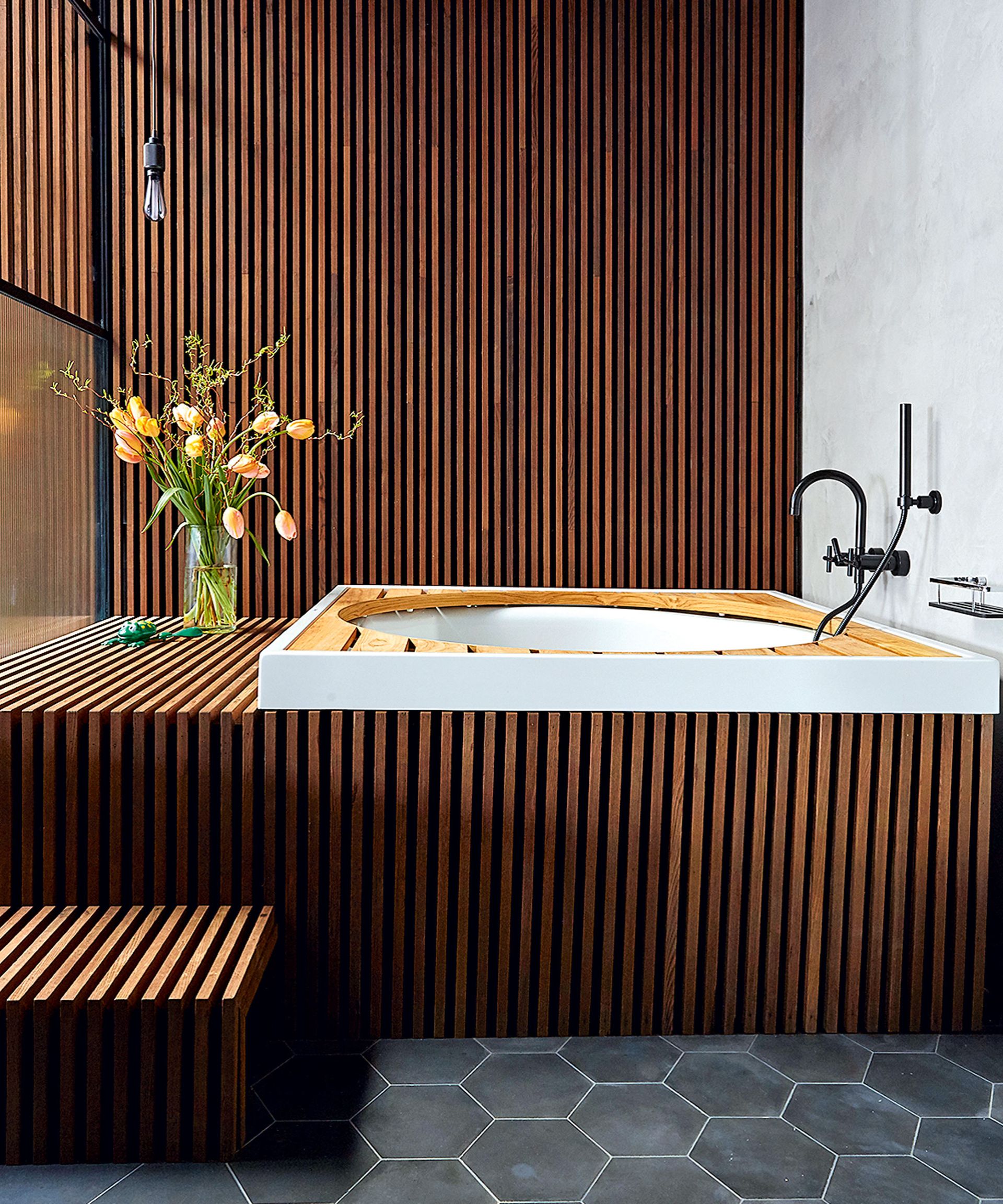 Installing a bathtub with water jets can be an exciting way to make having a soak an event to look forward to, however, this is one of the most common bathroom fads that quickly becomes boring and ends up being more costly than it was worth. 
With a much heftier price tag than an ordinary tub, and taking up a more considerable amount of space due to the motor/pumps, this design choice can not only dent your bathroom's budget but also the amount of space you have left. These baths are also complicated to install, require maintenance, and will increase your energy bill. 
Although this may seem a luxurious idea, homeowners often admit they rarely are utilized in everyday life, and unfortunately, they don't substantially factor into the resale value of the property, making them a frivolous buy that many homeowners regret.
9. Overlooked ventilation needs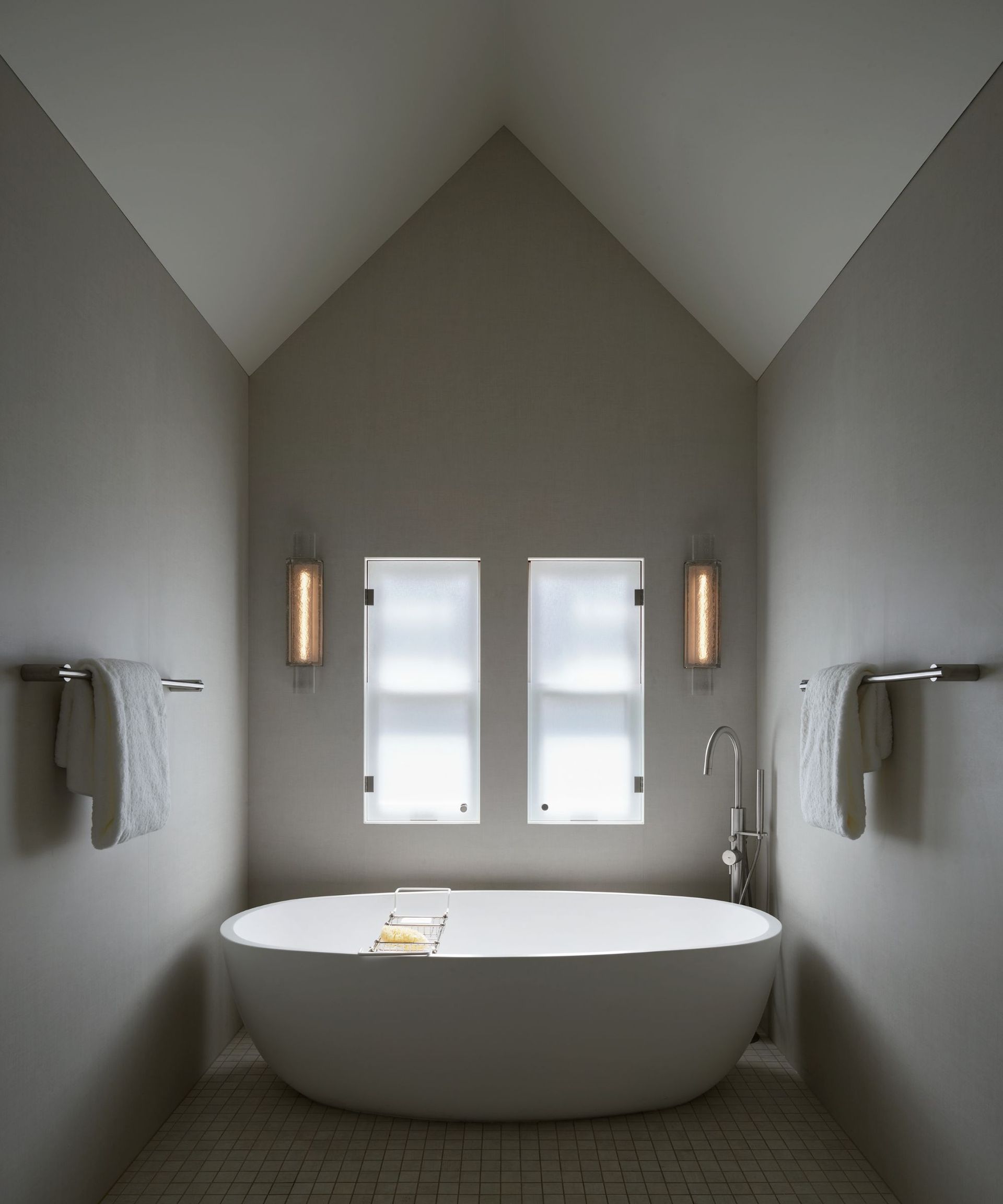 'Inadequate ventilation is one of the bathroom renovation mistakes that make a bathroom moldy, so it is essential to factor in ways to keep air flowing. 'Homeowners may overlook this aspect,' says Ritika Asrani, 'leading to regrets later on. Installing an exhaust fan with sufficient airflow capacity is crucial, especially in bathrooms with limited natural ventilation. This simple addition can contribute to the longevity of bathroom materials and the overall comfort of the space.'
10. Poorly planned lighting fixtures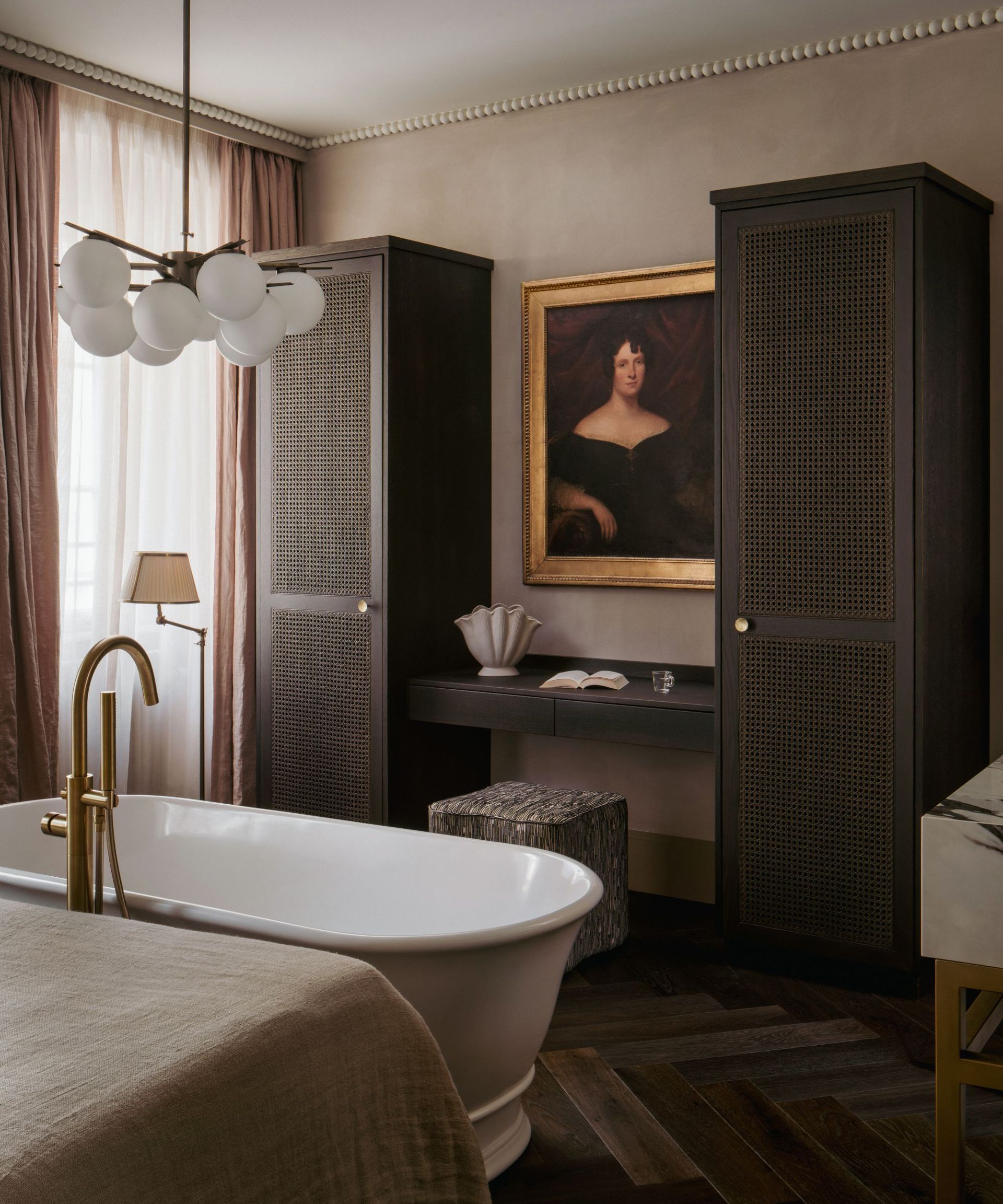 Lighting fixtures are an important part of any bathroom's design, but they can also become an expensive mistake if not planned properly. Poorly chosen light fixtures can clash with the style of the room, become impractical or ruin the mood in a bathroom. 
Dream bathroom upgrades often include lavish fixtures and stylish lighting
arrangements at the expense of essential lighting in critical areas such as for mirrors, vanities, and shower areas.
Jonathan Faccone says, 'While they can be a captivating focal point, it's important to weigh their impact against practicality. I would recommend thinking about the overall ambiance you want to create. Ornate chandeliers or intricate fixtures might look stunning in photos, consider if they truly align with the functionality of your bathroom. You'd want enough light for daily tasks like shaving or applying makeup. Sometimes, these fixtures can cast dramatic shadows or uneven light, which might not be ideal for practical use. Also, do think about the maintenance aspect'
Interior designer Rudolph Diesel suggests, 'An overwhelm of lighting fixtures can seem like a good idea, but in a bathroom it tends to easily overwhelm the space and can even create uneven illumination and harsh shadows. Instead, I recommend focusing on layered lighting, where task, ambient, and accent lighting can create a great ambience without overcomplicating the design.'
To avoid bathroom remodel mistakes, homeowners should instead consider layered lighting, including ambient, natural, accent lighting in practical spaces, ensuring not only functionality, but also to add depth and ambiance to the space.
FAQs
What furniture do people regret using in bathrooms?
Devin Shaffer, lead Interior Designer at Decorilla says 'Upholstered items should never be added to a bathroom, although it can be tempting for larger than usual primary bathrooms. 
'There's something that happens in our brains that makes chairs and ottomans feel out of place in a bathroom and I've seen many people try it out and then realize that it was a bad decision, not only because of the aesthetics but also because of the lack of functionality and utility. 
'To soften up a bathroom without upholstered furniture, explore all the water resistant rugs on the market.'
---
To avoid making these bathroom renovation mistakes, always consider functionality alongside aesthetics when planning your dream bathroom design, and remember, simple and classic aesthetics never go out of style.
Real estate mogul, Cam Dowski leaves us with one last tip: 'Before purchasing a statement bathtub, think about your wants and lifestyle. If unwinding is important to you, go for a more space-efficient choice like a premium built-in tub or a roomy walk-in shower with comfy chairs.'