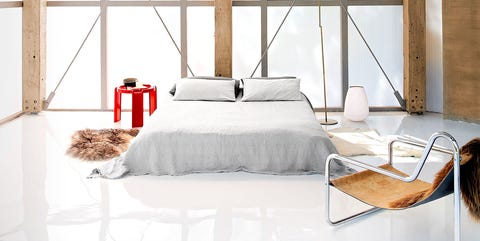 Elsa Young/Bureaux
A minimalist bedroom can be defined by clean lines, a restrained palette, and stripped-down simplicity. While furniture-filled rooms have loads of options to visually distract from the boring, benign, or broken, there's a much smaller margin for error in a minimalist space. If you have less stuff, everything in the room needs to be both gorgeous and practical—meaning that it's also a time to decorate (and shop) with intention. To spark some ideas, here are 56 minimalist bedrooms that are low on clutter and big on style.
Advertisement – Continue Reading Below
In this Brooklyn bedroom by Home Studios, a shaggy, sheepskin throw keeps the all-white bedding palette from feeling too sparse.
To create an encompassing feel without heavy drapery or bold paint colors, opt for a simple wood paneling to exude warmth instead, like designer Tobias Petri did in his Austrian mountain chalet.
Mark Grattan's Art Deco–inspired, striped bed frame offers a dynamic feel without departing from the gray scale.
In this bedroom designed by New York studio Cochineal Design, a swooping, scalloped headboard provides some visual interest without taking up any extra room.
Keeping your bed on the floor isn't just for frat boys and recent college graduates, it's also for chic minimalists—especially when paired with draping linen bedding. Get inspired with this look by South African architects Silvio Rech and Lesley Carstens.
Yep, even a kid's space can feel minimalist, just ask Nate Berkus and Jeremiah Brent who designed this bunk room for their two children. A rattan cactus offers the perfect amount of whimsy.
A set of carved Moroccan doors acts as a headboard in this otherwise sparse bedroom designed by Ishka Designs.
8
Lay a Strong Foundation
A neutral-hued, geometric rug sets the scene for the rest of this streamlined Palm Springs space.
10
Accessorize Strategically
Bright pops of color, courtesy of beautiful flowers and bedside books, is a simple way to keeps things feeling fresh without causing clutter. Take, for example, this serene look courtesy of Ashe Leandro.
Not a fan of washing every wall with color? Opt for painting just the trim instead for maximum impact with minimal square footage à la Augusta Hoffman.
12
Embrace the Architecture
To really make a statement without an abundance of things, let the architecture of your beloved abode shine for itself—like this lighthouse does.
Reduce visual clutter and maximize storage by creating a partition that nearly blends in with its surroundings, as designer Karin Meyn did in her Amsterdam home.
Minimalism isn't limited to just black and white. A solid wash of color (like this cobalt blue in a historic Georgian house), can feel equally streamlined.
While an all-white room may sound boring, it actually provides a blank canvas for a bold design scheme. Graphic rugs are used to dress up a white floor as a large abstract painting by Richard Aldrich hangs on the wall in this Hamptons home.
Accessories in vivid hues brighten up a midcentury-modern bedroom. The honey-colored wood makes this lightly furnished California interior feel warm and full.
Mattress heights are important in minimalist bedrooms—aficionados tend to like them on the lower side, as in this Neal Beckstedt–designed space. A suede is used as a luxe wallcovering.
White walls don't distract from the stunning views in this Manhattan penthouse. Black-and-white art above the bed adds contrast.
In the iconic Round House, a circular suspended bed clears the floor and mimics the shape of the home. With walls of windows and limited space to hang paintings, the furniture also doubles as art.
Light grays complement bright whites in this Connecticut bedroom. Clean lines and simple shapes create a sophisticated and sleek space.
Layered textiles add texture to this white-and-wood bedroom. A Mexican wool jorongo in bold blue and yellow is draped over white bedding, while cozy fringed area rugs are used to cover the floor.
An oak-paneled partition doubles as a rustic backdrop and a room divider in this Napa Valley home. A rattan bed adds texture to the space while maintaining the bucolic aesthetic.
An iron canopy bed is placed under an original wood beam in the ceiling of this Jacques Grange–designed apartment. The streamlined space was inspired by the interiors of the Italian modernist Carlo Scarpa.
Raw concrete walls are softened by layering luxe blue textiles on the bed, window, and furniture. The undulating ceiling creates an otherworldly glow in this Alexandra Loew–designed home.
25
A Wood-Clad Chalet Bedroom
The master bedroom of this French ski retreat is brimming with light, accentuating the natural unvarnished wood structure. A unified, earthy palette meets clean lines and black and white, perfect for a serene and minimalist escape.
A spacious master bedroom values texture over color, with a massive Madeline Weinrib rug, a leather BDDW lounge chair, and layered bedding. The bright white walls and simple black accents lend an unfussy and uncluttered feel, and a peaceful vibe is guaranteed.
In this Lower East Side condo, a sleek wooden bed frame and exposed-brick wall help temper the ultra-modern yet minimalist space.
The master bedroom in a 19th-century Federal-style home strikes the perfect balance of vintage and minimalist. Brown and black accents are thoughtfully placed throughout the simple white space to create a crisp yet cozy feel.
29
Restful Hamptons Farmhouse
In a family's weekend retreat, the master bedroom is light and airy thanks to raised ceilings and a tastefully neutral palette. Modern art above the bed complements the minimalist vibe, while vintage nightstands and a statement chandelier add a homespun personality.
A minimalist West Village townhouse finds harmony in its dynamic use of grays with a refined whimsicality. In the master bedroom, a 1960s wall sculpture by William Friedle hangs above a custom oak bed, antique French tole clocks accent the wall, and a fur throw creates rich texture.
A West Village townhouse's guest bedroom appeals to a midcentury aesthetic, with a Pierre Paulin desk and rounded shapes in the lamp and artwork. The petite space feels open and peaceful thanks to a minimalist approach to the 1950s style.
32
Light-Filled Loft Style
In a young couple's monochromatic Swedish home, once an abandoned farmhouse, the master bedroom blends white and grayish brown for a soothing, cool color scheme. The bed in the master bedroom is by Hästens, and the lamp and stool are vintage.
In the Hamptons, architect Paul Masi and designer Damon Liss raised the elemental barn to a new level of sophistication with gray tones and subtly elegant design. The bedding in the master is by Matteo, the custom-made leather dresser is by BDDW, and the ceiling is covered in weathered cedar shingles.
In this Los Angeles home, blue is paired with white slate for a striking aesthetic that is also calm and relaxed. The sheets and blanket are by Deborah Sharpe Linens, the pillow is covered in an 18th-century embroidered silk, and the rug is by Mark Nelson.
A light palette visually opens up the small master bedroom of Paris fashion star Andrew Gn's Right Bank apartment. The 1950s rug is Swedish, the custom-made nightstands are by Benoit Langlade, and 1970s lamps flank the bed. The coverlet is by Le Rideau de Paris, and the armchair is Danish.
In the master bedroom of a midcentury abode in Ibiza, Spain, the walnut-and-metal bed is a custom design; the Gio Ponti floor tiles in the hallway were commissioned for the house.
On a horse farm outside Philadelphia, designer Ellen Hamilton elevates a rustic master bedroom. The bed by Ivano Redaelli is dressed in Matteo linens, the Saarinen chair and ottoman are by Knoll, and the floor lamps are from Ikea; the rug is by Albed Rug Company, and the pendant lights are by Molo.
Two New York designers renovated their riad in Marrakech to merge modernity with local tradition. The bed in the master bedroom is dressed with a blanket and linens by Matteo and pillow shams by Libeco.
40
Silicon Valley Minimalist
For a Silicon Valley, California, family that wanted a retreat in the woods but had no intention of going rustic, architect Cynthia Wang and designer Jamie Bush conjured a completely new take on the country cabin that brings urban cool to the Sierra Nevadas.
41
Light-Filled and Spacious
Manhattan natives Ku-Ling and Evan Yurman designed a cool master bedroom in their beloved TriBeCa. The bed is by Meridiani, the wall lamp is by Serge Mouille, the vintage Poul Kjaerholm daybed retains its original leather, and the side table is by Wyeth; the console is a vintage piece by Paul McCobb, and the circa-1970 Beni Ourain rug is from Double Knot.
Architect Greg Tankersley and designer Carol Egan conjured a Greenwich, Connecticut, retreat that's the perfect blend of pastoral comfort and urban pizzazz. The master bedroom's headboard is by Roman Thomas, the bed linens are by Matouk, the console is by BDDW, and the armchair is from Galerie Blanchetti; the 1960 floor lamp is by Carl Fagerlund for Orrefors, the 1970 ceiling light is by Angelo Brotto for Esperia, the rug is by Mitchell Denburg, and the walls are painted in Pavilion Gray by Farrow & Ball.
This simple and airy guest room is in the Portuguese holiday home owned by Spanish model Eugenia Silva. The beds are topped with crocheted-cotton coverlets from Bulgaria, the wall hanging is Portuguese, and the tile floor is original to the house.
Designer Alejandra Redo adds warmth, color, and quirky charm to a modernist glass-and-steel villa on a wooded hillside in Guadalajara, Mexico. The bed, dresser, and side tables in the master bedroom are by Roche Bobois; the Eames chair and ottoman are by Herman Miller, the bedside lights are by FontanaArte, and the wall is painted in Patagonia by Comex.
45
A Hip Take on Vineyard Style
Designers Ariel Ashe and Reinaldo Leandro craft a hip new take on classic Martha's Vineyard style for fashion insider Meredith Melling and her family. The master bedroom's Hans Wegner Papa Bear chair and ottoman are from Modernica; the bed is dressed in a duvet cover from Parachute and a throw from L'Aviva Home, the chest is a custom design, and the rug is by John Robshaw.
Haynes-Roberts make a West Village apartment sleek and chic as well as family-friendly. In the bedroom, the vintage Cityscape headboard is by Paul Evans, the bed is dressed in Casa del Bianco linens, the bedside tables are ebonized mahogany, the 1950s American lamps are from Wyeth, and the carpet is by Beauvais.
In a winter retreat in Palm Beach designed by architect Lee Mindel, the master bedroom's settee by Gastone Rinaldi is upholstered in a Bergamo fabric, the rug is by V'Soske, the walls are covered in Venetian plaster, and the adjacent closet structure is sheathed in acrylic panels; the drawings above the bed are by Ciprian Muresan, and the photographs in the corridor are by Mircea Cantor.
The master bedroom in this classic L.A. family home boasts a custom headboard that is upholstered in a de Le Cuona linen, a 1750 bergère is covered in a Claremont wool, and the Swedish 18th-century cabinet and 1930s bench are from Lief; the rugs are by Mansour, and the wall reliefs are by Robert Graham.
49
Upstate New York Tranquility
In a guest room inside of Amanda Seyfried's weekend home in the Catskills, cement tiles by Commune are set into reclaimed-oak flooring, the chair is vintage, and the walls are painted in White Dove by Benjamin Moore.
Inside one of New York's tallest towers, a Manhattan home designed by Jamie Drake and Caleb Anderson has a restrained palette. In the master bedroom, a bed by Minotti is dressed in linens by E. Braun & Co., the bedside table is from Philippe Hurel, the custom rug is by Tai Ping, and the walls have a custom textured finish by Atelier Premiere.
In a remote New Zealand surf town, architects Lance and Nicola Herbst tuck a spacious retreat amid a lush grove of exotic trees. One of the bedrooms features sliding shutters and windows that open to the trees; the walls are sheathed in poplar plywood, and the chair and ottoman are Jens Risom designs.
52
Salvaged Minimalist Bedroom
A roadside ruin in Uruguay was transformed into a chic dream home for artist Eva Claessens and art dealer Kris Ghesuiere. The master bedroom's chair and floor lamp were found in Buenos Aires, the rug is an antique Bolivian poncho that was a gift from Claessens's mother, the painting is by Claessens, and the antique shutters were bought at auction in Montevideo, Uruguay.
In the master bedroom of a San Francisco warehouse turned apartment, the headboard is covered in a Rogers & Goffigon fabric, the bed linens are by Sue Fisher King, and the bedspread is made of antique Belgian linen; the walls are painted in Benjamin Moore's Super White, and the artwork is by Joan Mitchell.
In artist Rachel Lee Hovnanian's master bedroom inside of her Greenwich Village townhouse, the bed is dressed in linens from E. Braun & Co., the chair and side table are by B&B Italia, and the chandelier is by Brand van Egmond.
55
Mediterranean Minimalist
The Aegean Sea is visible through a window in the master bedroom of a Greek island retreat; the bed linens and side table are by Ciarmoli Queda Essentials, the lamp is by FontanaArte, and the artwork was painted directly on the wall by Ciarmoli.
In the attic guest suite of a chalet in the Italian Alps designed by Alessandro Agrati, the floor is oak, the picture frame and horn table are by Fit Up, and the cashmere blanket and wool pillows are by Gruppo di Installazione.
Advertisement – Continue Reading Below