Modest backyards deserve to be decorated with the same attention and detail as other rooms in the house – let these small outdoor living spaces inspire you to create an outdoor living room that you'll love to spend time in.
Small backyards offer a great way to extend your living space and because most are low-level temporary structures, they generally don't require planning permission. Designer Matt Keightley recommends installing an outdoor living room at the end of a tiny plot so it doesn't dominate the space. 'Choose a building that's just large enough for your needs, be that an office, home gym, or living room, and paint it a dark color or opt for a charred timber finish, which will provide a greater sense of depth, and even make a small garden look bigger. Plant shrubs in front to blend it into the setting.'
So whether you're looking for roof garden ideas, or you want to add living space by creating a garden room, divide what you have into zones or update the outdoor furniture. Our relationship with our outdoor spaces has never been more important.
Small outdoor living room ideas
In the warmer months, treat your small garden as an extension of your home by creating relaxing, sociable spaces for family meals, informal drinks with friends, or a spot of summer daydreaming. Here's how to design and decorate a small outdoor living room to mesmerizing perfection…
1. Set up a cozy spot in a courtyard for outdoor living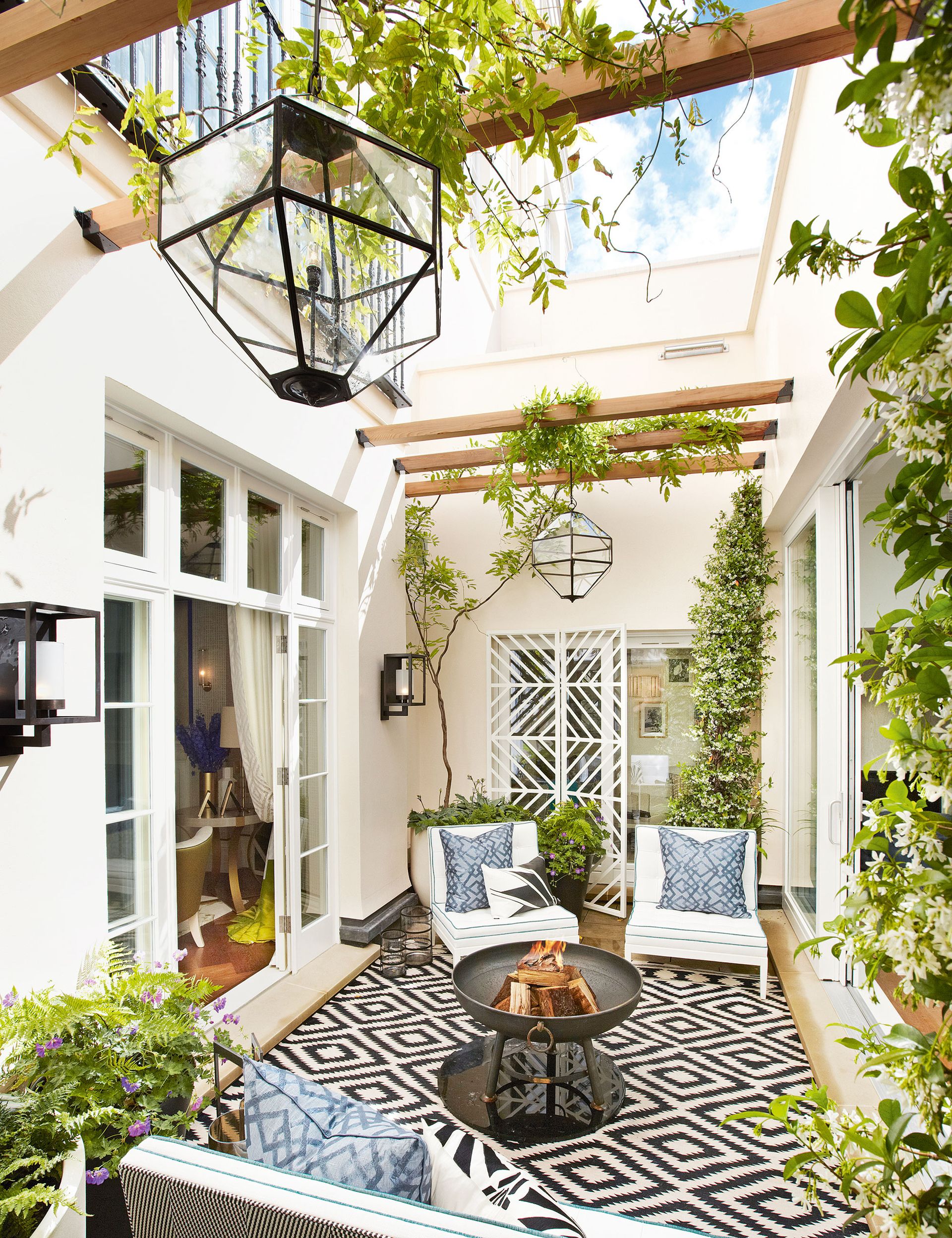 Taking inspiration from riads, the traditional Moroccan and Andalusian interior gardens, courtyard gardens flood a home with light and are a perfect way of bringing the outside inside. 
This house in Belgravia was designed by Helen Green Design, where the kitchen, dining room and reception room all extend into this space. It's about transforming forgotten, cramped areas into remarkable city gardens, says the firm's senior designer, Alexandra Jurkiewicz. 
'This internal garden provides an additional area for rest, hosting and comfortable family living. The scheme complements the furnishings in the adjacent living area, but features bold patterns that are more forgiving in the outdoor space.'
2. Create a garden room for home working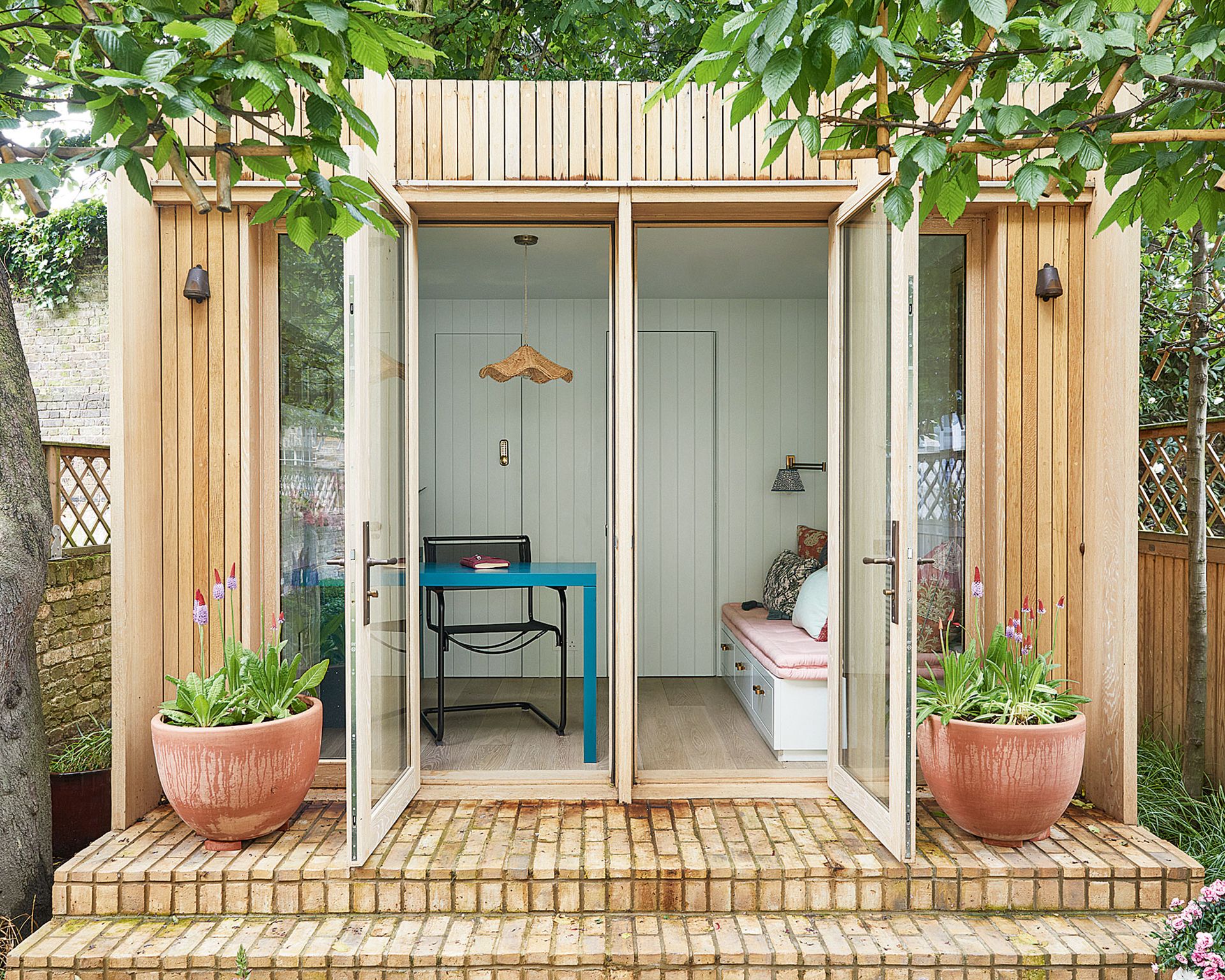 When planning a small garden or yard, having a separate room outside – for a home office, spare bedroom or teenage hang-out – has proved invaluable over recent years. But as a structure that might take over a large portion of a small city yard, due care needs to be given to the design to ensure it doesn't become a blight. The team at Hutley & Humm took inspiration from the natural timber cladding on the exterior of this outdoor room and used tongue-and-groove paneling on the internal walls to add warmth and character. 
'We opted for a built-in daybed to make use of every inch and an articulated wall light gives low-level lighting without the need for a side table,' explains Melissa Hutley, co-founder of Hutley & Humm.
3. Take your outdoor living room to the roof or terrace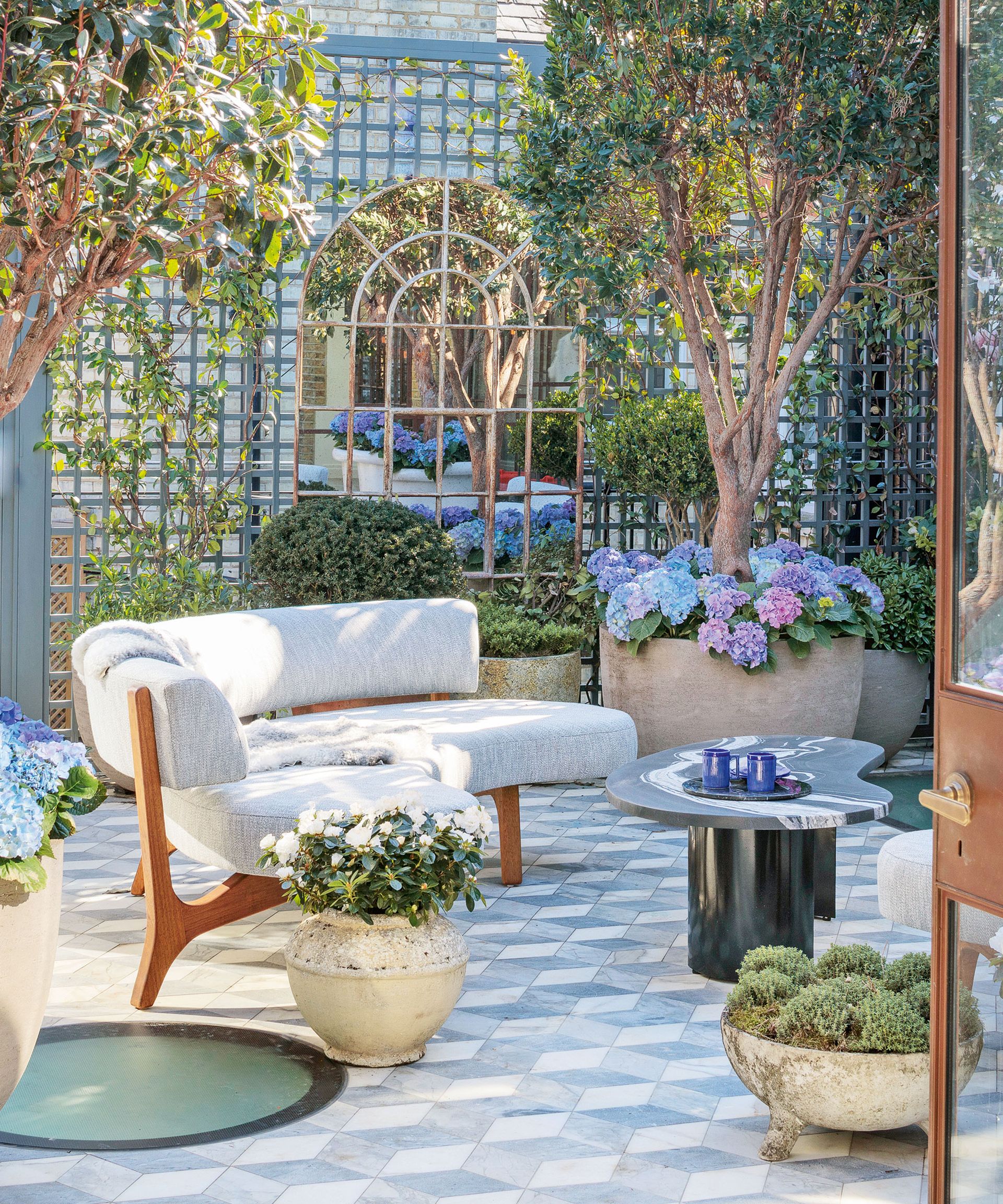 Full-length glazing between the inside and outside is one of the easiest ways to dissolve the boundary between an interior and exterior room – just be sure to focus on lighting the first few meters immediately outside in order for the eyes to travel through otherwise the glass will turn into a mirror at night. 
The team at Kitesgrove designed this penthouse in Knightsbridge with a tranquil roof yard lying at its core, visible from the moment the lift doors open thanks to the expansive glass walls. 
'The property has a wonderful feeling of space and light, with a playful interaction between exterior and interior throughout,' says Clara Ewart, head of design at Kitesgrove. 'The glazing work showcases the vistas across Knightsbridge, and floods the interior with natural sunlight, drawing the eye towards this outside living area.'
4. Celebrate summer evenings with L-shaped seating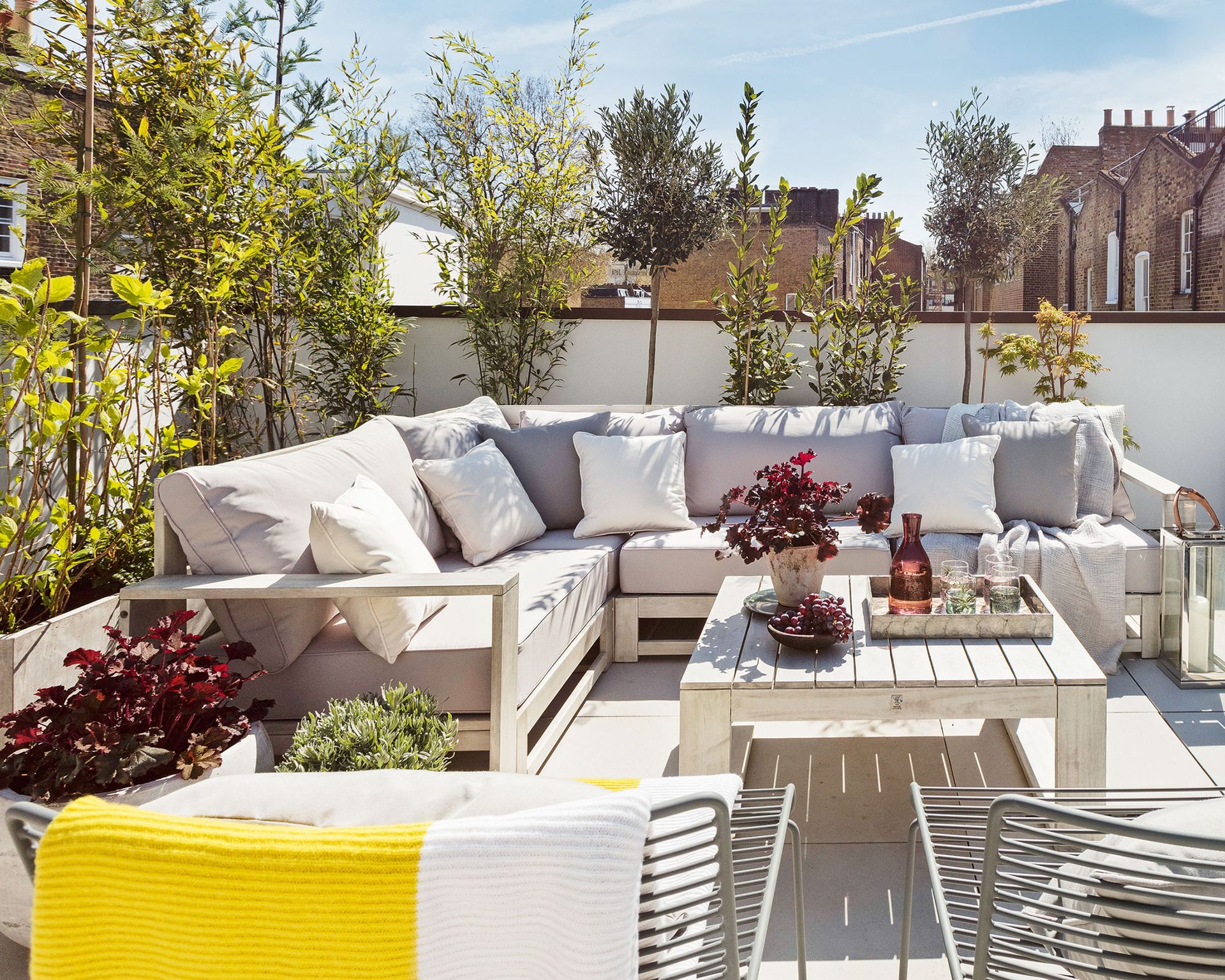 Be mindful of using a riot of color in a city center environment. While the midday sun in the height of summer might make for uncomfortably hot temperatures on a roof terrace, these spaces come into their own in the late afternoon and evenings when the intense heat has ebbed away.
 A serene palette of pale neutrals helps create a soothing environment. This rooftop scheme from Echlin brings together furniture in bleached wood with sofas and cushions in gentle gray, cream and pale pink. The team added extensive planting to enhance the space. 
'The design and flow of the home alongside extensive internal and external planting lifts the overall feeling and positively contributes towards a better mood,' says Sam McNally, co-founder and design director.
5. Create color cohesion in a small space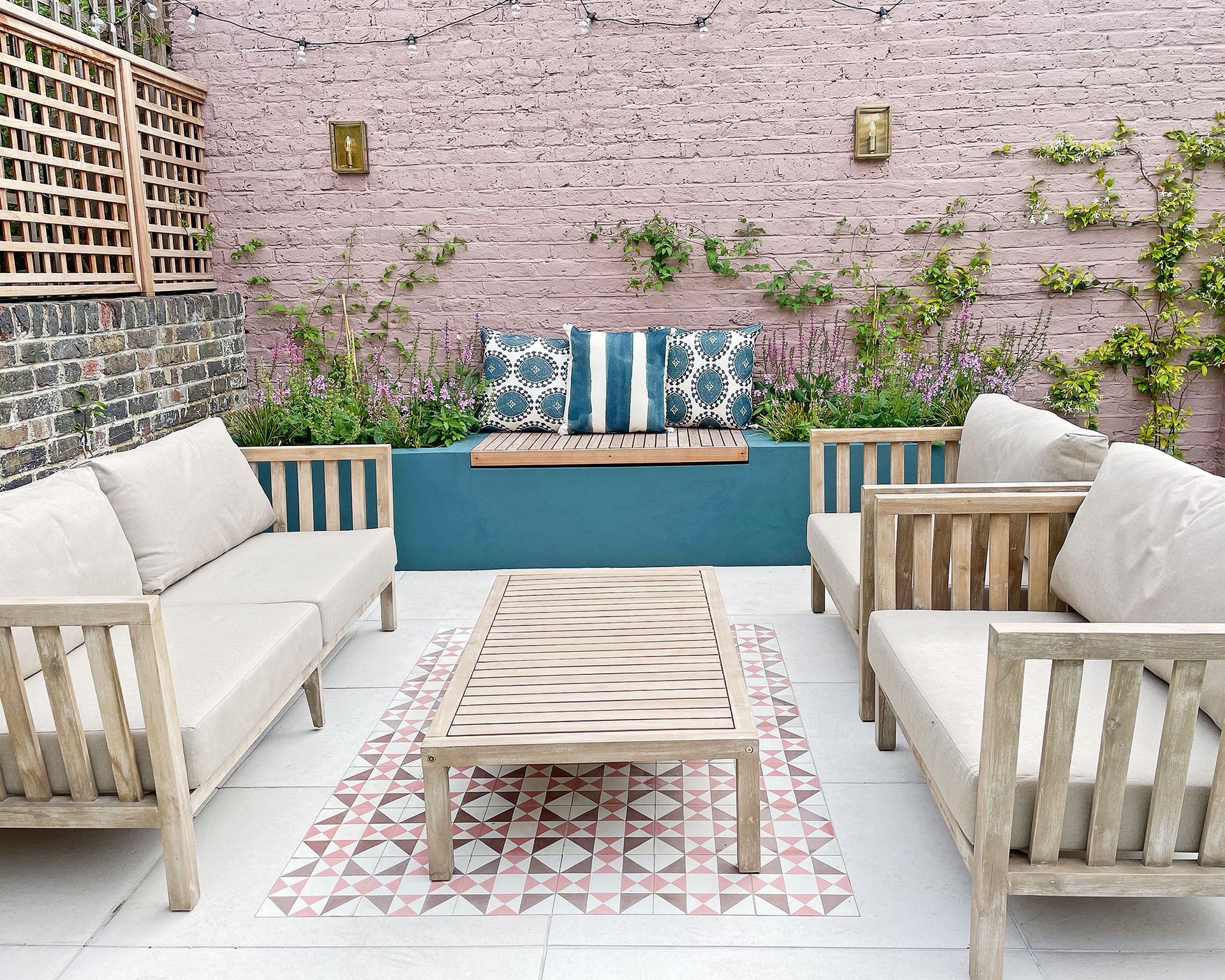 The intimacy of a small patio allows pattern and color to take center stage.
Using decorative floor tiles in a small urban backyard or patio helps to underline its status as an external sitting room from the outset. Take color cues from the tiles and carry them onto the walls or furniture for a greater impact. Backyard and garden designer Joanna Archer used pink mosaic tiles from Bert & May on the ground of this Victorian-style backyard and used a similar hue (Sulking Room Pink by Farrow & Ball) on the rear wall along with pink salvia and nemesia planting in the beds.
6. Provide an escape in a city or apartment home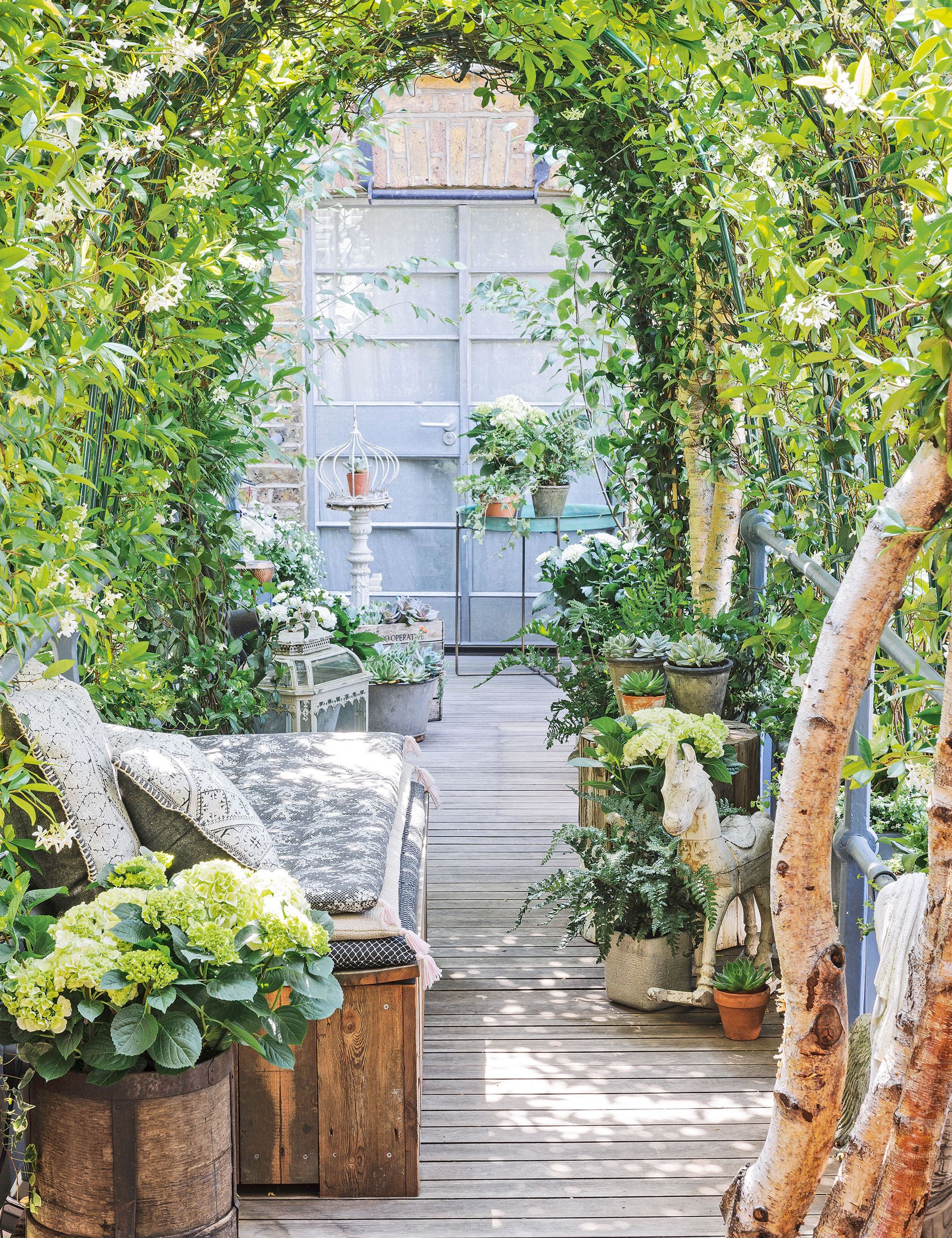 Roof or balcony gardens provide an escape in the middle of a city. Depending on the position of the garden, creating privacy in such an environment is perhaps more important than in any other context. 
Here, the team at Garden Club London installed an arch planted with mature evergreen jasmine to provide intimacy and atmosphere. 'We ran warm microlights through the foliage for additional effect in the evening,' says director Tony Woods. 'To marry the detail of the interior of the home, we sourced reclaimed timber to construct seating and gaps in the planting provide an opportunity for soaking up the morning sun on the seating and create shadows across the rustic timber floor.'
FAQs
How do I style my small outdoor living room?
When decorating a room that hangs in the balance between inside and outside, the best advice is to use resilient, hard-wearing materials. 'We recently designed a pool house that was also going to be a home gym and teenage hang-out,' explains Sophie Pringle, co-founder of the interior design studio Pringle & Pringle. 'As the space was likely to get wet, we paneled the walls and painted them in eggshell, which is more durable than emulsion but also gives the space a bit of character and texture.'
How do I design an indoor outdoor living space?
When designing an indoor-outdoor living space, it pays to be mindful of materials, as well as aesthetic, to avoid making any outdoor living room mistakes. While architects tend to favor using the same material inside and outside, not everyone agrees. 'I'm not a fan,' says garden designer and landscape architect John Wyer. 'Light and weather conditions are different outside and the stone or paving will weather and get dirty, which only emphasizes the difference between the inside and outside. Instead, use different materials that have the same tonal palette.
---
Where to buy outdoor furniture