A video of a woman giving her garden a DIY makeover with the help of AI (artificial intelligence) has gone viral on TikTok, where it has received 5.6 million views.
The clip was shared by TikTok user Paulina Machaj (@itspaulinamac), a Florida-based customer-experience executive for a tech company. She has been using Roomgpt.io, an AI-generated home and design app, for her latest DIY project.
Machaj told Newsweek that she used AI to generate design ideas and gain inspiration for what her courtyard garden space can potentially look like. She said: "I was indecisive of what I wanted to use the space for—AI helped me get a clearer vision of the project."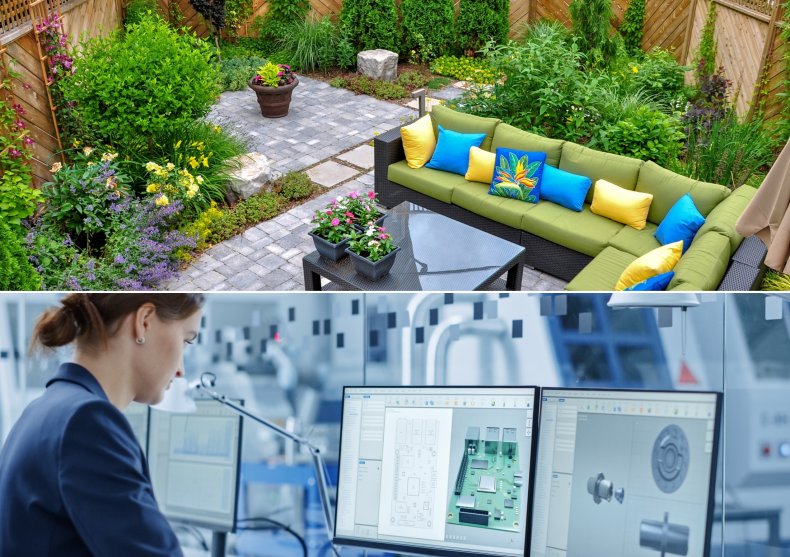 The median spend for home renovations in 2022 was $22,000, according to a survey of 46,118 U.S. homeowners aged 18 and older conducted by Houzz, a home design website. The survey found that around half (51 percent) of homeowners renovated their outdoor spaces in 2022. However, interior spaces were the most popular (72 percent) for renovations in 2022, with homeowners taking on an average of nearly three interior projects at a time.
A message overlaid on the latest TikTok video reads: "Revamping our courtyard with the help of AI." The footage begins with an empty garden space before switching to shots of a computer screen showing webpages from Roomgpt.io.
Machaj said: "With AI's vast amount of information, it makes it easy to preview what the space, such as our courtyard, can look like before renovating it. It can also save time by helping to generate new ideas."
The renovation work for the courtyard has yet to begin, Machaj said, adding "we are currently using AI to generate ideas for our loft area as well."
Machaj added, "It's not perfect, but may give some good ideas," in a later comment. The first three design images generated by the app are available for free.
The latest clip has sparked debate among users on TikTok, with some happy to give it a go, while others were less impressed.
Jada Jones simply wrote, "Wow," while Johnny Awesome posted: "Go try it. This is a rare example of it actually working… "
User carolsince00 wrote, "I am so doing this when I wake up," while @rubiichacha commented: "It's good enough to get some inspiration. Not everyone has money to spend on hiring designers."
Other TikTok users were a bit more skeptical, with Benjamin Zotti posting: "That's cool and all..but doesn't account for cost, time, materials to build, etc. cool idea though. You need a human to bring that to reality."
User gabby wrote, "this is cool but sad at the same time," and Solar & Energy Content commented: "Goodbye to actual creativity and imagination."
Jaz Melody posted, "guys it's so bad, don't even bother," while user707419626984 wrote: "Tried it. The generated designs looked horrible. Don't waste your time."
Do you have any DIY design tips to share? Send them to [email protected] with some details, and your story could be featured in Newsweek.