So often, we veer away from patterned bathroom ideas, choosing more minimalist, 'practical' finishes and schemes for this most intimate of spaces.
But interior designers are embracing bathroom ideas that are more adventurous, more patterned, more colorful – indeed, more like living rooms in their attention to detail.
And we approve. Here, we bring you our favorite patterned bathroom ideas.
Patterned bathroom ideas 
If you're looking for colorful bathroom ideas, why not take it a step further and introduce pattern unashamedly? We love these highly patterned bathrooms.
1. Start with a patterned floor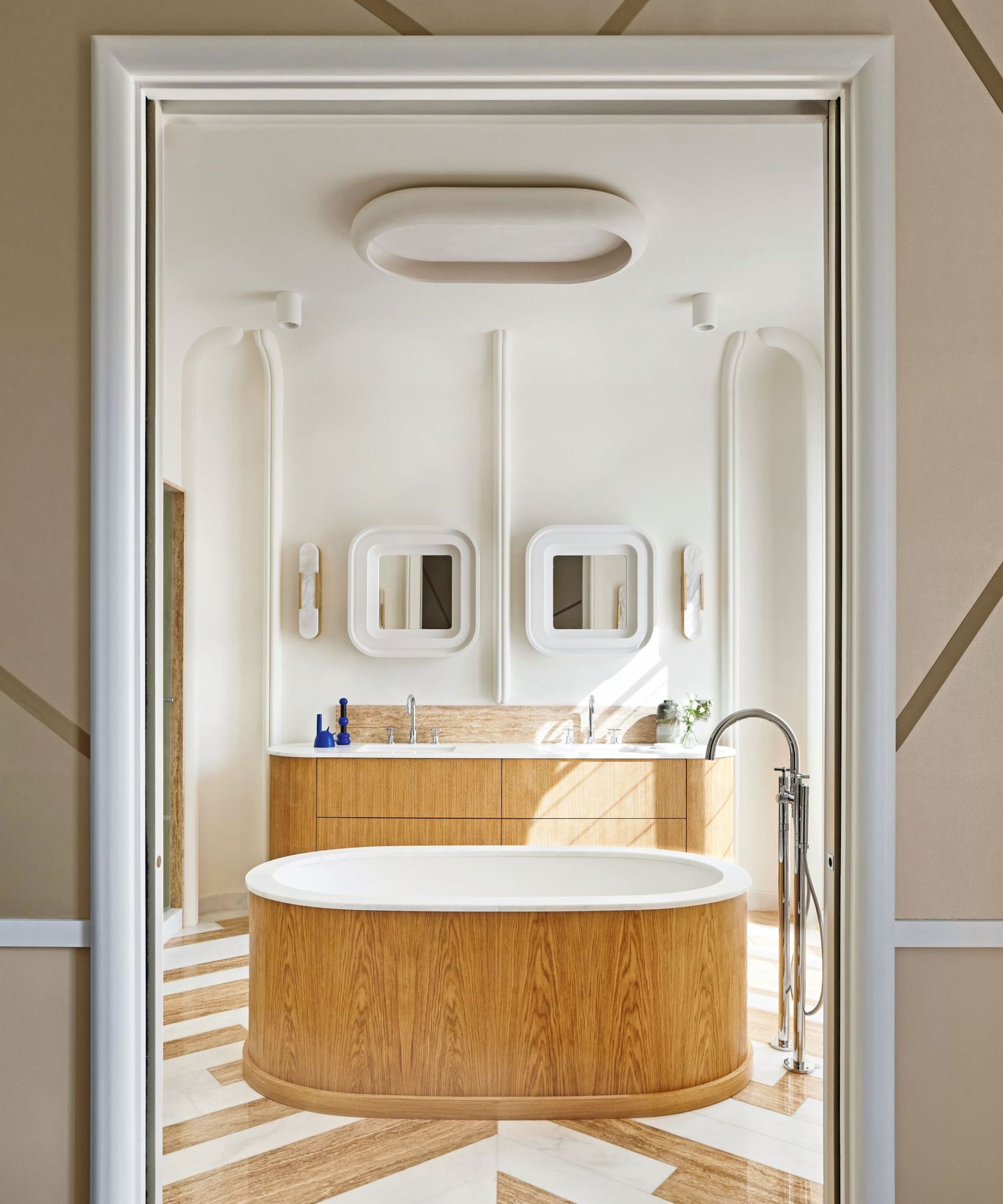 For subtle patterned bathroom details, think patterned bathroom flooring ideas. Herringbone, chevron, basketweave – parquet flooring is a popular way to inject character underfoot. Wood-look vinyl or porcelain are practical in a bathroom. 
Here, architect Fabrice Juan chose travertine and Macael White marble for its woody tones. 
'The idea was to recreate a Parisian pattern, so we took the traditional chevron Hungarian point parquet and enlarged it to play with the scale,' says Fabrice.
2. Create good flow with patterned wallpaper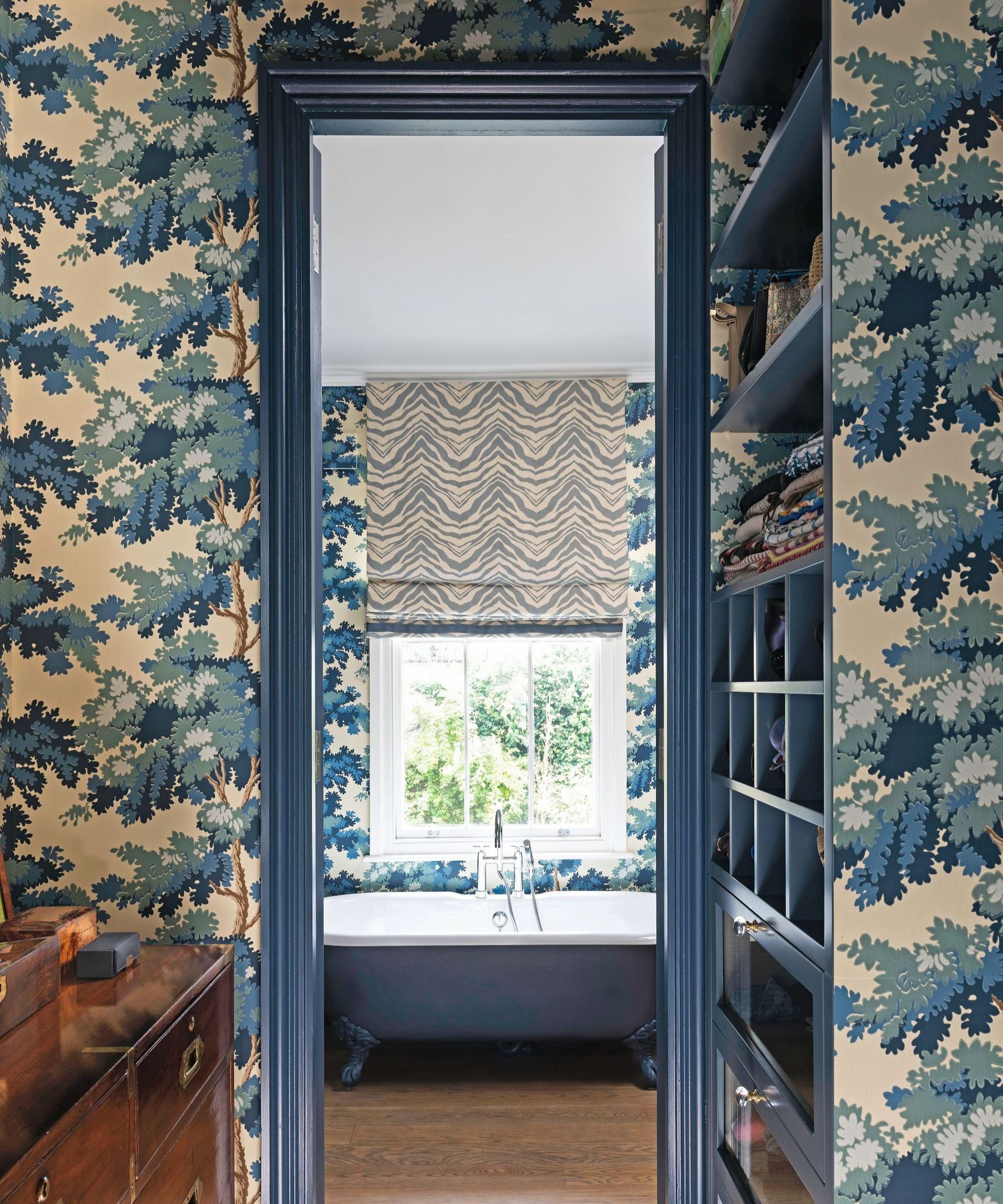 Extending pattern outside the bathroom creates more surface area to make an impact, and you can do that with bathroom wallpaper, which, above, extends into the dressing room.
Interior designer Flora Soames is no stranger to this pattern-boosting ploy. 'We often face the challenge of restricted spaces, especially compact bathrooms and corridors leading to a larger bedroom,' she says. 
'Wallpapering in the same pattern effectively expands the central view from the bedroom, pulling the dynamism, color and pattern through the suite.'
3. Introduce pattern into a bathroom with tile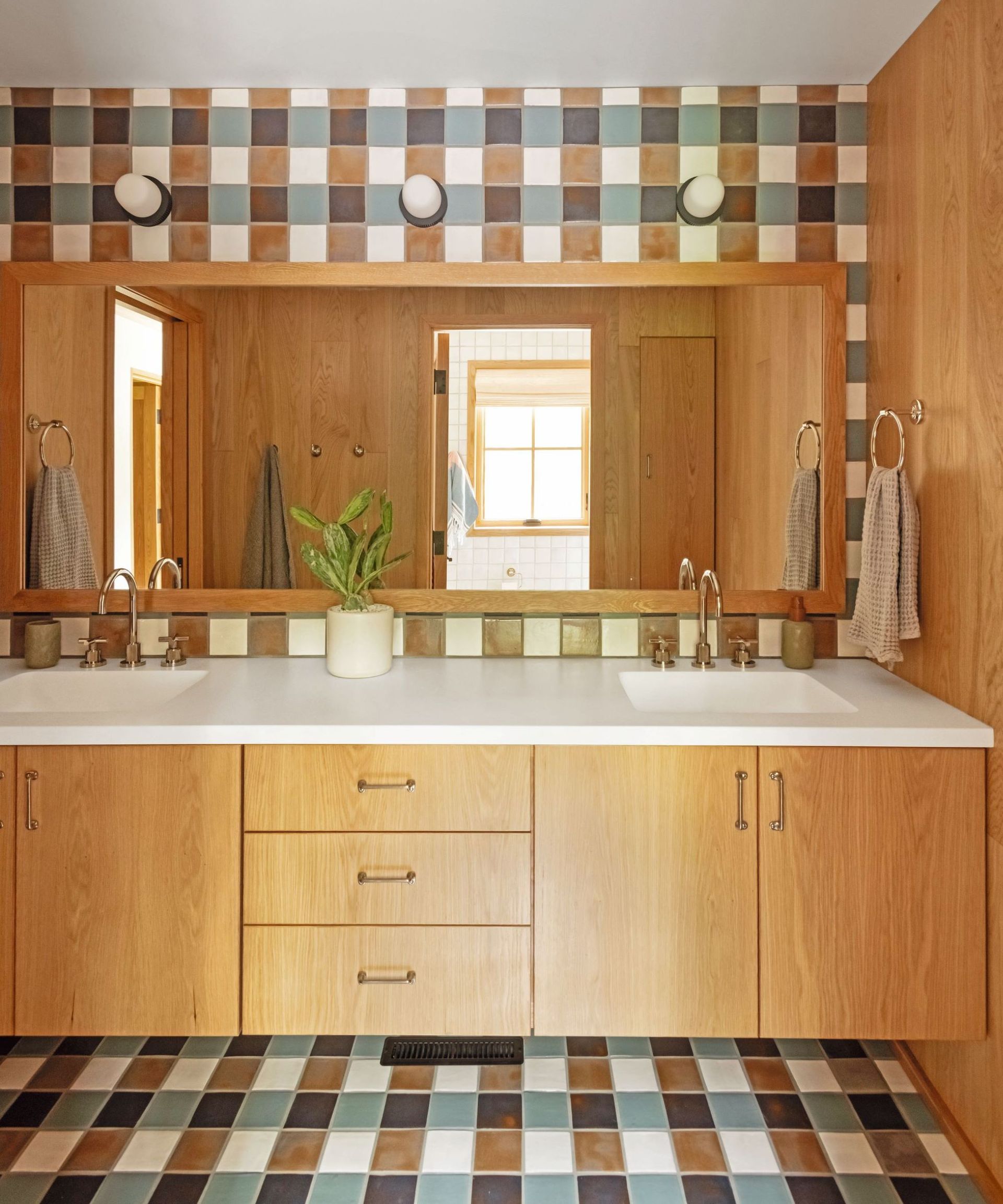 'If you are feeling stuck for pattern inspiration, bathroom tiles are a great way to seek a fresh perspective,' says Victoria Sass, founder, Prospect Refuge Studio. 
'We love to play with rectangles and squares of different sizes to create interesting rhythms and arrangements. Try standing some vertically or work in a little run of horizontals. You can do a lot with a simple palette of two or three colors or a small collection of graduating sizes.'
4. Combine patterns for a playful mood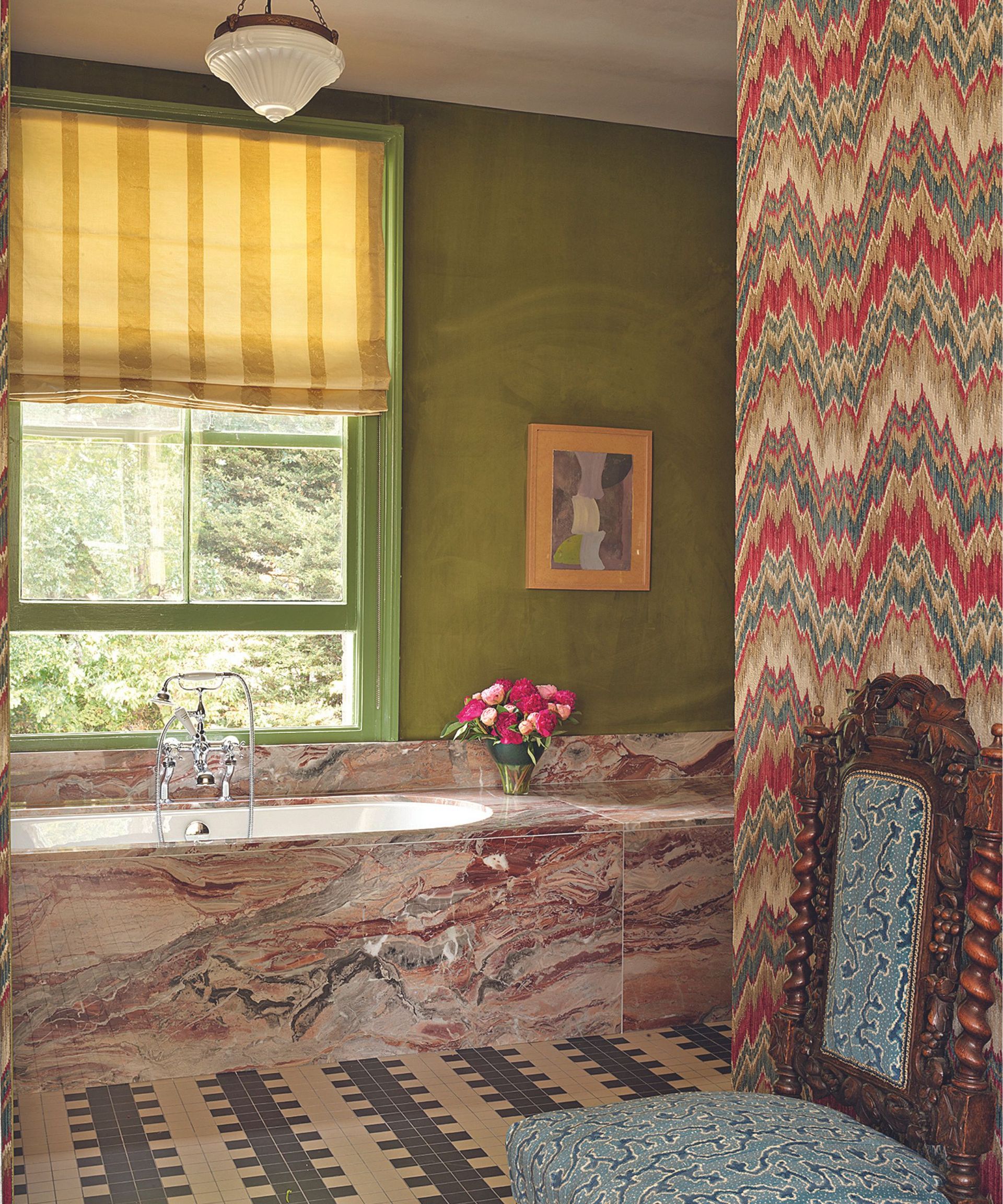 Interior designer Rachel Chudley knows how to decorate with pattern and loves playing with contrasts and interesting combinations by mixing patterns and prints. In this explosive bathroom in her own home, she lined the walls in velvet by Schumacher for extra indulgence. 
'I just love the drama and narrative of mixing pattern, the flamestitch velvet brings a sense of movement, and for unexpected luxury, I lined the remaining walls with high-performance Empress velvet – the chartreuse shade is sensational,' says Rachel.
5. Use pattern to zone a room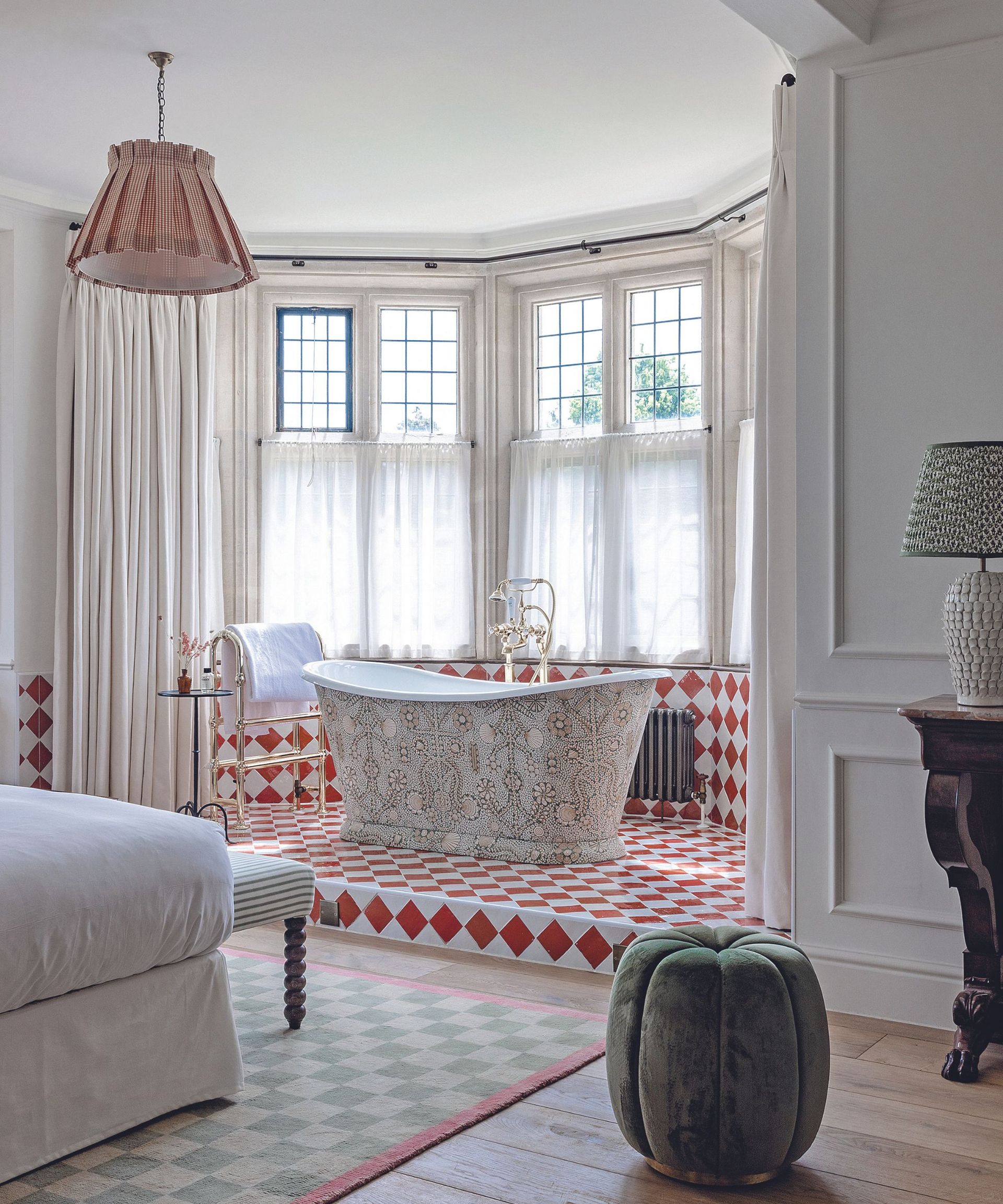 Patterned bathrooms needn't be contained spaces; you can harness a burst of bold pattern to define the bathing area in an open-plan design, like this suite Barlow & Barlow conceived for Kin House. 
'We love to use bold patterns and the graphic quality of a chequerboard tile serves to beef up softer, more feminine schemes,' enthuses co-founder Lucy Sear-Barlow.
 'Keep one of the colors neutral to ground the pattern, then throw in a stronger color to give it some oomph and clearly zone the bathing area.'
6. Color match your bathtub with wallpaper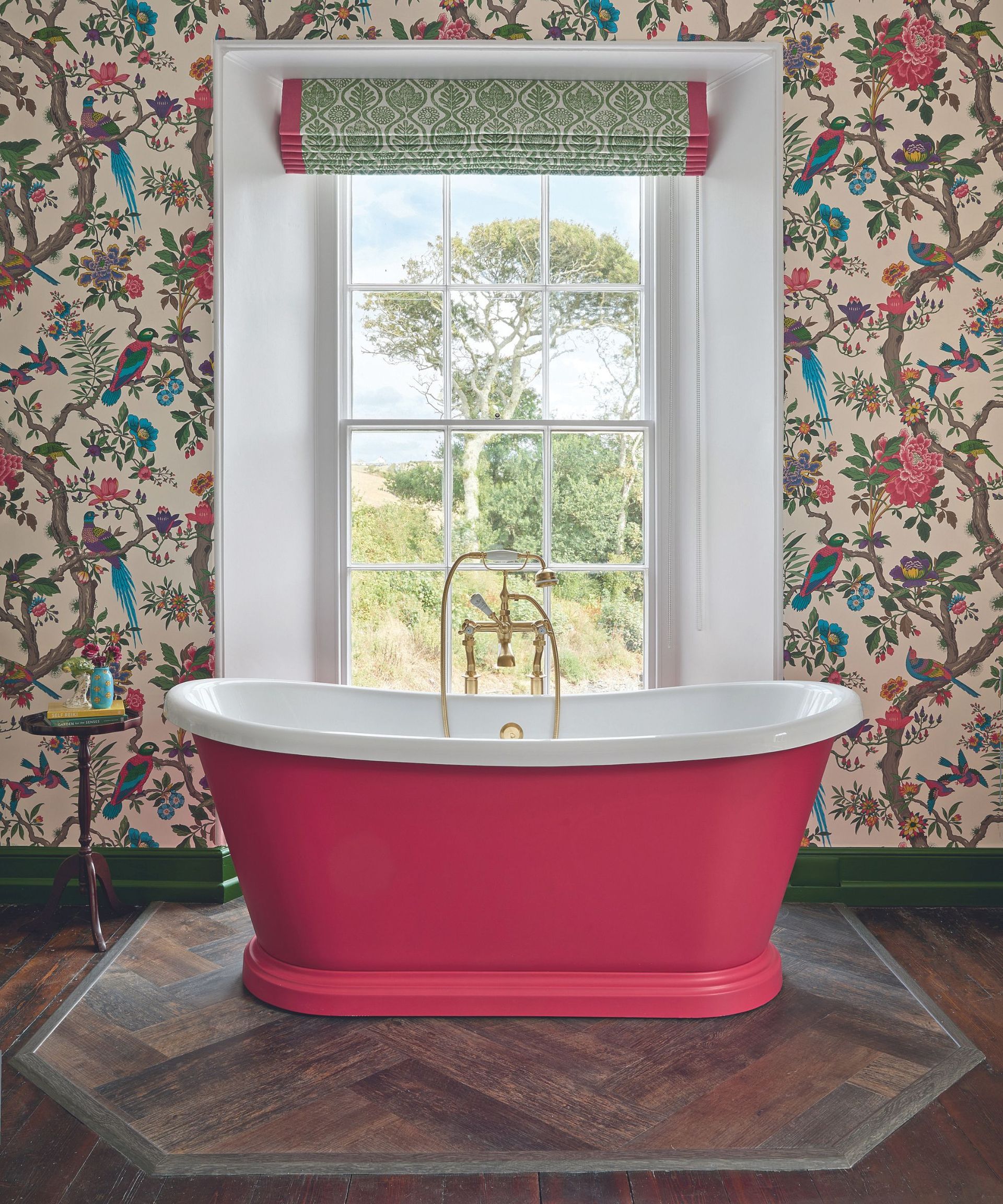 Color-matching a statement bathtub and strong pattern is a sophisticated move. 
'It's important that the bath color is an exact match to the wallpaper, otherwise it will not sit right against the wallpaper backdrop,' says Anouska Lancaster, owner, Noushka Design, who used Victory Colours' color matching service. 
'Select the secondary accent color in the wallpaper, not the most dominant shade, to ensure the bath stands out against the backdrop.'
7. Use antiqued mirror as pattern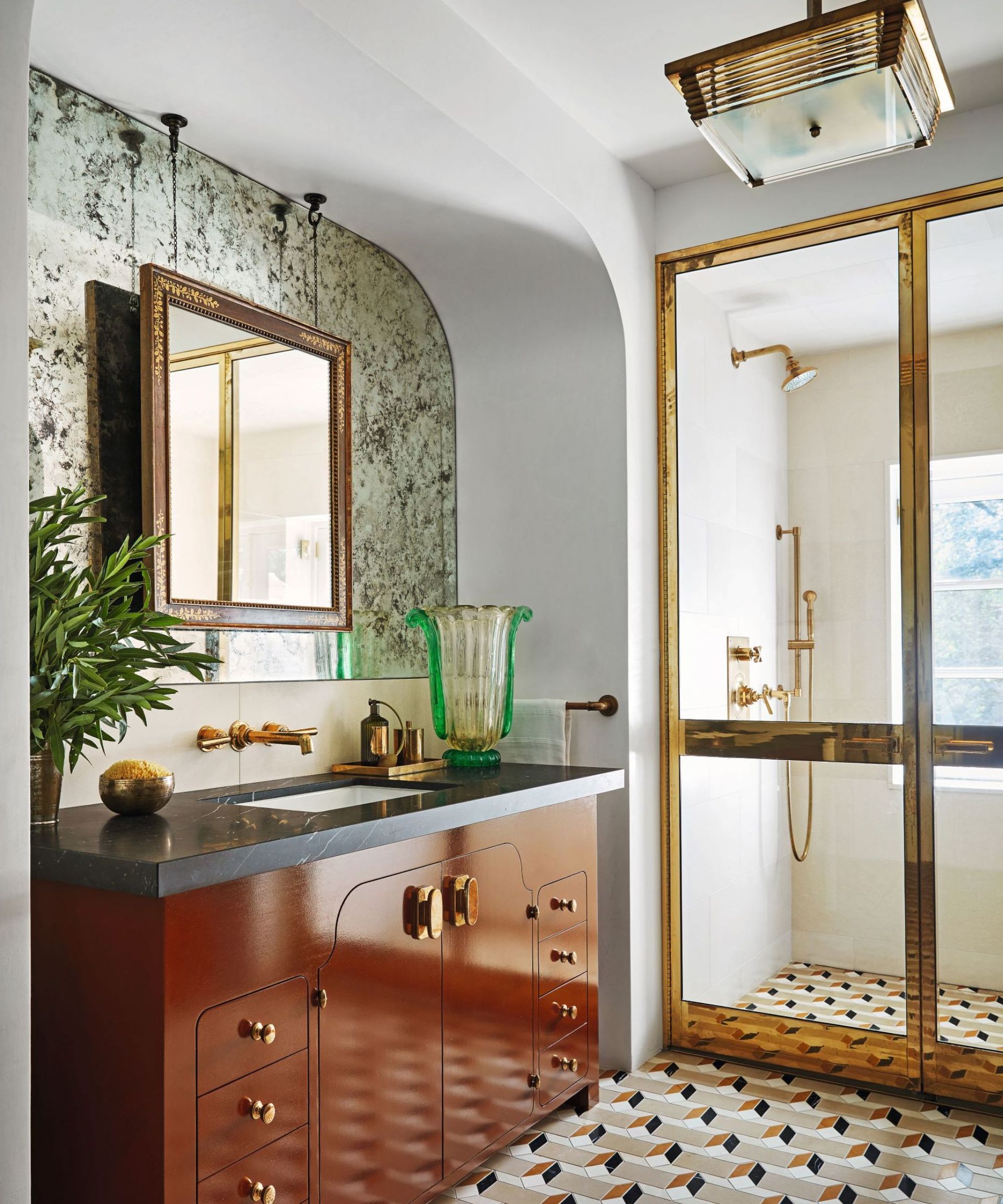 Decorating with mirrors can bring texture to a patterned bathroom if you use foxed or antiqued mirror to introduce a softer, organic pattern – and to act as the perfect contrast to geometric pattern floor tiles, as Nina Farmer demonstrates in this 'his and hers' bathroom. 
The elegant-silvered finish lends a genteel vintage feel and also helps prevent an 'infinity effect' reflection with the mirror on the matching vanity opposite. 
'Alongside its decorative advantages, the antiqued mirror reflects the natural light coming into the space nicely,' adds Nina.
8. Play with scale with a bathroom mural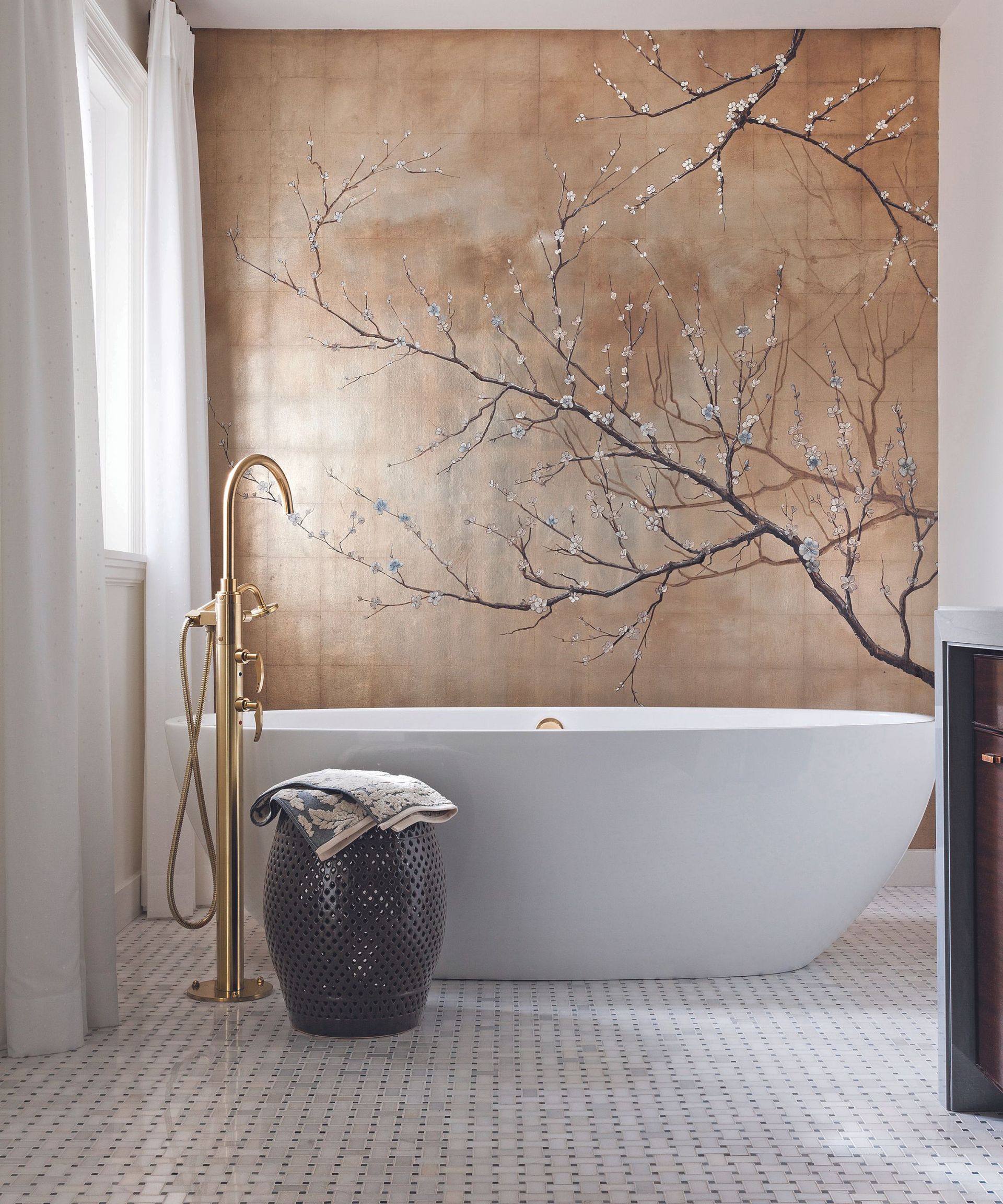 The importance of scale shouldn't be underestimated when considering a pattern injection. Upscaled pattern is always going to score big on the show-stopping front.
Choose a dynamic, repeating pattern for a full-on pattern hit, while small scale pattern can be carried over much larger areas without overpowering. Balance is key. This gloriously outsized cherry blossom wall mural by Peter Costello at Applied Art Studios sits serenely behind the simply shaped fittings and small-scale mosaic flooring. Project by Casey Designs.
9. Use fabric to introduce pattern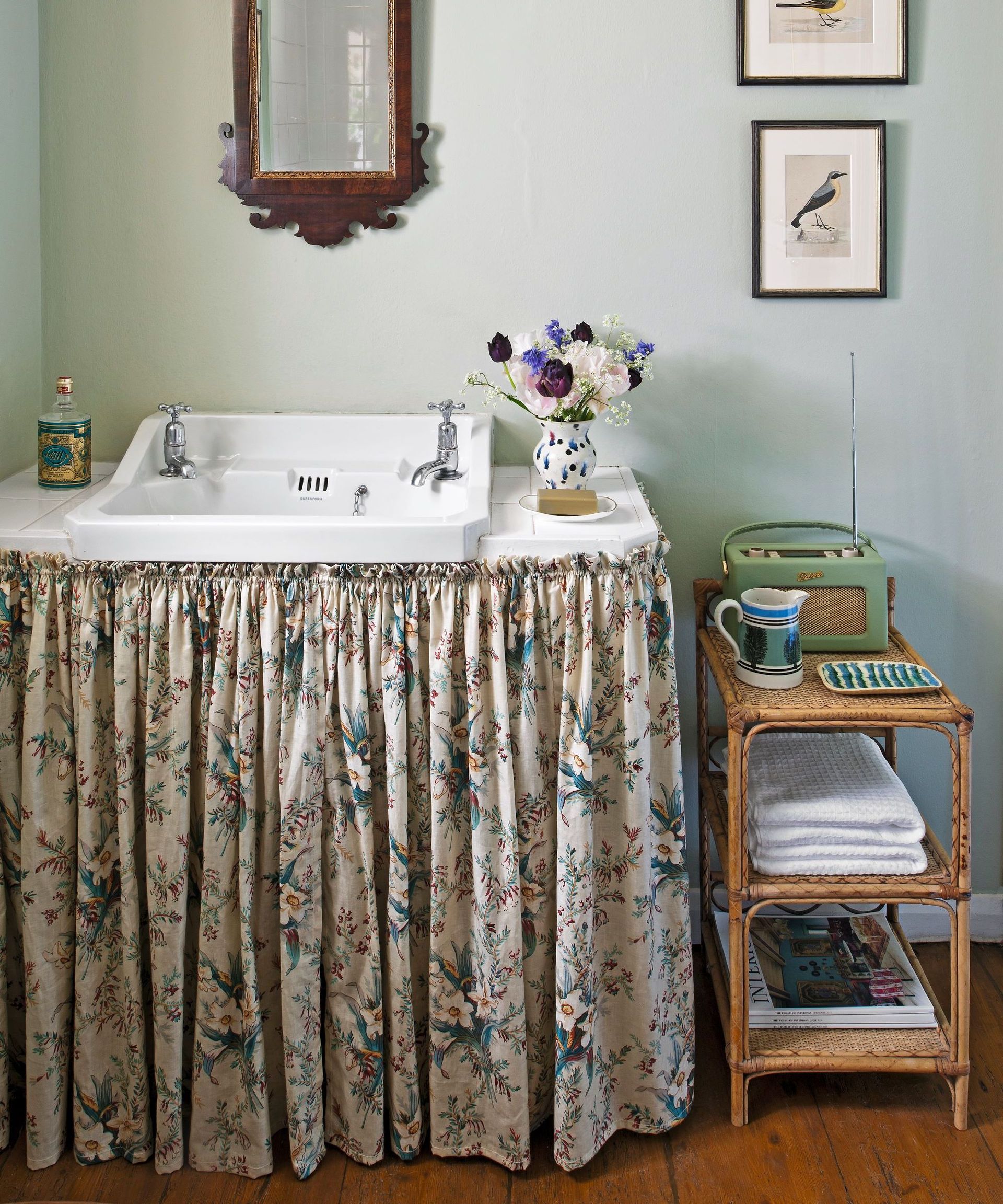 With so many pretty prints available, fabric is a fast way to get your pattern fix and improve your bathroom's acoustics in the process. 
Fabrics can take the form of blinds, shower curtains and upholstered seating, but for the most joyful pattern energy, make it a sink skirt. Small-scale ditsy florals or stripes work best on tightly pleated skirts. Add frills, decorative trim or scallops for extra style points. Project by Carlos Garcia Interiors.
10. Add pattern with decorative natural materials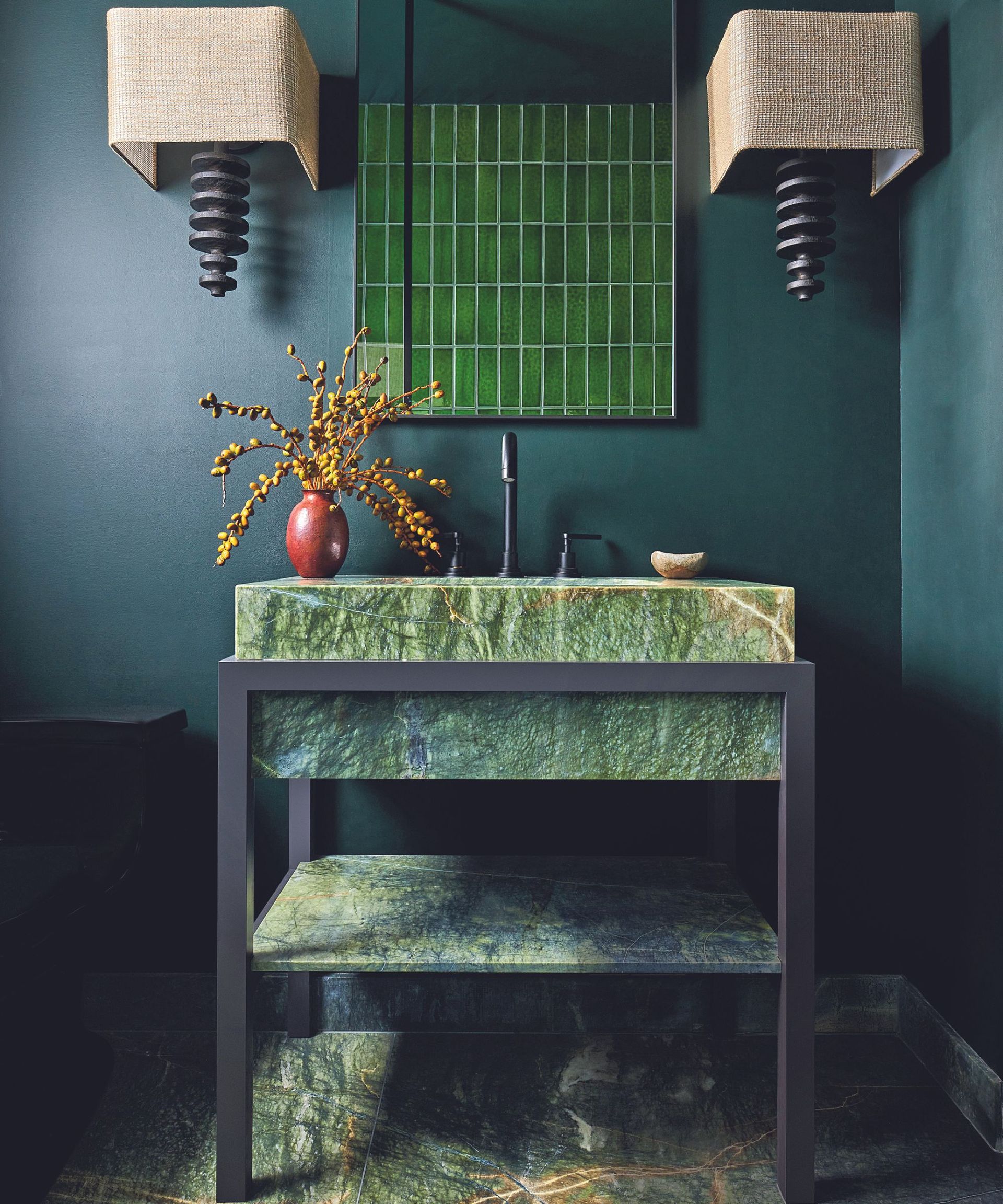 Marble bathroom ideas with striking striations can give all the pattern you need. For this Miami home, Natalia Miyar designed each bathroom around a statement stone, in this case Forest Green marble. 
'The darker emerald walls allow the softer sage accents in the marble to stand out,' she says. 'The vibrant tiles in the shower help balance the pattern in the small space, creating different areas of interest within the same palette.'
FAQs
Can you combine patterns in a bathroom?
Just as you can combine patterns in a living room, you can do so just as successfully in a bathroom. The trick is to keep the color palette limited to three colors, though you can combine many tones of those colors to create a layered look. Then vary the patterns in scale, from small, to medium to large.
---
Pattern can of course make a bathroom look smaller, but unless your aim is to make a small bathroom look bigger, we think that's okay? Bathrooms are necessarily intimate spaces that you want to look cozy and welcoming. As long as the light levels are good, particularly around mirrors, you can only benefit from introducing pattern to a bathroom. Go on, start simply, perhaps with some new patterned towels.