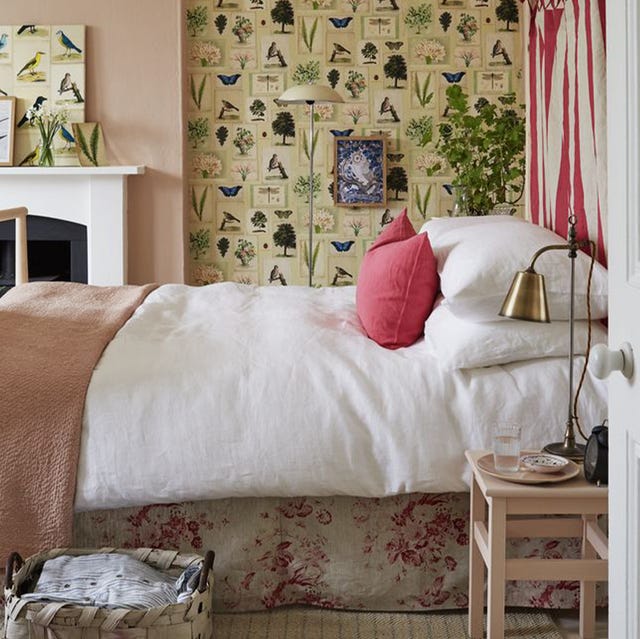 Country Living, Annie Sloan
Pink bedrooms have something of an undeserved reputation, based on the assumption that pinks will always appear sugary, or are better suited to a child's bedroom. But there are a myriad of pink tones that lend themselves to a rich and elegant design scheme.
Pigmented pinks react wonderfully to natural light, which makes them a joy to look at in the morning, soft mauves and deep mulberry pinks are sophisticated shades that can be used across an entire room without becoming tiresome, whilst warmer peaches lend themselves to darker accents like mahogany furniture, and grey or black accessories.
For their connection to nature, pinks are commonly used in country cottage homes, in floral wallpaper (see our Country Living Country Rose Wallpaper at Homebase below,) in chic striped fabric and upholstery, and even in carpets.
"Plaster tone pinks (like Factor Fifty and Pudding,) are great choices for bedrooms as they are subtly seductive and create a warm feeling that works well in north-facing spaces, or rooms that don't get a lot of natural light," says COAT paints Colour Curator, Aaron Markwell. "These pinks also work well with popular beiges, greys and whites, which means they're a great choice with most upholstery and bedding options. If you're avoiding a boudoir aesthetic, but want to use pink, use lots of tactile, neutral fabrics, which will help the space feel a little more muted."
With inspiration from some of our favourite brands and retailers, from Little Greene to Dreams, if you're considering a bedroom makeover in the near future, read on for 13 ways to decorate with pink…
Advertisement – Continue Reading Below
1
Pink bedroom ideas: the accents
This is the type of wallpaper that may seem intimidating close up, but includes enough plain space to not overwhelm a room. The cream tones used across walls, furniture, and woodwork here have been cleverly matched to create a subtle base against which even a smattering of pink will stand out.
For similar wallpaper, try Colefax & Fowler
2
Pink bedroom ideas: dusky and muted
A pink bedroom certainly doesn't have to look young, just exercise caution with sugary primary pinks. As this elegant bedroom shows, a muted mauve shade works well, especially when complemented with some more sophisticated details like the grey-toned wood, and wall panelling.
3
Pink bedroom ideas: embracing busy
This playful pink bedroom deftly mixes print and pattern, creating a feature wall with John Derian's fabulous Flora and Fauna Wallpaper, using a bold pink and white striped wall hanging to frame the bed, as well as a cheerful floral valance. This is country cottage decorating at its finest.
4
Pink bedroom ideas: subtlety
If busy pattern is not your cup of tea, pink can be used sparingly in a bedroom to create something conducive to rest and relaxation. An upholstered bed frame invites warmth in the form of soft furnishings and comforting colours.
Pictured: Country Living Thirlmere bed at Dreams
5
Pink bedroom ideas: stripes
Stripes are a great way to diffuse colour in a bedroom, and balance your choice of pink with a more neutral tone – we'd always recommend a soft off-white as your second colour. This effect can be so easily replicated at home with Annie Sloan's silk wall paint.
Pictured: Piranesi Pink And Pointe Silk Wall Paint at Annie Sloan
6
Pink bedroom ideas: all-over pink
This all-over pink design scheme is for a decorator who is totally confident in their choice of colour. Hints of neutrals, and a grey-toned wooden floor are the only offsetting elements, but this would work just as well with a deep mulberry bed frame to offer some colour variety.
Pictured: Karaikal Quilt in Dusty Pink at OKA
7
Pink bedroom ideas: plaster pink
8
Pink bedroom ideas: building a palette
9
Pink bedroom ideas: peachy pinks
The pink colour spectrum goes from the palest pink-toned white through to a rich mulberry, and somewhere in the middle sits warm peachy pinks. Demonstrated so brilliantly here, this shade is arguably the most sophisticated of pinks, and lends itself to darker accents such as mahogany woods, terracottas, and greys or blacks.
Pictured: Vivienne Bed at Soho Home
10
Pink bedroom ideas: a room in bloom
This cheerful rose motif wallpaper from our Country Living collection at Homebase adds instant country cottage notes. Pinks and greens are a really safe colour combination, just be sure to choose similar tones, so mix a forest green with a deep mulberry, or a soft sage with a pale pink.
Pictured: Country Living Country Rose Wallpaper at Homebase
11
Pink bedroom ideas: anchoring with antiques
Pale woods used in large doses in pink bedrooms can appear washed out, where darker woods provide better contrast. Antiques are a great addition to a pink bedroom because they so often use darker varieties of wood such as mahogany or a rich walnut.
12
Pink bedroom ideas: warmth underfoot
Cosiness and warmth underfoot should be a priority in a bedroom, and that can be achieved through your choice of material as well as your choice of colour. This Cosmo Twist carpet from Carpetright does a great job of it, pairing a tufted and textured pile with a subtle blush pink.
Pictured: Cosmo Twist Pink Carpet at Carpetright
13
Pink bedroom ideas: pink and red
Mixing pink and red is not as much of a decorating faux-pas as you may think, just exercise caution when choosing your tones – you want a high contrast between them otherwise the result may look overly saturated. As you can see here, a soft blush and a rich saffron red are perfectly compatible.
Pictured: Beetlenut and Plaster V paint at Paint & Paper Library
This content is created and maintained by a third party, and imported onto this page to help users provide their email addresses. You may be able to find more information about this and similar content at piano.io
Advertisement – Continue Reading Below