Gone are the days when all swimming pools were all alike. Today's homeowners are keeping up with swimming pool trends and often looking for something unique and custom. We talked to Todd Thomasson, owner of Rock Water Farm in Aldie, Virginia, and asked him to share some of the swimming pool trends he's noticed this year. As a designer and builder of custom pools, Thomasson says that his clients are typically in search of something "truly their own." But he's also noticed certain trends this year. 
Thinking outside of the box about depth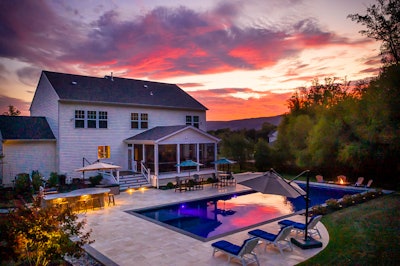 Traditional shallow-to-deep end pools aren't the only option. Thomasson says that some clients want shallow ends on either side of the pool with a deep end in the middle. It really depends on how the client plans to use the pool. Rock Water Farm has also designed and built pools with an extra-deep end. If people are diving into the pool, it needs to be a minimum of eight-feet deep. 
"Some people even want an 'all-deep pool,' a relatively new trend," Thomasson says. "This is also sometimes called a 'sports pool' and it's an option for homeowners who are mostly using their pool for recreation and exercise."
That includes activities like pool volleyball, basketball, or water aerobics. 
Custom shapes and sizes
Since Thomasson designs and builds gunite pools, he is also able to customize the size and shape for his clients. This really boils down to personal preference and what shape or size will also best fit the property. Thomasson says that clean lines and straight-edged pools are very popular, though there are still homeowners that prefer more of a freeform, curvy look. 
Switching to saltwater and new technology
Another trend has been the emergence of saltwater pools, which Thomasson is installing. He says it is a natural way to keep the pool clean without the typically high levels of chlorine needed for sanitization. Saltwater pools still have chlorine but in a lower dose. A benefit of saltwater pools is that they are less harsh on the eyes, hair, and skin. 
Ozone pools are also a newer technology and something that homeowners may inquire about as more information becomes available online.Thomasson says that ozone pools are a more expensive option.
Poolscaping with lighting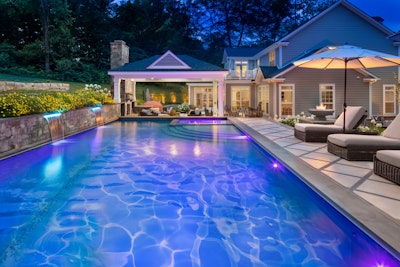 In general, outdoor lighting is a growing trend. Homeowners are very interested in having their pool areas well-lit so that they can enjoy them at nighttime, even when they aren't swimming.
With the right pool lighting, Thomasson says that a pool area becomes a hang-out space with an unbeatable ambiance. 
Dark-bottom pools
One final trend that Thomasson mentions is dark-bottom pools. While most people think of traditional swimming pools as being bright blue, that doesn't always fit into every setting. Thomasson references a pool that he designed and built at a home with a more countryside setting. A tropical blue pool would have seemed out of place. Instead, a darker pool finish provided more of a "lake" or "natural lagoon" type of look that fits perfectly into the surroundings. 
Keeping up with pool trends
At the end of the day, it's all about helping your clients to achieve their swimming pool dreams. Keeping up with some of the latest pool trends is a great way to give your clients options and ideas when they are thinking about the perfect pool for their own backyard.